A larger version of Google's Pixel XL may be in your future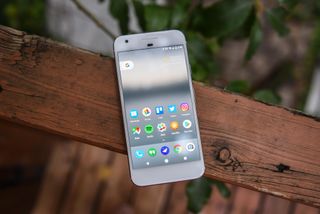 What's better than a big smartphone? An even bigger one. And with the Galaxy S8+ and iPhone 7 Plus making waves in their own right, it's possible Google hopes to jump on that bandwagon, too.
According to Android Police, there are rumblings that Google has shelved its plans to release one of its upcoming Pixel smartphones in favor of a larger device.
The device, which was originally codenamed Muskie, was supposed to be the followup to the Pixel XL. Instead, we'll be met with Taimen, according to a rumor put out earlier this year by Droid Life. It's expected to have a larger display and chassis compared to the Muskie.
The Walleye is likely still making its way into your hands later this year, as that's the codename behind the smaller second-generation Pixel device Google will introduce. We'd reported a few months back that the moniker had already been mentioned in the Android Open Source Project's gerrit, or code repository.
For those who aren't aware, Google typically chooses the name of a water-dwelling creature as the alias for any upcoming smartphone and tablet.
Get the Android Central Newsletter
Instant access to breaking news, the hottest reviews, great deals and helpful tips.
Florence Ion was formerly an editor and columnist at Android Central. She writes about Android-powered devices of all types and explores their usefulness in her everyday life. You can follow her on Twitter or watch her Tuesday nights on All About Android.