Lamborghini phone will cost you $6,000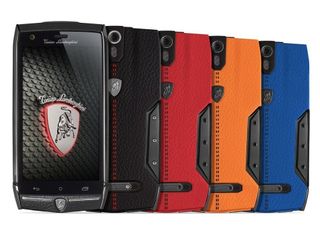 The 88 Tauri has been announced by luxury brand Tonino Lamborghini at CES for those that have expensive taste. This is the company's second Android device, and like the first it commands a premium pricetag. Expect to shell out $6,000 for this piece of kit.
In terms of specs, the 88 Tauri is no slouch. You'll find a quad-core 2.3 GHz processor and 3 GB of RAM with 64 GB of local storage wrapped up in a stainless steel frame. The front offers a 5-inch 1080p display and 8 megapixel front-facing camera, while the rear has a 20 megapixel camera and a fancy leather coat. You'll even get some special edition premium headphones to go with it.
It's worth noting that the folks behind the 88 Tauri are purely a luxury brand whose founder happens to be the son of Ferruccio Lamborghini, of automotive fame. Regardless, on the phone you'll find the familiar raging bull crest and posh style that characterize both companies.
You can grab the 88 Tauri right now if you're burdened with way too much money, or read up on it more in the press release below.
Tonino Lamborghini Mobile Unveils Latest Fusion of Legendary Design, Cutting Edge Personal Tech: 88 Tauri Smartphone
Lamborghini Family Brings Iconic Styling, Outstanding Craftsmanship to Hand-Assembled, Limited Edition Android Phone
LAS VEGAS, Jan. 8, 2015 /PRNewswire/ -- Tonino Lamborghini Mobile, the luxury personal technologies manufacturer that carries on a family tradition for iconic design, today unveiled its latest high-end Android smartphone, the 88 Tauri. Building on a catalog of unique luxury accessories ranging from wristwatches, eyewear and jewelry, to high-tech headphones, 88 Tauri's design aesthetic emphasizes quality materials in a sleek, distinctive package.
"Mobile phones are such personal devices that someone's choice of smartphone says a lot about them. 88 Tauri is the latest example of applying the Tonino Lamborghini design philosophy to the accessory we all use the most," said Gianluca Filippi, CEO Tonino Lamborghini Group. "Uncompromising quality in every detail, down to the stitching, and vibrant color choices help our devices – and users – to stand out from a sea of too-similar phones."
Real luxury is in details
Sharp geometric lines and color combinations represent the iconic Tonino Lamborghini style; the famous "Raging Bull" logo on the both sides of the phone conveys the spirit of the legendary Italian brand.
88 Tauri offers 3 color variants of its metal panel (black, gold and steel silver) and is finished with top-quality leather available in 5 colors (black, blue, red, orange and brown). Each phone is assembled by hand and receives a unique device number. Only 1,947 pieces of each colorway will be created. This number was chosen to honor the year of birth of the company's founder – Mr. Tonino Lamborghini.
Tech Specs
Qualcomm® Snapdragon™ 801 processor with quad-core CPU at speeds of up to 2.3 GHz per core 3GB RAM Android 4.4 KitKat OS Dual SIM Dual Active LTE (DSDA) configuration (both SIM-cards are active at the same time) 5-inch Full HD display 64 GB of high-speed internal memory, expandable up to 128GB via microSD card USB 3.0 with direct phone-to-computer sync at 625 MB/s 3400 mAh battery capacity, providing up to 35 hours of life for calls in 3G networks and 1000 hours in standby mode. main 20MP auto-focus camera with a dual LED-flash, face recognition and white balance correction front-facing 8 MP camera 13 exclusive ringtones created by famed disc jockey and producer DJ Ravin
Availability
88 Tauri will be available in select stores around the world starting on January 5, 2015. For additional information about the product, prices and availability please visit www.lamborghinimobile.com and www.lamborghini.it
"We are proud to present the latest and greatest in our family of luxury smartphones – the 88 Tauri, which combines cutting-edge mobile technology and unique features with the inimitable style and design that was characteristic for our company since its foundation. I am confident that our new flagship phone will open a new chapter in the history of Tonino Lamborghini Mobile and will raise the bar for luxury smartphones higher than ever before," said Mr. Tonino Lamborghini, founder and President of Tonino Lamborghini Group.
"88 Tauri is the latest example of our successful cooperation with Tonino Lamborghini Mobile, and we are happy to see our premium technology powering the latest in the world of luxury smartphones. The latest Snapdragon 801 processor offers new levels of performance, productivity and power efficiency, allowing a seamless and smooth user experience that helps 88 Tauri stand out in any crowd," said Raj Talluri, senior vice president of Qualcomm Technologies, Inc.
Source: PR Newswire
Get the Android Central Newsletter
Instant access to breaking news, the hottest reviews, great deals and helpful tips.
Simon has been covering mobile since before the first iPhone came out. After producing news articles, podcasts, review videos, and everything in between, he's now helping industry partners get the word about their latest products. Get in touch with him at simon@futurenet.com.
Jesus Christ on rollerskates NO Posted via the Android Central App

Hahaha! I literally opened up the comment and forgot what I had to say because of this! Posted via the Android Central App

But it comes in 3 colors... Interested now? LOL

Or, ya know, you could get several better flagships and still spend less? Posted via the finally lag-free LG G3 on CM12

You do realize that if that is your opinion, then it is not meant for you, right? This is for people who want to delude themselves in some sort of exclusivity bubble.

I agree, but I see little reason to get this over a Moto X if you want premium materials. The Moto X is already exclusive, I'm the only person I know who's owned/used one haha. Posted via the finally lag-free LG G3 on CM12

The reason to purchase it is to show that you have a lot of money that you are willing to waste. The moto x is not a status symbol. Posted via Android Central App

You can say that again Posted by my soon to be retired Note 3

i agree with you Posted via note 3

You're really missing the point. It's not about having a premium device or a well-built phone, but to have something that others simply can't have. This phone will either be shit (compared to actual flagships) or, at best, completely average as a phone, but that won't matter to those who buy it.

I get that but nevertheless waste of money when you can get way better cheaper alternatives then this device. Posted via the Android Central App

It is a waste of money, but that's exactly the point behind these kind of devices. Literally their whole raison d'etre is to show that you're enough of a douche to flush $10k down the toilet for a shitty item that normal people can't own. It is simply not a device targeted for us.

A douche, because they have money and u dont... Posted via the Android Central App

Saying it's a waste of money proves that you don't get it. Posted from my Droid Turbo, Kelly and Ozone

No it doesn't. It's cocky idiots that would buy this. Look at "waste" in the dictionary. That is the definition Posted via the Android Central App

Lol Posted via the Android Central App

If one has the money, then why not spend it? You can't take it with you so there's no use sitting on it.

The "you can't take it with you" argument makes a weak case for wastefulness. Try again.

Looks like a Droid Turbo that won the lottery. Rooted Galaxy S III, Stock Galaxy Note 4
Rooted LG G2
If it ain't Tech, it ain't Right!

I saw the Casio Commando before I opened the link.

LOL that was funny. Posted via the Android Central App

Yeah it's cool but can it bend? Posted via the Android Central App

Or better yet can it Blend? I'm not the target audience but I'm sure there is a 6.00 car on ebay that will give you this look and take 30 data to arrive in your mailbox. Posted via the Android Central App

How do these even sell? People who are in the market for fashion and status will probably go for iPhones over stupid stuff like this. Posted on my Galaxy S5

Yes most celebrities have an iPhone. I have never seen one with one of these Posted from the bando

I've seen plenty of celebrity's with the over priced porsche Blackberry. Exclusive, my phone cost more than your_____
"hey what kind of phone is that " The kind you can't afford. Posted via AC app by way of my right thumb.

Number of produced models should tell you that.
People with a lot of money, love to own rare and expensive products.
I see a lot of people wondering who would spend X amount on item Y. Now, I need someone to tell me if any piece of Clothing can have a real value of 10-50k or art(ifact) millions of dollars. " Product is worth as much as someone is willing to pay for it." It's that simple. via AC App on VZW Moto X DE/N7

I knew Lamborghini's were a tight fit, but only 5 inches.
Besides the tyres don't last long and cost a fortune.
I think I'll keep my Citroën.
What were we talking about again? Posted via the Android Central App

I'm getting a orange one to go with my Diablo! Wooooooo Posted via the Android Central App

Gold one for me to match my gold chains.

Stick to making exotic cars

No accounting for taste......especially for those with more money than they know what to do with.

There is no excuse why this phone isn't running a snapdragon 810 Octo core Cpu with a high quality Li-Po battery and a minimum of 128gb Nand and a 1440p display, but then again for that price it better be a real android that can cook and clean too.

And you sir win the Clueless Comment of the Day award Posted from my Droid Turbo, Kelly and Ozone

No. He has a point. With that price tag, it should a least have update/latest hardware. The 801 is 2 Snapdragons out of date and so is only 1080. Posted via the Android Central App

I'd be all over this if it shipped with Lollipop... Lol yeah right. Posted via Android Central App

Yeah, IMA spend 6 grand and stay on KitKat far the rest of my life. I think not... Posted via the Android Central App

What a cheap phone. Is it too hard to make a phone encrusted in diamonds that are adhered to the phone by the tears of slave chimps?

I'm waiting for a Kia version..... Posted via the Android Central App

I mean hey, if people wanna pay an extra 5500 dollars or so for a brand name, that's their choice and I absolutely couldn't care less. Posted via OnePlus One

Wow. So many pubs that went unused. Plenty of horsepower... Under the hood.... Gain traction... So on.

I bet you would buy if it came with "A Goat or a Cake"☺☺

Like any luxury product it's a status symbol. It's meant to be functional only, not awesome. Posted via the Android Central App

And I thought the iPhones are costly and shit! Posted via Nexus 5 through Android Central App

If I had $6000 to burn, I would buy this: http://www.bhphotovideo.com/c/product/672200-USA/Nikon_2186_AF_S_NIKKOR_...? or this: http://www.bhphotovideo.com/c/product/1024081-REG/nikon_d4s_digital_slr_...?

Missing the point, the dont have just $6000 to burn, so if they want those things they have them already, and a further shitload of other stuff to. This isnt for someone with $6k to burn its for those for who $6k is nothing.

GEEZE!!! Does that thing do MRI, CT Scan and X-Rays too?!?!? That's mighty pricey for a camera/accessory.... But then, I'm not a photographer, which I'd assume you are...

$6000 to burn? Gaming rig. Or speed out Gaming laptop from one of those building sites. "I'm da Blur boys!" - Me with 1200 ping. Yes. My Internet got worse.

Abercrombie was made for spoiled rich white kids living by the coast, that didn't stop the poor colored kids in the city from saving up back them. All about the status. There are always those who can have it, those who want it and those who don't care. I'm it the latter group as pretty much a majority of AC readers. IPhone users are looking at this and saying hmm.. How much is that a month I need to save? Posted via Android Central App

Did you really say "...poor colored kids..." in this day and age? You need to wake up and realize that the 1960s are gone and no one is referred to as "Colored".

NAACP
National
Association for the
Advancement of
Colored
People Posted via the Android Central App

For 6 grand id want an Italian nymphomaniac to arrive by next day delivery complete with various attachments (all of them being underwear). My new purchase would then attend to my daily needs and wipe my ass when required. That's what I would expect when Mr Lambo says "That'll be 6 grand sir" Posted via the Android Central App

Go to the Monaco Gp like I did and you will see them with every billionaire. Posted via the Android Central App

I've just paid for one of these. I will pick it up tomorrow. Someone here said to flush 10k down the toilet. I've finally done that.
Should I have done that in the store toilet? That would be another 20 trips to the ATM. Ah well. Posted via the Android Central App

Quick everyone run and get a personal loan for $6,000 so that way you can purchase it!!

brb, getting a payday loan.

Ouch!!! That would be one steep interest rate!!! Posted via my Samsung Galaxy Note 4.

Lmao!! Posted via Android Central App

Can't wait until bootloader gets unlocked and root access :) Posted via Android Central App

$6000?!?!?!?!?! the specs should be; Octa core Snapdragon, 64GB RAM, 1TB internal storage, UHD or 4K OLED or AMOLED screen, 41MP camera with some hardware OIS or somethin. and a body made out of same material they use to produce cars or something expensive. Those specs are too dumb for $6000, some flagships have better specs, and also, Apple's A8 processor beats the shit out of every SoC on the market when it comes to Graphics stuff, (not an apple fan but gaming on iOS devices is so so frickin smooth, no lag, very optimized compared to android gaming)

Reminds me of most of the flagships that came out near the beginning of 2014... The latest Snapdragon 801 processor offers new levels of performance, productivity and power efficiency, allowing a seamless and smooth user experience that helps 88 Tauri stand out in any crowd Posted via Android Central App

A phone this expensive should've came out later with a SD810, 5.5 inch bezel-less display, 2K resolution, 5500 mAH battery, 128 GB standard. There you go Posted via the Android Central App

Stupid overpriced crap. Posted via the Android Central App

A fool and his money........... Posted via the Android Central App

"You're through to Jack's Lamborghini. Please leave a message after the tone -" Posted via the Android Central App

Perfect timing! I just saved a bunch of money by switching to GEICO and was looking to buy a new phone. This is perfect!

Stupid rich people. Posted via the Android Central App

Sooooo...... $3000.00 on contract?

I thought a Lamborghini was powerful, if overpriced. This is just overpriced... Posted via the Android Central App powered by Droid Turbo

Since they are trying to compete with Vertu, it is interesting to note that there seems to be no analogue to the Vertu Concierge service, which is a drawback. When a device goes into the luxury segment, there should be added value like such services available as well. In fact, the Vertu package is actually something unique that even can make the device worth the money spent if the customer is a frequent traveler and therefore ready to use the concierge. This Lamborghini phone seems more to be like Tag Heuer, which also sell luxury Android devices. Exclusive device but no value on the service side of the things.

I for one would love to know how many idiots are actually buying these super expensive phones to make it even worthwhile.

I think this may be the first luxury phone that I've ever seen with modern and respectable specs... But no, I'm not burdened with money to wipe my behind with, so I'll pass on buying this phone.

@Simon Sage
Thanks for the post. LOL a smartphone cost $6000......LOL. then why this spec is low. why not 128GB?? .....why not 20MP camera?? where is the Sapphire glass on it as screen !! why they didn't use SnapDragon 810 series 64bit processor with 4 GB RAM?
If the price is called $6000 then the product should be price worthy.
Thanks in Advance

It does have the capability of having a total of 192GB, if not 320GB, judging from the dual sim slots. And it does have a 20 MP back camera... o.O What are you talking about, I'm confused.. Other than the Sapphire glass or snapdragon 810 instead of 801 that i agree with but.. nvm. not important.

Maximum profit. The people who buy these don't care if it has a Snapdragon 810. They care that's it's a new model, costs 10 times the price of the latest flagships that anyone can aspire to own, represnts a luxury aspirational brand, and is less old fashioned blingy than their parents phones.
It has a screen, calls, messaging and banking apps. Plus they will have their own tech support. But I agree it falls between what Vertu offer and stock flagships, which will be perfect for their buyers. There will be niche after market diamond (or Svarowski!) and gold encrusted versions on offer. Come to the top London stores by early summer. Posted via the Android Central App Posted via the Android Central App

"Lamborghini phone will cost you $6,000" No, it won't.

This Does not make any sense to me, I don't get it...An Italian brand, created from an Italian bloodline with a big name and they don't have a phone with Green, White and Red. Don't get me wrong, I love all of the colors, and the logo and phone is exquised, with that being said, they should of also added an exquised Green, White and Red phone to their lineup, Just saying. :)

Wouldn't care if I had stupid money, its ugly. If I pay that much I need to be able to just wave it and blind everyone in the room.