Krusell Aspero Leather Pouch review - classy protection with easy ejection strap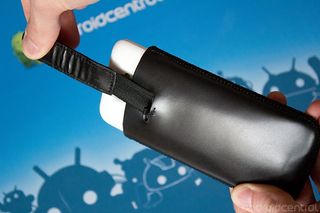 The Krusell XXL Aspero leather pouch is a simple, classy way to keep your phone protected from scratches. Much like their Hector leather holster, it's tight-fitting, lined with soft material, and has heavy stitching around the outside. It differs, however, by using an extendable velcro strap instead of a magnetic latch, and there aren't any gaps along the side or bottom. That strap doubles as a subtle ejection mechanism; a slight tug on it pulls pulls your phone out just enough to get a grip and remove it completely.
Style
It's hard to go wrong with leather as far as looks go. The heavy stitching along the outside is bold, but doesn't stick out too much thanks to matching the color of the leather. Black and white options are available for the XXL Aspero pouch, though I've never particularly been a fan of stark white gadgets or accessories.
As for the leather itself, I was happy with the quality and construction. Barring the subtle logo imprinted on the front, I like the plain, clean look and prefer it to any of the more detailed patterns you see on most cases and pouches.
Function
Sure, you're not going to get much in the way of impact protection, but the Krusell Aspero leather pouch will keep your phone fully protected against scratches. The interior lining is soft enough to ensure your device won't get scratched up on its way in or out.
The Krusell Aspero's strap is actually pretty solid. In addition to having a bit of spring to accommodate taller devices, an extra tug actually pops the device out of the pouch. This is great, since the pouch has a really tight grip and it would otherwise be really tricky to get your phone out of there. The velcro has a great grip, but in my experience fuzz wears out over time, and may reduce the stickiness of the strap. Though the pouch on its own has pretty solid grip even without the strap, I also expect the pouch to stretch with usage, making some long-term security at the top important. A traditional metal clip would have been more reliable in the long haul.
Access to keys on the HTC One X is pretty limited when the phone is snugly in place. The power key, headphone jack, and LED light are just about all you get, which won't be particularly great news for audiophiles. Of course, this is a pretty generic case, so can fit a number of different devices, including a Galaxy Nexus and anything else roughly the same size.
Pros
Stylish and simple
Clever strap system for popping out device
Cons
Velcro may to wear out over time
Bottom line
The ladies out there might prefer this case, since pouch-style protection is better suited for folks that regularly carry around a bag of some kind. Between the velcro and the natural wear of leather over time, I worry a bit about how securely it will hold a device after a year or two, but at that point, you'd probably have gotten your money's worth.
The Krusell Aspero XXL Leather Pouch is currently $24.95 in ShopAndroid, down from a regular $29.99.
Simon has been covering mobile since before the first iPhone came out. After producing news articles, podcasts, review videos, and everything in between, he's now helping industry partners get the word about their latest products. Get in touch with him at simon@futurenet.com.
Could you please help me out here... I'm wondering if this case fits the Xperia Acro S? The internal dimensions listed on ShopAndroid differ from the Krusell website and I don't know if the Acro S is too thick (11.8mm thick).
Android Central Newsletter
Thank you for signing up to Android Central. You will receive a verification email shortly.
There was a problem. Please refresh the page and try again.