KnowRoaming's new eSIM service gets you cheap data in the U.S. or Europe on a Pixel or iPhone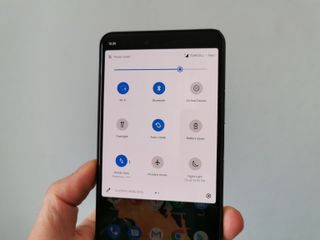 I am an unabashed fan of the eSIM. The prospect of decoupling a phone from the physical SIM card that provides the means for connectivity to a particular carrier — and usually only one carrier — is very attractive. But for one reason or another, mainly having to do with the powerful carriers that provide the service, and the lucrative roaming agreements they make with providers in other countries, eSIM adoption has been molasses slow.
That's slowly changing thanks to the introduction of eSIM support in the latest iPhones along with the Pixel 3 lineup. Now a Toronto-based company, KnowRoaming, is one of the first companies to offer easy eSIM-powered data services for the U.S. and Europe starting at $10 for 1GB of data.
The road to eSIM has been long for KnowRoaming, which started in 2014 offering paper-thin stickers that were affixed to the bottom of actual SIM cards, tricking a phone into thinking there were two providers on a single SIM card. While it definitely solved the problem of overpriced roaming plans at the time, the application process was clunky. A couple of years later, KnowRoaming started offering actual roaming SIM cards at a flat $7.99 rate for unlimited data, and by 2017 they had LTE connectivity in 60 countries.
The goal was always to get here, though: eSIM is a completely software-based connectivity solution, utilizing QR codes to provide the same metadata that a physical SIM is permanently imprinted with. KnowRoaming's two markets, the U.S. and Europe — specific countries below — are jumping-off points as the company tests the popularity and feasibility of eSIM service in general, since the number of devices on which this can work is pretty small right now.
Countries supported by KnowRoaming in Europe
Armenia
Austria
Belarus
Belgium
Bulgaria
Croatia
Cyprus
Czech Republic
Denmark
Estonia
Finland
France
Georgia
Germany
Gibraltar
Greece
Hungary
Iceland
Ireland
Italy
Jersey
Latvia
Liechtenstein
Lithuania
Luxembourg
Malta
Netherlands
Norway
Portugal
Romania
Russia
Slovakia
Slovenia
Spain
Sweden
Turkey
Ukraine
United Kingdom
There are some inherent limits to eSIM aside from device availability. Mainly, the activation method is clunky since it relies on a QR code which must be physically scanned using a phone's camera, requiring another device like a second phone, or a laptop, to display it. The QR code is a current requirement for eSIM activation because there's no centralized activation server — the eSIM is basically an address to tell the phone where to go to download the connectivity details.
Once the QR code is scanned, it's tied to that phone, too; there's no moving the service to a different eSIM-accessible phone, for example. That said, its permanence allows for quick re-upping of a particular roaming plan without needing to scan additional QR codes, so there are advantages and disadvantages to the eSIM's digital foundation.
Of course, KnowRoaming is by no means the first carrier to offer eSIM service, but it's among the first to provide inexpensive data-only LTE for travelers. Apple has a comprehensive overview (opens in new tab) of which carriers offer eSIM versions of their phones, and the iPad Pro has offered a built-in eSIM and easy-to-activate roaming packages for some time now. In fact, the eSIM providers that have partnered with Apple on the iPad Pro, GigSky and Truphone, are KnowRoaming's direct competitors (and both offer eSIM service for the iPhone XS).
KnowRoaming is unique in that it's much cheaper and it explicitly supports the Pixel 3 and other eSIM-enabled Android phones. The 1GB plan costs $10 for 30 days and the 5GB plan costs $40. I used an earlier version of the KnowRoaming eSIM (using the Telna brand, which owns KnowRoaming) on my recent trip to Europe and Turkey on my Pixel 3 and it worked tremendously well.
A product like this isn't meant to replace your regular SIM, especially when traveling. But for people like me, whose carrier charges $12 per day for international roaming, a product like KnowRoaming lets me have my primary SIM activated if I need it while relying on less expensive roaming data to get online. Win, win.
Daniel Bader was a former Android Central Editor-in-Chief and Executive Editor for iMore and Windows Central.
I am on Google Fi. It is $10.00 per GB of data anywhere. Despite what Google's list of comparable phones, I found most Android phone would work just without the network switching and the VPN. Phone calls when traveling are also reasonable. I do have local cell numbers for the places I travel as I need that to contact my pick up rides (for the drivers to call me). Both iPhone and Pixel support esim and iPhone from HK supports dual SIM. Just go with Google Fi if you are in the States. BTW Google charges by the amount you use. That means it is less than $10 if you use less than 1 GB. There is a cap on the data charge also. I think the cap is 5 GB. That means you do not pay more than $50. They do cap the speed if you go over a certain amount. Check out Google Fi for details.

Google Fi here, too. Can't see any Pixel 3 users choosing this over Fi's service plan.

The ones with a Pixel 3 not on Google Fi then? Lol

I'm with Bell Canada. I roam abroad for a set amount per day. If I use an eSim that gets me data, but if I make or receive one call or SMS, do I get hit with that daily charge by Bell?

That's part of the problem though, Google Fi is only available in the USA. Canada and other countries are not supported, so we're stuck with some of these alternatives...

if you're using Pixel 3 series, check this, ( even without Google Fi ), simply download "RedteaGO"from Google Play
Android Central Newsletter
Thank you for signing up to Android Central. You will receive a verification email shortly.
There was a problem. Please refresh the page and try again.