Kids stuck at home? These Oculus Quest games will get them up and moving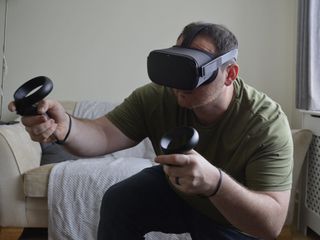 (Image credit: Android Central)
Video games are amazing, but they usually don't do a great job of burning up physical energy. That's where VR and the Oculus Quest come in. If your kids are stuck at home and are bouncing off the walls, you can let them blow off some steam with the Oculus Quest. These games will get your kids and the family jumping, dancing, and spinning around.
Note: When you let kids use VR, remember to take breaks for ten minutes every hour. You can check out more guidance on letting your kids use VR in this guide.
Keep playing
Having to stay inside is never easy. You can only play on your phone, read books, and watch television for so long. The games on this list will help your kids and the whole family get up and moving. A lot of them are set to music, and just about every game on this list is easy to jump into.
Beat Saber (opens in new tab) is one of the best games on the Oculus Quest regardless of what's going on in the world. It has different skill levels, so it's great for beginners and expert gamers. If you want to take Beat Saber to the next level, you should try putting custom songs onto it.
Another great title is OhShape (opens in new tab). It's like a VR version of Hole in the Wall that makes people contort their bodies into different shapes. It adds in music as well so you can dance between the different holes in the walls. To share the fun with the family, you should try casting the Oculus Quest to a TV.
Android Central Newsletter
Get the best of Android Central in in your inbox, every day!
Thank you for signing up to Android Central. You will receive a verification email shortly.
There was a problem. Please refresh the page and try again.