Keep it classy with Luxury WatchFaces Android Wear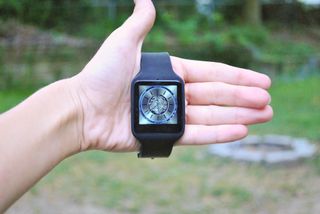 Sometimes our technology works as a status symbol, and you want a watchface that reflects that. If that's the case, or if you're a fan of beautifully designed analog faces, then check out Luxury WatchFaces Android Wear. This app has several faces, all gorgeously designed to show off that piece of tech adorning your wrist.
There are three free faces that come with this app for Android Wear. Marrow, Desafio, and Alpha White. All three are analog face, two are circular faces but they do fit well on a square screen. Each face is elegant and easy to read, while maintaining an appeal to those who enjoy the luxuries in life.
Neither Marrow, nor Alpha White have any features whatsoever. Marrow is a blue and silver face with no numbers. It's easily the most eye catching of the three with it's vibrant colors, and digital clockwork display. Alpha White is a square face, reminiscent of watches many of us might have owned in a different time. A white face with black numbers, and blue hands of the clock, this face also includes a second hand.
The Desafio face is the only one of the three that gives you any options, and it's apparent why. The face has a base color with notches around the edge of the face in white, along with a pair of white hands. From the Luxury Watchfaces for Android Wear app, you can adjust the color. There are a few preset colors, though you also have access to a full color wheel, along with a saturation bar, and a value bar to fine tune your custom colors. You can easily save them so that you can switch between colors at your leisure.
Now there are some premium faces that you can purchase, most notably the Iman face. It's a $1.29, and definitely a step beyond the base watch faces that were offered. You get a digital readout, options on color, the battery life of both your phone and watch, along with the date. Oh yeah, did we mention it's meant to look an Arc Reactor? It fits right in with the luxury faces, while going a step above and beyond — Tony Stark would approve.
The Luxury WatchFaces for Android Wear aren't meant to be flashy with features, and they aren't. They are well designed, and eye catching. With their simple analog faces, you'll never be confused about what time it is. So do you prefer a simple watch face like these here, or do you prefer something flashier?
Get the Android Central Newsletter
Instant access to breaking news, the hottest reviews, great deals and helpful tips.
Jen is a staff writer who spends her time researching the products you didn't know you needed. She's also a fantasy novelist and has a serious Civ VI addiction. You can follow her on Twitter.