Only 42 Android models have been updated to a security patch from the last 2 months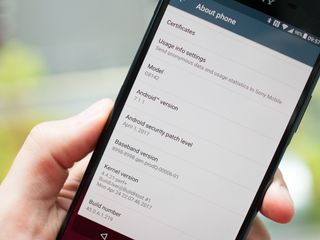 In a blog post detailing how much it has paid for Android security vulnerabilities, the Android team at Google has released information on just how many devices are getting monthly security patches. In fighting a serious uphill battle, Google says there are now 100 distinct devices where a "majority" of the models sold have been updated to a monthly patch from the last 90 days. There are just over 40 devices with a majority of models sold that have been updated in the last 60 days.
Google uses the metric of "a majority" because, despite a phone like the Galaxy S8 ostensibly being one phone, it has dozens of different SKUs and variations in the wild for different countries and carriers. It's worthy of some level of praise for Samsung to get the security patch out to most models, even if it hasn't kept up on all models.
Here are the phones and tablets Google has identified as having kept a majority of its variants up-to-date with a security patch within the trailing 60 days:
BlackBerry Priv
Fujitsu F-O1J
General Mobile GM5 Plus d, GM5 Plus, 4G Dual, Mobile 4G
Gionee A1
Google Pixel XL, Pixel, Nexus 6P, Nexus 6, Nexus 5X, Nexus 9
LG G6, V20, Stylo 2 V, GPad 7.0 LTE
Motorola Moto Z, Moto Z Droid
Oppo CPH1613, CPH1605
Samsung Galaxy S8+, Galaxy S8, Galaxy S7, Galaxy S7 Edge, Galaxy S7 Active, Galaxy S6 Active, Galaxy S5 Dual SIM, Galaxy C9 Pro, Galaxy C7, Galaxy J7, Galaxy On7 Pro, Galaxy J2, Galaxy A8, Galaxy Tab S2 9.7
Sharp Android One S1, 507SH
Sony Xperia XA1, Xperia X
Vivo 1609, 1601, Y55
Seeing such a diverse set of devices updated to one of the last two security patches is great, but it's the seemingly haphazard inconsistency that is frustrating to users who are keen on security. Aside from Google's own devices, it's tough to find a manufacturer that can get the updates out each and every month. Google has made big strides in implementing monthly security updates, but there's a substantial amount of room to grow.
Android Central Newsletter
Get instant access to breaking news, the hottest reviews, great deals and helpful tips
Andrew was an Executive Editor, U.S. at Android Central between 2012 and 2020.
Shield tablet is on April !! Pretty sure no other devices this old are still being updated.

I know this is mostly about phones and tablets, but I think the Shield TV is getting an update now, too. I'll check what security version it's on when I get home.

I read this in Zack voice for some reason.

Wileyfox Swift 2X on May, but we'll have to see if they continue the prompt updates.

Like you said there are many variants. I have an S7 Edge W8 model from Canada and I am on patch from Feb. 2017. That is over 3 months old. I understand that the S7 Edge in Europe has been updated recently though. Too bad I can't install that version without rooting my device.

In Australia - My S7 Edge is on April 2017. You can cross flash different region softwares on Samsung devices without rooting - via Odin. I put the European one on mine when 7.0 was initially released as it took a while to come to Aus. There are some restrictions for certian models though - not sure if that applies to the W8. If you head to XDA forums you will get good info ( if you ahven't already ). Having said that, SAMMOBILE lists both rogers and fido having released an update 31st May... so I assume that the XAC version will follow very soon. Otherwise if you really want it and happy with the bloat, flash the rogers / fido one..

That had to happen in the last 2 days, I check sammobile often for new updates! Important note: All Canadian galaxy phones use the same firmware. A rogers firmware can be flashed onto a telus s7, and the phone remains telus. The firmware reads a CSC code, which determines which carrier it should be, and adapts on the fly. I just flashed the rogers firmware on my telus phone, and my phone stayed telus - no data loss either.

HTC 10 on Verizon has April update

My T-Mo HTC 10 is still on January 1 security patch 😒

Unlocked N. American 10 also has the April patch.

My Verizon Note 4 just got the May 2017 security update yesterday. It was on the April 2017 update before that. Not bad for a phone I've owned for two years now and has been out since October 2014!

+1. I've been impressed with the security updates for the Verizon Note 4. I'm wondering how long it's going to last.

Honor 8 has started rolling out B385 updates which updates the security patch to April 2017. Still, this is June and hope they could do better.

Asus Zenfone 3 max 5.2 is on the April patch

I don't think this matters much. Most of the security exploits are exploits that have never been used in the wild. As long as the companies get critical exploits that are actively being used in the wild patched quickly I think they are fine to put off these monthly updates. As a user they are annoying to install.

Huawei Mate 9 is on April as well

T-Mobile G6 still on March. T-Mobile S8 is on April at least.

You should go and see if there is an update. My TMo G6 is on April update as of 2 weeks ago, my wife's has had the notification for a few weeks but she hasn't done it yet.

Verizon has been keeping the flagships up to date.

Do you have to have mobile service to receive update the verizon update tool is trash I have the lg k8v and no 7.0 nogaut os update for some reason

My LG G4 has the April Update, but it's not listed on that list above. On Verizon.

Don't see the note 5 but mine is on May. Maybe only the verizon one? 🤔

My Note 5 is still on the March update. Telus can't be bothered with doing security patch updates. Before the March update, which came with Nougat, my phone was on November or December patch. I'm seriously considering the Pixel 2 as my next phone, because of this.

Same here with my note 5 from Rogers

My LG V10 (T-Mobile) is abandoned. Meanwhile, my wife has an LG Aristo (also on T-Mobile) that is on the April patch. Google needs to offer their devices on carrier lease the way Apple does.

Before it was because of some deal they made with Verizon since the nexus/now pixel weren't popular enough on their own, now that their advertising harder and it's become a slight bit more popular, the pixel 2 has no real excuse to be exclusive anymore

I have an AT&T S7 Edge & I currently have the May security update.

Yup, me too (same phone and carrier).

My Nexus 6 on Project Fi is still on FEB patch. I called Fi and they recommended doing a reset but w no assurances it would get me current. This phone supposedly supported til OCT '17 for patches. Havnt done reset since I'll prob get new phone in fall.

Galaxy S5 on Lineage - best phone HW + OS combo i've owned. Will stay with this phone as long as I can. Last month got May update on the 1st - same day as google release. Its literally just a git pull and rebuild for them. I know that this doesn't probably cover any vulns in the kernel and hal blobs but along with the ability to update the main attack surface - webview and chrome from the play store - I feel pretty secure.

I also feel that the carriers do pay attention to vulnerabilities that really matter, and will patch. Just because there are monthly vunls doesn't mean there is a practical concern and excessive updates do bother the customers. I know with the iPhone there were two 700-ish MB updates within just a few days, a couple months back. The device was out of service for a half hour each time. For similar android vulns, Google could have updated Webkit, maybe Play services and chrome and been done in a minute.

Had s7 on tmo and never missed a month (except december where they were doing the beta)
Now have the s8 on tmo and haven't got the may update even tho the s7 dropped a couple days ago

My Moto x pure has nougat and April security patch

A least Andy Rubin admits it on the Essential Phone video. Android really is the wild west.

7 Edge I've got to admit - Samsung has tried to keep current on the 7 Edge lately. The last two months I have seen regular security updates on my phone. I'm actually impressed. Still - a bit miffed though - originally waiting for 170+ plus days to get the Nougat update on the 7 Edge. This also tells me that Samsung will only do something - if - they - are - shamed \ guilted - into - doing - it. I still would prefer to buy my phone from a company that takes my consumer loyalty and security has a priority. Respect is earned - not given. Enough said. Rant over.

I also have an S7 edge... and have been impressed with it's updates... Get the point re nougat... but to be fair to Samsung they were not that far behind other manufacturers.... so, they are all crap! :) Having said that... I got it for the camera... and now Pixels are around and can compete, pixel 2 will be my next phone me thinks.

I'm waiting for the Pixel 2 also... I've been listening to a bunch of various podcasts - from both Android and Apple enthusiasts... Final conclusion - Google is apparently leading everyone else in the services department - a better broader eco system - so I'll give it a go... I'm actually kind of excited to see what's coming down the pike... Giddy - almost...

Odd, my Note 5 was updated to Nougat in March, and is currently on the May security patch.

Precisely why I bought the Nexus 6P 👍😎

I wonder how HMD is keeping on software updates on the Nokia phones. Have heard that they are currently on May. Am considering the 6.

My Note 4 has gotten one for the past 2 months.

My AT&T Galaxy S7 got the May patch IN May. I was shocked.

I don't know how current but my Note 4 and 5 were updated in the last month or 2. Neither has an active SIM at the moment.

I have the Sony Xperia XZ, it was updated to may 2017 security patch a couple of weeks ago. In fact, sony keep it on latest security patch each month, so surprised to not see it on your list?!

Moto G4 Plus is on 1st March security patch which I got on 27th April in India

Nexus 7 2013 on May patch! Thanks Lineage OS !! :)

My Moto G5 Plus got the March security patch a few days ago.

My Note 4 has the May security patch. Posted via the Android Central App

That's bullshit I have the v20 from videotron and unlocked to use on other carrier and I have march my father's priv is more up to date than my v20 its probably cause its unlocked through videotron????

I have the Galaxy S5 from Verizon and I have the April 1, 2017 security patch. Considering it's Verizon and the S5 is an older phone I am surprised to see Verizon is still updating the S5 with security patches. I am very happy about this!! Oh yeah....by the way....my S5 is still going strong!

Is this list only US carrier phones? My Note 4 910C has been up to date with security patches since the day I've got it.

I just thought I'd mention that Verizon just released the May 1st security update for the Moto Z Play Droid edition. I just installed mine. It took like 10 minutes.

I have a Samsung S6 (not on your list). Last month, I received the Android 7.0 Nougat update and the May security patch. Yes, Nougat was late (but at least it arrived). Security patches have been appearing every couple of months since I bought the phone 2 years ago. Still, all the crapware that comes with Samsung phones is annoying and my next phone will be something with a cleaner version of Android, in addition to a promise of regular security updates. My advice to consumers who care about security - pay attention to these lists and don't buy from vendors that are not on the list. The others will learn quickly enough. I was thinking of buying the OnePlus 5, but since OnePlus is not on this list, forget them.

Manufacturers can only do so much to get users to upgrade. I'll bet OnePlus was on the 90 day list (and I'm surprised Android Central didn't include it, maybe it wasn't available).

My Galaxy Note 4 has gotten every security update patch every month. Just received May update two days ago.

Surprised the Note 5 is not included on the Samsung galaxy list. Mine is at the May 1, 2017 patch level

My Verizon S7 is on May 1, which is the closest it's been to up-to-date since I've owned it.

Along BlackBerry Priv needs to be the DTEK60. ;-)
Android Central Newsletter
Get instant access to breaking news, the hottest reviews, great deals and helpful tips
Thank you for signing up to Android Central. You will receive a verification email shortly.
There was a problem. Please refresh the page and try again.