June 24 still looking good for the EVO 3D, Radio Shack hints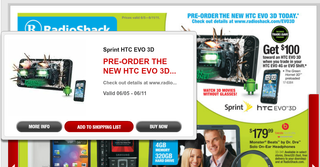 The HTC EVO 3D just hit this week's Radio Shack weekly ad, along with a preorder offer that doesn't actually work just yet. (Could be people are still waking up.) But, we do have the following: Radio Shack's doing a trade-in deal -- $100 off the EVO 3D if you bring in an EVO 4G or EVO 4G Shift (the latter being all of five months or so old at this point), and $75 off other smartphones. And that trade-in offer doesn't start until June 24. So, yeah. June 24's still looking pretty good right about now, at least as far as Radio Shack is concerned.
Sources: Radio Shack 1, 2 (opens in new tab), 3
Android Central Newsletter
Get instant access to breaking news, the hottest reviews, great deals and helpful tips
OH WHO CARES, HOW ABOUT GINGERBREAD FOR THE EPIC!

Its a Samsung so it will be another six months.

Did you guys mean the EVO 3D and Not EVO 4G?

I don't see any typos in the article, unless they were already corrected.

I visit this site way too much on my overnight shifts! Just aching to see that official specs of the droid 3 post one day!

has anyone heard any pricing for the 3D? $100 trade in works as long as you get the full upgrade discount and the 3D is around $199-$249 before your trade in.

I have a friend working at radio shack of whom i'm going through to get my pre-order, and of which says he knows alot of details about the EVO 3D in relation to the launch date, apps that will come pre loaded on it, and the full pricing. But he says he can't tell me until after I've done pre-ordered cause otherwise it breaks some sorta legal thingy they all had to agree too. If I find out anything tomorrow when I head in to pre order, I'll let ya know!

Your friend is telling tales. No such info has been released to employees.

Also has anyone else tried doing the online pre-order thing? I did and its still saying that it doesn't exist... would be nice if their advertisements of pre-ordering actually worked! The radio shack in my town isn't taking pre-orders yet for some reason, but as I said before, a friend working at the radio shack in town is going to get me a pre-order anyway. I'll let ya guys know if I find out anything interesting!

I'm a store manager at a Radioshack in Miami and call that store again and speak to the manager because we have been doing pre-orders since the end of May. You just come into the store say you want to do a pre order and you buy a $50 gift card which will be discounted from the price of the 3D on launch day and you just fill out this form that says around what time you will be most likely at the store and circle and accessories you may want like the kickstand case.ofourse everybody puts 9am because they want to be the first one to have the 3D but we will call you if we will open the store early, last year we opened at 6am for the EVO 4g launch. And if you want to trade in your old EVO 4g on launch day you'll get an instant $100 off. The official launch day will be June 24th and will come pre-loaded with The Green Hornet in full 3D so its going to be pretty sick!

Mmm... I did my pre order two weeks ago like androidcentral.com said and i went at radio shack at the day of the silent pre order of the evo 3d, and got 50$ gift card and advised me that they will call me once its official date is posted

They way I read the ad is this is currently an in store pre order only. (i have the actual ad in front of me)

I also work at radio shack, EVERY radio shack is taking pre-orders, also, the way it was explained to me, the evo 3d is going to be 199

Oh and if you talk to someone at radio shack and they say they aren't taking pre-orders, tell them to call their district manager and ask them how to walk them through the pre-order process.

This is even better, now i get $75 for my crappy hero thanks to this trade in deal, before i only would've gotten around $40

On wirefly the pre order is up as well. Its listed at 249.99 for now preorders run into June 23rd. so June 24th looks right

I just checked wirefly.com and it shows me $199.99 for new or existing customer. $599.99 for no contract price.
They also have a 30-Day Pre-order Price Guarantee. Might be worth checking out. also Wirefly Mobile Backup Service - Free For Life. Paul

They must have changed it. I'll be using wirefly to get 50 cash back from Bank of America add it up. Edit: I don't care about their back up system though. Enough companies have my info already. Google handles this

I got my first EVO at Best Buy when I pre ordered it they gave me a gift card, I then used that gift card towards the sale of the EVO. Will radio do the same and how much out the door for the EVO 3D ?

I got my EVO 4G upgrade to 2.3.3 Friday OTA. Sweet. Ahead of the 3D which I don't want till Fall since it'll be a bit buggy. Thanks to HTC for pushing the upgrade OS out early. Great outfit!

Heh, my EVO cost me $125 last year after the Studentrate discounts... If RS gives me $100 for it, that'll be a pretty sweet deal, even tho I'm sure I could probably sell it for more on Ebay. Last I saw the going rate was over $300, it'll probably drop some after the EVO 3D launches... Wonder how much though? Someone that's on-contract but wants to upgrade would still pay $400+ for a newer phone like the EVO 3D, but if they're on contract they either have an older phone (Pre, Hero, etc) and are nearing the end of their contract, or they've got something contemporary to the EVO 4G and may not wanna pay $250+ for a used one. Guess I'll have to look into it before June 24. I might just sell it to the Shack or Sprint (last I saw they'd pay $125 for it) just to save myself the trouble of posting it for auction, dealing w/possible complaints from the buyer, etc.
Android Central Newsletter
Get instant access to breaking news, the hottest reviews, great deals and helpful tips
Thank you for signing up to Android Central. You will receive a verification email shortly.
There was a problem. Please refresh the page and try again.