It's official: Galaxy Note 7 is coming back as the Galaxy Note Fan Edition on July 7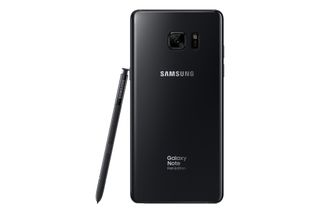 Samsung said earlier this year that it will introduce a refurbished variant of the Galaxy Note 7, and we now have more details on the device. The phone is called the Galaxy Note Fan Edition (opens in new tab), and it will go on sale in South Korea on July 7.
Samsung is planning to sell just 400,000 units of the device in its home market, with a retail price of 699,000 won ($611). That's 40% less than what the Note 7 retailed for last year. Samsung says that the Galaxy Note Fan Edition is made of "unopened" and "unused" Note 7 parts, with the company reusing the components from the Note 7 to minimize "environmental impact" from having to dispose of 3.5 million devices.
The design of the phone is identical to last year's flagship with a few tweaks — there's no Samsung branding up front, but there's a Galaxy Note Fan Edition logo at the back. The phone now has a 3200mAh battery, and Samsung says it put the battery through its new 8-point battery safety check to make sure it doesn't overheat.
Like the Note 7, the Galaxy Note Fan Edition is IP68 dust and water resistant, and the S Pen is also back. The phone is available in the same color variants as the Note 7 — Blue Coral, Gold Platinum, Silver Titanium, and Black Onyx.
The rest of the hardware is likely unchanged from the Note 7, but as of now, there's no mention of the exact specifications. What we do know is that the Galaxy Note Fan Edition offers the same software experience as the Galaxy S8 and S8+, including a few Bixby features like Bixby Home and Bixby Reminders. Thankfully, there isn't a dedicated hardware button to invoke Bixby.
Right now, there's no mention of whether the Galaxy Note Fan Edition will be sold in other territories. Would you be interested in picking up the phone if it launched in your country?
Harish Jonnalagadda is a Senior Editor overseeing Asia at Android Central. He leads the site's coverage of Chinese phone brands, contributing to reviews, features, and buying guides. He also writes about storage servers, audio products, and the semiconductor industry. Contact him on Twitter at @chunkynerd.
An excellent phone and deserved of a second chance, not just for its own merits but also for environmental reasons.

Well it had a second chance, this would be it's third chance ha

I want this instead of note 8.

Me too, should be the perfection of the S8+ without the stupid narrow body

If the Note 8 is narrow I'll be importing this.

What do you mean by narrow body? The note 7 and s8+ are basically the same width(73.9 vs 73.4mm). The s8+ is just a bit taller.

Me too. I think the Note 8 will be too big for my small hands

I`m thinking to go back to S7 Edge

Yep. If they sold this in the US, I wouldn't hesitate to buy it over the Note 8. Who wants a misplaced fingerprint sensor and a dedicated hardware button for Bixby? Nobody. People buy the S8 in spite of, not because of those two screw ups.

I'll take this over the U11 any day.

You have more patience than I ;)

I have the HTC U11 and I love it.

Those are the blurriest pictures I've ever seen.

i want it now...tired with samsung s6 came form note 4

Bad phone is bad. Note 8 is 2 months out, 100% of people should wait.

I'd get this not for what it has, but what it does not. No Bixby button.

No Bixby Button is already a plus.

note 8 is 2months out, with a $1000 price tag...

And if it looks like the S8+, butt ugly!

How much is it to import a $700 phone from Korea?

Throttle, so shipping, customs, and import fees and taxes on all of that are free now? ;)

No. $1400. Eh, you ruined the joke...

Note 7 was never a bad phone

Lol you have clearly never heard anything about this phone. It is literally the worst phone ever made.

I would get this, because I miss my Note7, the price is a lot cheaper, the front placement of the FPS, and I miss my Note7.

Allowed on airlines?? Probably not.

Guess that's why they're removing the front logo.

Since they didn't change the defective design, I hope Europe keeps the ban in place. This phone is a safety hazard and I don't want some fanboy to endanger a means of transportation I'm in with one of these.

I think you are missing the original problem, the battery was badly manufactured. The problem came with trying to cram a huge battery into a small space, this new model has a smaller 3200 mah battery.

Uh..according to Samsung's official schematics the battery was suffering pressure in a corner due to the design of the phone. Even if they put in a smaller battery, who's to say the design won't impact it again? At this point they entire phone design is not to be trusted and, hence, why I hope the ban is kept in place.

After seeing your countless negative comments on here over time, its clear you're just a miserable human being. Sorry pal

The battery was at fault. The same battery was apparently in use on the S8+ but likely refined.

The battery was at fault...because the design of the chassis led to it being crushes. I mean...Samsung showed the schematics. I find it funny how people keep deliberately ignoring them and pretending it was just the battery's fault.

It wasn't mentioned that the chassis was the direct cause of the battery failure, although it could have been a contributory factor.

Battery was too big for the chassis, had no room to expand when it heated up. With a smaller battery that won't be an issue, the same situation would happen to most phone designs with an over sized battery.

Okay? And the battery is smaller so that the corner no longer affects it. Problem solved. Ever heard of two birds being killed with one stone? Voila.. Here you go. Try using some logic.

Before someone speaks it is a good idea to do research so you don't sound like someone who talks trash. Just a little tip.

Hm? That's the notion I got from the official reports. It isn't confirmed aside from one indicating that the very design of the phone was to blame but given that it was mentioned as part of their 8-point checks, it could indeed be a contributing factor. About the S8+, that's why I put the word "apparently". I've read on SamMobile and others about it earlier but it isn't confirmed, hence why I said "apparently".

Don't think he was talking to you...

Oh.... Damn app messing up the comment layout...

Layout seems perfectly fine on my end...

It's a little messed up on mine. It just resolved itself. Odd I wished it would show who is a user replying to.

It's all good. I do the same thing once in a while.

Well, you should then maybe follow your own advice ;)

Makes no sense but ok. Thanks

Yes, because Samsung is dumb enough to re-release for a third time with the same issue that cost them billions last year... brilliant logic bud...

Samsung isn't dumb. And because they know there are dumb people who will buy this badly-designed safety hazard, they're picking up spares and putting out a 600€ phone for idiots to buy so that all the money they blew up on the original Note 7 doesn't go to waste as it should.

Nonsensical dribble is nonsensical...

Samsung didn't loose billions. Stop watching CNN

It was close to $20 billion

Actually they did... But ok

Looks like all you C is BS, mate

I'm in for it but $400 or less should be the pricing.

There is always one cheap person in the room!

So if someone wants to save some money on a decent phone or any product they are cheap. Got it.

Just like there is always one idiot in the room, eh? 🤔

There's always one person in the room who doesn't value a hard-earned dollar

This has been redesigned on the inside where the issue was but there will always be haters. I'd definitely pick one up for the right price but $611 isn't it.

Saying people are just haters is very ignorant. The Note 7 got such a bad reputation, you can't blame the non tech savvy people (of places) for not wanting one close to them.

I personally wouldn't call them haters... I'd call them idiots with zero logic. But that's just me...

Yes it is unreasonable to not want to pay 80% of retail for the worst phone of 2016 10 months after release.

It's perfectly reasonable to not want to pay that much for this phone. I personally wouldn't even consider it. My comment, however, is not in reference to the price point established for this re-release. My comments are only in relation to the idiots still afraid of this device at this point.

I guess I think that they should not be releasing it. We're seeing all this half ass product from Samsung this year FPs location, Bixby, etc) and then find out they've been wasting resources, time and a fortune on resurrecting this POS and that's a little hard to take. The top of this thread post is right, the stigma will not be overcome for Western markets and it's very likely Samsung knows this. All of that time and money could have gone into perfecting the 2017 devices, which is an example why opportunity cost is still such a problem with this company.

Well I can't really disagree on this, very fair point

The money and resources would have been used anyway. They had to fully investigate the issue so that it would never happen again. The result of the investigation is a solution for non-exploding Note 7s. So you expect a company that has tons of bought and paid for components AND a solution for making them work properly to just NOT put them together and sell them? Every refurb unit they sell reduces their inventory write-downs and all profit helps offset the cost of the failure investigation. Selling the GNFE is hardly a "waste"

So it comes with a fan to keep it cool? ... I'll let myself out.

Selling 400,000 is better than wasting all 3.5 million, so props for that. Too bad they didn't get to the root of the problem sooner and make the smaller battery part of the first attempted fix.

No way to know the source of the problem right away, the question is how many companies can replace phones of clients and recall them all worldwide + refund without taking a dagger in the heart, and then make an exceptional phone as the S8, no so many in my opinion...

I'll go with : "any company that has a ton loads of money". Did I win?

You just won this friendly suggestion in the form of an emoji ... 🤐

IDK. It"s very desirable for sure. If it came to the UK they would want more than the £450 - 500 I would pay for it.
Was the Note 7 with a 3500 battery? Can't remember. Not much in it if so. Samsung Fan Edition...? Ya know I don't think they will release more outside Korea. It will be a marketing headache and is kicking old wounds. Shame. I wonder how many more they could resurrect economically; and didn't they have two SoC's and multiple radio versions. Not going to happen worldwide but yes, kudos for not wasting everything.

Thing is, the Note 7 has been banned from everywhere. I'd like to see some person argue with a flight attendant and saying "but.. It's not a Note 7, it's a Note 7 FE.. It's.. Like.. Not the same..."

It's not even a Note 7 just a Samsung Fan Edition, and no Samsung logo on the front. Just *Galaxy Note Fan Edition on the back. *corrected. I wonder how many Note 7 "only over my dead body" types would disguise theirs. Any left?

If I'm taking a flight and I see anyone with a Note 7 or a "Fan Edition", I WILL report it to the airport security. I'm not putting my life in danger just because some stupid fanboys and a greedy company can't just let a defective phone die and move one.

You should probably live in a bubble, that's where you'll feel safest it seems...

Are you going to report anyone with an iPhone as well because far more of those either caught fire or exploded than the Note 7. Or is it all just an excuse to keep having a pop at Samsung at every possible opportunity?.

Don't hold your breath for a logical response from DJCBS...

Whoops, with "alternative facts" like that, you should apply for the new opening in Trumps press team.

DJCBS........ Less than 1% of the note 7's ( they sold over 3 million devices) caught fire. They did not phucking explode. Good God, grow a pair......stop being a pansy

If I ever see you on a flight I'm reporting you to security. Your comments leave me to believe you're too unhinged to be allowed to be in a flying tube with normal people.

The note 7 ban died with the official recall.
In Canada it's not even looked at or mentioned since the official recall.

In the US it is still banned, but the required statement to read on way flight is no longer mandated.

In Europe it's still banned.

I'm sure you all know the FCC ID on the Note 7 is A3LSMN930F and on June 16, 2017 the Note FE was granted an FCC ID of A#LSMN935F or FD(depending on if dual sim or not). The FCC ID on the Note 7 is what was distributed to airlines, cellphone carriers and other regulatory agencies around the world. The Note FE also has passed and has new certifications & grants in Australia, Europe/CE, Japan/TA, China/CC and many other countries or including Korea. This info is all publicly available from appropriate government sites. For those who don't know it might be willing the few minutes to understand what is required to pass these certification/grant requirements.

The price should be squeezed a little bit, OP5 packs almost the same (I said almost...) and it is 500, for somewhere around 550, it is definitely worth the price....

But hey, the display on this one is right side up!

I personally would want the GFE, cheaper for consumers but will eat into their profits and sales. They can refurb the returned Note 7 to further reduce the impact to the environment and would be seen as being very responsible for the environment, though it took a year to replace the battery.
I want one!

Love the cleverness of the environmental angle. Genius. I'd definitely buy then though.

Happy with my unlocked G6

This useless phone now it's 2017, I love my s8. The note fan is outdated they should only be worth 99 dollars at the most.

Good luck traveling thru the airport with that phone 😓.

I would if it were offered in the States.

It's either the Note 7 or 8. There are no replacements waiting on August

I would get one but not for the $600 price way too much. Should be $399 after everything Samsung went thru on this phone.

as a person who is using the S8+, i would go back to the Note 7 in a heartbeat. I believe it was the best, well rounded Samsung phone i've ever used. I never had issues with mine, but just in case had to give it back.

Best phone i ever owned and I was so disappointed when they confiscated mine at Verizon. Have me an LG V20 and its the worst one I've ever had. My note5 is faster and better camera than this pos. I'd take one beck in a heart beat. The s pen is a must for me, and syncs well with my tab a w pen. The 8 better be able to get here soon without issue.

Also, hope it has similar handling of past phone. My v20 is like a bar off soap and slippery as hell always sliding and falling. Can't wait for n8 or this the if in usa

If the issue you have with the v20 is that it's slippery how on Earth is the glass back of the note going to resolve that?

Too pricy for the stigma and the old hardware.

When I'd first heard this it was the Galaxy Note F.E., twisted as my thinking was I thought Fire Edition, never occurred to think Fan Edition.

No thanks, moved on already don't want last year's spec phone. Note 8 where are you.

This. It's actually frustrating that Samsung spent more than a minute on this project when all of that time and money could have been spent on making the next devices better. Fingerprint sensor location as an example.

What did you expect them to do really? They spend a little more refurbing the a few 100K units, recoup some of the loss.
I'm pretty sure the next note is being worked on all the same.

I'd expect them to recycle the extra components, not sell any of them and take all the saved time and money and apply it to either improving the other devices and/or having Bixby ready on time and/or having their fingerprint sensors completed, etc, etc. Wasting time and money on extra dumb stuff is only okay when your already on top of your other stuff. When you're falling behind on your job, wasting a bunch of time and money isn't really ok.

So, after they spent all the time and money to research the battery issue and determine root cause, you expected that they would then just throw away all of the hardware they already purchased now that they had the ability to make it not blow up? Yeah, okay. Clearly you've never run a business

I think I would take this over the N8. The fingerprint scanner on the front, no bixby button and the price tag make this a much better buy for me.

Yeah, it will be difficult to get past the negative associations with this and the N7 by simply rebranding it, even if the battery problem was resolved. While I'm not overjoyed with the Bixby button and finger scanner on my S8, I'll happily wait for another generation to pass before considering something like this again.

would LOVE to have this after I gave up my blue note 7 that I still miss dearly. I'd take this design over the rumored note 8 that's for sure! bring it!!

Should be note 7: On Fire Edition... Like NBA jam on fire edition

5 bucks says this is a test run, they'd have a MUCH easier time handling a recall in South Korea. I'll bet we'll be seeing a US limited launch in a month and a half or so, once it's market proven to be safe.

Hope not. That would be misguided at best, but also why are they wasting time on the past instead of fixing their face for the future?

"Fixing their face for the future"? I think they've already done that with the s8/+ ... Plus, the reasoning behind this has already been evaluated...

To a point, but they need more than "not burning". Bixby and the failed under the display FPS are two high profile examples of Samsung's issue. They obviously have ideas and want to push the edge, but they're running out of time and/or money to get things done in time for their release schedule. If this current project had no resources devoted to it, they may have been able to put out finished devices this year.

Can't wait to pair this with the Android Auto deck in my refurb'd No Explosion Ford Pinto.

Oh god yes!!! Must have it back!!!

I would take this in a heartbeat!

Well, the Note 8 will be super expensive.
The reviews for the Note 7 were really good at the time. If it's a good price...
And it's be a fun discussion piece. "Yeah, I don't care. I live on the edge, man. I could explode in flames at any moment."

If these pieces of crap start exploding again I wonder how idiot fanboys are gonna defend Crapsung this time. Oh yeah Samsung will blame on S pens, lol. Anyways this should've been named "Idiots Edition"

I'm sure you all know the FCC ID on the Note 7 is A3LSMN930F and on June 16, 2017 the Note FE was granted an FCC ID of A#LSMN935F or FD(depending on if dual sim or not). The FCC ID on the Note 7 is what was distributed to airlines, cellphone carriers and other regulatory agencies around the world. The Note FE also has passed and has new certifications & grants in Australia, Europe/CE, Japan/TA, China/CC and many other countries of course including Korea. This info is all publicly available from appropriate government sites. For those who don't know it might be willing the few minutes to understand what is required to pass these certification/grant requirements.

I was thinking "boring" but that's interested. It has approval in those other regions?

What a horrible risk for Sammy to take!
If there is just one report of one of these catching fire even if unrelated to the firat two times they are in deep trouble.

Fan, because it needs cooling

Love this phablet https://ithot.ro/samsung-galaxy-note-fan-edition-va-fi-disponibil-spre-c...

Like this but i hope to not have any problems :)

Overpriced considering the fiasco.

After Note 7 recall, I struggled to find the perfect phone for me. I used the Moto Z Force Droid and Pixel XL. I settled on the Pixel XL mainly for pure Android and better camera performance. I think the quality of the camera are about even between those two but the camera app/hardware on the Z Force would often crash on me and I'd lose video/pictures. I recently picked up a Galaxy Tab S3 with S-Pen. It is making me miss the Note now as I often used the S-Pen for quick notes or note taking in meetings. I forgot how much I missed it. So I may be heading back to the Note 8 this fall.

I would have one of these baby's , it is a pity you can't hhot Rod old devices,
my old note 4 with an 835 in it would be full of awesomeness 😎.

$611 is too expensive still, a phone with a reputation of causing fires should be $400 or less. Otherwise I'd totally buy one.

Depends on what the Note 8 brings and for what price...

No LTE band 13 makes it a hard pass for me. I still think that it should be sold unlocked in the US after the Note 8 comes out. Had the Note 7 not have carried a battery not fit for its design, we'd still be calling it one of the best. This corrects that particular issue, so what's the issue? Would rather have it than any phone without a headphone jack or without a microSD card slot. I mean why buy Android if you can't get that?

yep ill will take one if i can get my hands on one

I'd buy one in a new york minute, as long as it's gsm. The Note 8 is just too damn big.
Android Central Newsletter
Get the best of Android Central in in your inbox, every day!
Thank you for signing up to Android Central. You will receive a verification email shortly.
There was a problem. Please refresh the page and try again.