It's 2018 and Android phones still can't compare to the iPhone's Taptic Engine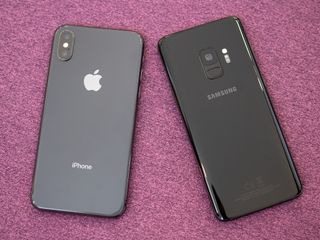 You've probably heard of Apple's Taptic Engine before. It's the vibration motor that first appeared on the iPhone 6S, eventually running out the headphone jack in the iPhone 7 and consequent models. It's also what allowed Apple to replicate the clicking button of the old days on newer iPhones with nothing more than a firm buzz under a pressure-sensitive portion of the glass. Subtle as it may be, the Taptic Engine has made a huge difference in the overall experience of using an iPhone.
Meanwhile, Android phones haven't exactly made haptic feedback a high priority, with most phones limited to only a few different settings for vibration intensity. Most users probably don't notice the difference, largely because they've likely never experienced the iPhone's Taptic Engine, but spending even a few hours with a modern iPhone can make it hard to go back to the rattly motors of most Android phones.
What's so great about the Taptic Engine?
Remember that HTC phone you used to have that sounded like it was going to explode every time you got a notification? Remember getting scared half to death because you left your phone on the table and the vibrations practically shook the entire room?
The Taptic Engine focuses on more subtle and focused vibrations. Unlike a lot of other phones, the iPhone doesn't aggressively alert you of a new text or email; it's more like a tap or a knock in your hands. But the Taptic Engine isn't special just because it's gentle; it's because nearly every interaction with it is different.
When you get a text, the iPhone vibrates along with your notification tone, matching the dynamics with softer and harder pulses. Same goes for phone calls — you can really take advantage of this by setting different ringtones for certain callers. Even with the phone set on vibrate, you can literally feel who's calling.
The Taptic Engine works great alongside the iPhone's 3D Touch display, as well. As I mentioned before, the non-moving home button on newer iPhones (save for the iPhone X, which eliminates the home button entirely) is just a pressure-sensitive portion of the front glass. The "click" is emulated by the Taptic Engine, and you can adjust how hard you need to press down — and how strongly it vibrates back at you — in the settings.
You can also feel the effects of 3D Touch and the Taptic Engine on the home screen and throughout the UI; pressing an icon on your home screen with a bit of force will prompt a small buzz and open a contextual menu for the corresponding app. Similarly, you can 3D Touch a module in Control Center to open additional options — again, with a light haptic response.
The Taptic Engine isn't great because of any one feature; it's a series of nuanced interactions that make the iPhone more enjoyable to use.
Which Android phones get the closest?
I've seen a lot of people clamor over the great haptic feedback on the Pixel 2, and it's certainly better than that of any Pixel or Nexus before it. But after buying a Pixel 2, along with an iPhone X, earlier this month (for my fiancee and myself, respectively) and using both side by side ... let's be honest, it's not even close. It doesn't feel rattly like other Android phones, which is a huge plus, but there's really no correspondence between the vibration motor and the different actions on your phone.
LG gets a lot closer to greatness with its HD TouchSense technology on the V30. Rather than using the same two or three vibration settings throughout the entire UI, LG spent some time configuring parts of its software to exhibit small details in the haptic feedback, much like on the iPhone. Pressing one of the navigation keys feels nice, with a quick tap-like response, but the best showcase of the V30's high-quality actuator is the camera software.
If you personally carry a V30, you already know what I'm talking about. Tapping the shutter button to take a photo actually sort of feels like taking a photo with a real camera because the button clicks back at you. If you dive into manual controls, scrolling lists will click back at you as if you were spinning a dial. It's one of my favorite uses of what LG calls "HD haptics," and something even the iPhone doesn't do, because, well — the camera doesn't have manual controls.
When I was formulating this article, my colleague Daniel Bader mentioned that Sony's newly announced Xperia XZ2 has some pretty great haptics of its own, and while I haven't yet tried it for myself, it definitely has my interest. In short, the "Dynamic Vibration System," as Sony likes to call it, uses a larger than normal vibration motor and buzzes along with movies and music. Unfortunately, Daniel also says that Sony's motor isn't as accurate as that of the V30 or iPhone X in general, but it's a step in the right direction.
Is it really that big a deal?
If you're coming away from this article thinking "it doesn't matter that much," I don't blame you. Haptic feedback will vary in importance from person to person, but it's hard to imagine calling poor haptics a deal-breaker on an otherwise attractive phone.
Still, the more I use the iPhone X it's becoming increasingly noticeable when I pick up another phone and feel just how far behind other vibration motors are. I sincerely hope LG continues to integrate its fantastic TouchSense system, and hopefully other OEMs will soon follow suit.
What are your thoughts and experiences with haptic feedback, Taptic or otherwise? Let us know in the comments below!
Get the Android Central Newsletter
Instant access to breaking news, the hottest reviews, great deals and helpful tips.
Hayato was a product reviewer and video editor for Android Central.