Isis Mobile Wallet launch tipped for Oct. 22 in Austin and Salt Lake City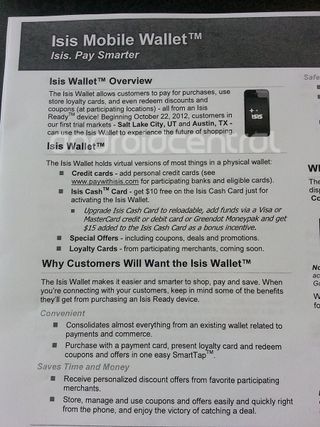 Google Wallet competitor Isis could go live in trial markets in a matter of weeks, according to a leaked internal document obtained by Android Central. The doc, sent our way by an anonymous tipster, says that beginning Oct. 22, customers in Salt Lake City, UT and Austin, TX will be able to use the Isis Mobile Wallet service on "Isis Ready devices" -- though no complete list of devices was provided.
The document goes on to state that payments through Isis "supporting banks'" credit cards will be supported, and that Isis users will get a complementary $10 balance on their pre-paid Isis Cash Card just for signing up and activating their wallet. That'll sound awfully familiar to anyone who's used a Google pre-paid card through Google Wallet.
Isis has some big names backing it, and whenever the eventual widespread launch comes, you can bet we'll be hearing much more about it.
Thanks, Anon!
Alex is global Executive Editor for Android Central, and is usually found in the UK. He has been blogging since before it was called that, and currently most of his time is spent leading video for AC, which involves pointing a camera at phones and speaking words at a microphone. He would just love to hear your thoughts at alex@androidcentral.com, or on the social things at @alexdobie.
I don't see where the competition is. Both Isis and Google Wallet work at the same terminals. Who cares which app is installed on the phone?

Ay, there's the rub. What if not every NFC-enabled phone that has been released over the past 16 months is "Isis Enabled"? After all, doesn't the carrier get to unilaterally determine that? Then again, I guess the app could simply be side-loaded like GW is...unless of course it requires some sort of authenticator application similar to NFL Mobile on VZW.

Google Wallets works primarily with Sprint and a few lucky Verizon customers but Isis is working with Verizon, T-Mobile and AT&T. As an AT&T customer(insert AT&T death star jokes here), I'm looking forward to trying this out. http://www.paywithisis.com/about-us.xhtml

Vzw stopped the ability to side load it from the browser app store @ssholes. XDA has an updated gWallet for those interested
Android Central Newsletter
Get the best of Android Central in in your inbox, every day!
Thank you for signing up to Android Central. You will receive a verification email shortly.
There was a problem. Please refresh the page and try again.