International Galaxy S3 Android 4.3 update rollout begins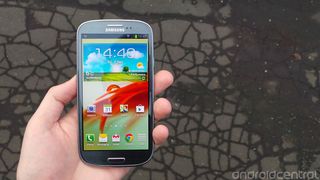 Following recent Android 4.3 launches on the Galaxy S4, it seems it's the turn of Samsung's 2012 flagship to get the updated version of Google's OS. Reports from SamMobile suggest that the international 3G Galaxy S3 (GT-i9300) has begun receiving the update, starting with owners of the Vodafone Ireland branded version.
The update brings the Exynos-based GS3 to software version UGMJ9, which includes Android 4.3 and all its associated features, as well as Galaxy Gear support, ANT+ support, the apps-to-SD feature from the Galaxy S4 and Note 3, among other TouchWiz features. The Galaxy S3 skipped over Android 4.2, meaning there'll be a lot of new stuff to see for international GS3 owners, who'll be updating from Android 4.1.2.
If you're on Vodafone Ireland (with a carrier-branded device) you should be able to update over-the-air or through Samsung's Kies desktop software. As usual, other carriers and regions are expected to follow in the days and weeks ahead.
Source: SamMobile (opens in new tab); via: XDA (opens in new tab)
Alex was with Android Central for over a decade, producing written and video content for the site, and served as global Executive Editor from 2016 to 2022.
great news!! hope it comes to 02 UK soon!

Same. I'm unlocked and using 3 but my mums phone is the gs3 on o2 UK. Posted via Android central app on my rooted LG Google Nexus 4

Still waiting for 4.3 on the s4 o2 uk

I saw that you can get it now! Posted via Android Central App

Yeah o2 UK! Looking forward to it Posted via Android Central App

Wonder if this will hit the mini version too?

Doubt it bud, well at least not yet anyway. Posted via Android Central App

I own the mini version, too, and hope they won't leave us on 4.1.2 forever... Posted via Android Central App

I own the mini version, too, and hope they won't leave us on 4.1.2 forever... Posted via Android Central App

Do i need to unroot to receive this update?

Yes, unless you see Armando Ferreira's video of how to update without unrooting. StealthDroid - Working in the Nexus Lab

U won't get an OTA update
like u will see the notification for the update u will be able to download it but while installing it, it will show a error that u have modified your device so can't update it
however u can use kies to officially update ur device
n I think by doing that u will be loosing your root access
I experienced this while the 4.1.2 update was rolling out
I had to use kies which takes a lot of time
haven't rooted my device after that
will be waiting until Samsung stops the official update for us
and if u want u can always use cynogenmod or Aokp for your device
Hope it helped :-)

hey please answer back i update my gt i 9300 to 4.3 with Odin but it's is buggy what should I do to get the official help and please explain thank you in advance

Xda-developers forum has all the guides you need. You'll have to dl an official firmware from sam'smobile, use triangle away, install official rom, wipe dalvik and factory reset.

Can't wait for the alleged Nov Eleventh date that verizon will update their GSThrees.Got a replacement GSThree fromAsurion insurance for a GNex with a bad antenna, and the Gnex is discontinued. Miss having 4.2 or higher. Can only wonder if we'll ever get 4.4. Would have preferred skipping 4.3 and waiting another month or two and getting the latest and greatest instead to have 4.4.

I hope it's all that it's hyped up to be. Been running 4.3 Roms. Aosp I'll stay rooted and wait for a rooted ROM to pop up. Posted via Android Central App

Then you will be disappointed.. Just as there was very little visual change between 4.1 to 4.3 stock there is very little visual change to tw on 4.3..most of it is behind the scenes tweaks like open gl 3.0 support, better tw optimisation, better ram usage etc.. If you expecting big visual changes, not happening. Next time Samsung change the look of tw will be with the release of the s5 Posted via Android Central App

It's really good. I updated mine a week back. Works flawless. Posted via Android Central App

Did you update in India?.. Can you comment on the pkg size of the update..

Are you sure you updated to 4.3? the update which you are saying might be a small package update. The leaked version was posted 2 days back. Posted via Android Central App

Yup, now their is something... can't wait Posted via Android Central App

WTF is up with T-Mobile we don't even have it for the S4 yet, and when I call them they don't know anything Posted via Android Central App

The 18th dude... Posted via Android Central App

im from india and i do have GT-i9300 i have'nt received any update yet

I'm in South Africa, I've updated both my S3 and S4. I used the United Arab Emirates ROM for my S4 it works flawlessly, I'm even using KNOX. Then I updated my S3 with the Germany ROM, which also works flawlessly. I know with our service providers it will take a very long time before we get an update. I've rooted my Galaxy S3 with CF Auto-Root. Posted via Android Central App

Hi there Im from SA as well, if you could help me I would much appreciate it how did you update your S3? from which website? would you be able to send me the link?
Thanks

Check out Sammobile.com . They have all the available stock roms for Samsung devices.

Please could you send a link or url. From SA and want to update my S3 and my Note 2.

How are you experiencing after 2 months? I'm considering updating.

Does this update include S Health like the S4? Posted via Android Central App

Note that the S4's Android 4.3 update (released in Russia at least) does NOT include all previous functionality of S Health. Specifically, the blood pressure and blood sugar info is gone (the weight info is still there). So far, I haven't figured out if all previous entries of blood pressure stored in the previous version of S Health can be retrieved somehow or not (any advice on this will be appreciated).

I hope the US version will get all of the features. I really hope we get the app 2 SD card feature. Some of the new camera features would be nice too. Posted via Android Central App

I'm hoping it's not the usual six month delay to get to the USA... Posted via Android Central App

I hope not either. And I hope they don't split the update up like they did last time, giving us a premium suite update later with missing features.

Nope. Its this month Posted via Android Central App

I'm hoping so. But I think the only reason we are getting it so quickly is Samsung wants more phones to be able to run the Galaxy Gear. Posted via Android Central App

Well that's fucking nice. I have sprint and still no update Posted via Android Central App

Get a grip. Sprints I'd due November 6th. That's 2 Days fron now Posted via Android Central App

Downloading right now! If you are on a branded rom you should install the non branded rom for your country via odin. It doesn't require root or anything, it is really easy. I was on 3 Sweden and installed non branded swedish and I always get updates when they start to roll out.

Has anyone heard when us cellular will be getting it? Posted via Android Central App

@ Alex Dobie Thanks for the hot post. So USA Samsung Galaxy S III will also get this Android 4.3 soon. hope so. wish n hope Samsung SII, Note and Skyrocket will have it also after S3 asap. Thanks in Advance

Will this include the new weather widget and lock screen?

Is it true that the new ROMs include Knox, which has some issues with ROOT or other power-users features?

I doubt this is the official 4.3 update, it's the exact same Vodafone Germany leak that SamMobile released 2 days ago, and this is obviously unfinished and unpolished. For instance: 1. The lockscreen has many bugs and does not look and/or feel finished, here are some things I've noticed that bring me to this conclusion: a. 4.3 does not have shortcut icons and does not give any way to activate them, yet 4.1.2 and 4.2.2 leak did.
b. Light effect is not working, it's the same as if I selected "None", yet the 4.2.2 leak had the Light effect working.
c. The Ripple effect is also the exact same one from 4.1.2, the 4.2.2 had an updated Ripple effect. 2. The amount of battery consumption is brutal compared to even the 4.2.2 leak which provided me over 24 hours of use, this one gets me 10 hours tops. 3. Memory management is also too high which tells me this is not finished software. 4. Calls drop for no reason even with full signal. 5. The phone becomes irresponsive at times, in fact, it got so bad for me today (about 40 secs without waking up) that I had to pull the battery. 6. The phone takes way too long to wake up from deep sleep and prompt to unlock… This must be linked to the 5th point. 7. The Touchwiz launcher, camera UI, S Planner (4.2.2 leak had a new S Planner), S Memo, Weather widget, 4×2 dual clock widget (4.2.2 leak had the new look with new fonts) are the same from 4.1.2. Let's face it, these are just apps, all but the camera app had mere facelifts, it's not like they will increase the RAM usage to levels that only phones with 2GB of RAM will handle… I'm pretty sure this is a test build that was missing memory management optimizations and could not add these apps before getting that solved. 8. KNOX is not present in this ROM, and though I don't want it or miss it, this makes me believe that this is still unfinished. This is what I've spotted, and with what I've learned from flashing ROMs and rooting, this is definitely not finished software, and I doubt that a corporation such as Samsung will half-ass such an important update for the 2nd best selling device, especially when this is supposed to add GALAXY Gear compatibility. My boyfriend's Note II has the 4.3 leak SamMobile posted a few weeks ago, it has KNOX and many of these missing features, besides, if Samsung was able to accomplish this with the 4.2.2 leak for the GALAXY S III from May, I don't see why they wouldn't be able to accomplish it now. My 2 cents.

Also, the startup screen shows up in German… I don't think Irish speak German now, do they? And the 4.3 leak for the AT&T version of the GALAXY S III (SGH-I747) has KNOX and some of the other mentioned features as well… It's still very strange that such a buggy build just became the official firmware…

I tend to agree. In particular the startup freezes are particularly annoying.
I have also noticed problems with 4G, in my case problems with data transmission and often switching between 3G and 4G.
On the other hand Samsung Contacts app tends to work smoother. Posted via Android Central App

yes yes same problem what to do to get the official one (not the buggy one)

Now I know why the widget 'software update' exists. Posted via Android Central App

I'm still waiting for my updates. I can't wait. Posted via Android Central App

Yay my factory unlocked i9300 in uk just started the update.Didn't do it automatically though did a manual search.

The 4.3 update got installed OTA last night on my S3. I've been waiting eagerly for it so that I can start to use Endomondo with my Garmin Heart Rate Monitor through ANT+. Unfortunately though it seems the "ANT+ Support" is NOT build into the S3 version of Android 4.3 so, if anyone else is getting their hopes up for this, you may be disappointed. This was pretty much confirmed by the people at thisisant.com who replied to my question about it within minutes!
Android Central Newsletter
Thank you for signing up to Android Central. You will receive a verification email shortly.
There was a problem. Please refresh the page and try again.