Intel powered Orange San Diego officially on sale today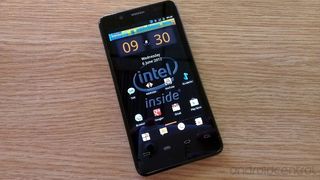 The Intel era has officially reached European shores, as the Orange San Diego becomes the first device to launch carrying their hardware. The device was unveiled in London last week, but officially goes on sale today priced at £199.99 on pay-as-you-go, and free on a 2-year contract starting at £15.50 per month.
As you can see, we've got one, and over the next week or so we'll be putting it to the test to really see what's what. First impressions are good based upon an albeit brief hands-on at the launch event. As a phone, it's relatively unassuming. It has a nice screen, it's light enough, it has 16GB of on-board storage and 1GB of RAM -- but that's not really what we're interested in. It really is what's inside on this one, and we'll be spending a lot of time looking at how this Intel device stacks up against other higher priced, higher spec'd devices. Battery life is key, as is performance. Can Intel really deliver high-end performance, with the added bonus of superb battery life. There's only one way to find out. Stay tuned.
More: Orange San Diego hands-on and first impressions
Android Central Newsletter
Get instant access to breaking news, the hottest reviews, great deals and helpful tips
Nice, A couple of questions. Root possible? Bootloader unlock possible? International shipping possible?

International shipping probably not as you can only get this particular version from Orange UK. As for hacking, Paul O Brien over at MoDaCo has one in his hands, so if it's possible we'll soon find out :)

Since its an Intel, it will get about 45 minutes of battery time though, that's nice. ;)

Intel has officially won the 2009 Battle of the 4" Phones! Too bad Orange didn't have better Intel...

WOW! Look! The Android Intel smartphone is just as advanced as the Nokia Lumia 900! In short. Great for a phone from late 2010 but that's about it. When the HTC Amaze is FREE on T-Mobile and running ICS and you have to PAY for this heap of crap running Gingerbread you know there are problems in Intel land.

This is also free on contract... £199.99 is off contract price, ie pay-as-you-go

Free on contract for a phone that is sporting 2010 specs is not impressive in the least bit. Sorry but all in all this first attempt by Intel is rushed and falls short on many points. Especially when considering the "Free on contract" high end ARM handsets that are available now.

On contract price means absolutely nothing over here anyway. We can get the SGS3 and the HTC One X for free across all the carriers. Care to elaborate on its 2010 specs? The point is not -- "oh my god its specs are out of date" -- it's a completely different chipset. It has the same on board storage and RAM as the 16GB Galaxy S III. If you're referring to Gingerbread, then yes, you're right. Surely if you can get high end performance though from a low end device, it's a pretty good way to prove what you can do? And in the UK, we have small hands. A 4 inch device is still plenty big enough. And it's bigger than the iPhone ;-)
Android Central Newsletter
Get instant access to breaking news, the hottest reviews, great deals and helpful tips
Thank you for signing up to Android Central. You will receive a verification email shortly.
There was a problem. Please refresh the page and try again.