I'm okay with the Sprint/T-Mobile merger as long as it doesn't affect Project Fi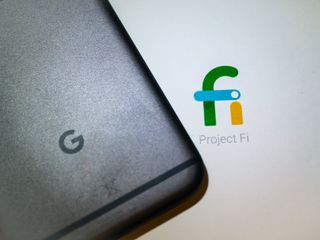 There's a lot to say about the recent news of T-Mobile and Sprint joining forces — most of the initial takes around the web, including ours, haven't been entirely optimistic. Mergers of this magnitude historically haven't often been great for customers in the long run, though both T-Mobile CEO John Legere and Sprint CEO Marcelo Claure have continuously asserted otherwise.
I'm no business analyst — and most of the inner workings of a merger are admittedly way over my head — but there's one T-Mobile/Sprint partnership that's already been around for years, and I'd hate to see it vanish in the wake of this merger: Project Fi.
In case you're unfamiliar, Project Fi is a prepaid carrier run by — you guessed it — Google, focused on simplified billing for users that don't need unlimited data. Instead, you pay by the gigabyte, and you're credited back whatever you don't use at the end of each billing cycle.
Fi runs off of both Sprint and T-Mobile towers, along with US Cellular, which is part of the reason it only works on a few supported devices, namely Google's own Pixel lineup. The idea is to always use whatever signal is best in your given area; if you're on the road and hit a T-Mobile dead spot, you'll automatically switch over to Sprint or US Cellular's towers, and vice-versa.
Perhaps best of all, Fi works outside of the U.S. as well, supporting 135 countries without any additional cost. I took advantage of this a few years ago when I went to Berlin, Germany to cover IFA, and it worked seamlessly; as soon as I deboarded my plane, my Nexus 6 immediately connected to local towers and I was back online.
I'm no longer a Fi customer, because I simply use too much data to pay by the gigabyte, but for the majority of people who only use 3-5GB a month, the service can offer potentially tremendous savings over alternatives like AT&T or Verizon, and yes — even T-Mobile or Sprint in some cases. So what will become of Fi once two of its three constituents form a single entity?
Hopefully, nothing. While Project Fi could seemingly cannibalize some of the merged company's business with its lower data rates, T-Mobile and Sprint have made unlimited data a large focus over the last few years, and it's something Fi can't quite compete with. For heavy data users like myself, Fi can become unnecessarily expensive, and T-Mobile offers a similar international plan — though with considerably slower data rates. With this in mind, there may not be any reason to back out of providing Fi's coverage.
So long as Fi sticks around, I'll be cautiously optimistic about the merger. As a former T-Mobile employee of four years, I've seen the ups and downs of John Legere's boisterous leadership, and I'm hopeful that he'll continue to make low costs and large data allotments a priority. But in the worst case scenario, Fi will hopefully remain as a cheap, comprehensive alternative.
What's your take? Do you think the T-Mobile/Sprint merger will mark the eventual death of Project Fi, or will it stand strong as an alternative for Google devotees? Let us know in the comments!
Get the Android Central Newsletter
Instant access to breaking news, the hottest reviews, great deals and helpful tips.
Hayato was a product reviewer and video editor for Android Central.