Iliad ends its bid to acquire T-Mobile US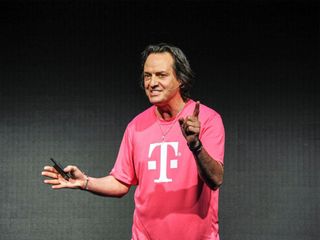 French telecom Iliad has decided to end its efforts to acquire T-Mobile, announcing today that parent company Deutsche Telekom and members of T-Mobile's board "have refused to entertain its new Offer."
Illad had first announced plans to offer $15 billion in cash for 56.6 percent of T-Mobile in July, which was quickly refused by the company. Illad announced earlier in October a plan to increase its offer, which would have seen it take a 67 percent stake in T-Mobile at $36 a share.
Today, Illad said:
So far, T-Mobile has yet to respond to Illad's decision. What do you think of Illad bowing out of their plans?
Source: Illad via MC Cobb on Twitter
Android Central Newsletter
Get instant access to breaking news, the hottest reviews, great deals and helpful tips
Fantastic! Now I can go back to enjoying my new Note 4 on TMO!

Lmfao Even a stopped clock is right twice a day

For me being a TMO customer, Ill be happy once a decent potential buyer that is really looking to help spring TMO meat the number two spot ~My $0.02~

you speak of this as if you know everything that goes on in that company...yea you've gotta be sitting in that board of directors for you to make such huge statements, apparently you're fully aware of Softbank's intentions for wanting to purchase TMo..go on wise one..tell us more.

T-Mobile is under new ownership. It is a publicly traded company. it is it's own entity. If DT wants out of the US market then they can sell their shares on the open market when the time comes. Right now they are growing as fast as they can. The AT&T breakup fee was gone long ago. They are standing on their own two feet now and gaining market share faster than anyone could have expected. They will take Sprint over soon. The reason most are happy when a Takeover by Illiad or Softbank fails is because it is not the takeover they need. They need someone with deep pockets and little debt to invest heavily in the network. Softbank has made Sprint go from bad to worse and illiad does not have the cash to buy T-Mobile and make it better. They need Dish or Google or someone like that that is not already in the wireless market and has deep pockets and Spectrum holdings to compete with AT&T.
Understand?

You are grossly uninformed if you think Softbank has made Sprint worse. Posted via the Android Central App

I personally know many Sprint employees and they would disagree with you.

Weird, all of my fellow Sprint coworkers disagree. Posted via the Android Central App

Sprint has sucked big time since Softbank took over, you're grossly misinformed Posted via the Android Central App

So starting a price war that forced the big two to add better data options and rapidly expanding the Band 41 rollout are examples of sucking? Instantly reacting to the competition matching some plans by doubling the data again is sucking? Matching T-Mobiles trade in promotion and then beating it the next day is sucking? Competition is a good thing. Posted via the Android Central App

Sprint wouldn't have hardly any LTE out there if it weren't for Softbank. You're wrong.

Sprint will always suck MAJOR MONKEY BALLS PERIOD. When will you understand the facts. From my Galaxy Note 3 on T-Mobile via Android Central App

Richard got a new account??!???!!?? Posted via Nexus 7 2013 or verizon Galaxy S5 or maybe one day through my moto 360

Looks like it. He's saying the same stuff word for word. Posted via Android Central App

Everybody loves to copy me. I am a android Institution my friend. From my Galaxy Note 3 on T-Mobile via Android Central App

Can't wait till Friday October 17th. The Galaxy Note 4 will be in the house and added to my Galaxy family of handsets. From my Galaxy Note 3 on T-Mobile via Android Central App

Dammit, TMo. Posted via the Xperia Z4

i want google to buy tmobile.

If that would to happen I would switch to T-Mobile in an instance....... But it's nice to dream Posted via Android Central App

That would be awesome Posted via the Android Central App

Or one of the big 3 Canadian carriers.

Bring back the Sprint bid....

Sprint deal likely would have gone through if Softbank had made it clear that John Legere would have been in charge of the merge company. They could have easily let Hesse get his golden parachute and turn the reigns over to the more dynamic minded business person.

Sprint's sworn statement to the US congress that says they feel any change which merges any of the four major players in the US mobile telecom space is a detriment will haunt them forever.

Dish network really really wants T-Mobile. They apparently have quite a bit of spectrum and don't want to fail at building their own network. Posted via the Android Central App

I wouldn't mind Dish getting it. The interests seem to align, and they aren't competitors so there'd be no market consolidation like there would've been with a T-Mobile/Sprint deal. Posted via Android Central App

Imagine a phone that works off of satellite when you have no TMo reception. Posted via the Xperia Z4

Imagine trying to point your phone exactly at a satellite to get reception.... I'm torn on the idea, Dish sucks llama balls to work for, but they are usually pissing on the establishment's parade (Hopper dvr) so maybe it could work. Posted via the Android Central App

Next thing you Verizon will make a bid...... Hey crazy things do happen... Posted via the Android Central App

TMo needs money to stay viable,
if LeGere, or anyone else perpetually torpedoes that effort, price cutting reduced revenues lay-offs, what's left?

T-mobile is making huge gains in aquiring new customers, they have turned the wireless industry upside down, increasing competition means lower fees for the consumer, following your thought process wyldkitten, you probably believe the US unemployment rate is really below 6%, what a tool Posted via the Android Central App

Why would anyone want to willingly buy T-Mobile?

Why not? I'm the kind of guy that stops a microwave at 1 second to feel like a bomb defuser.

Because they are better than sprint Posted via Nexus 7 2013 or verizon Galaxy S5 or maybe one day through my moto 360

So we should take your negative outlook regarding Tmobile's long term position over the positive forecast from professional analysts and Wall Street? No, thanks.

France surrenders? Frankly, I'm shocked! :(

SOOOOoOOoO glad I wasn't the only one who thought that. Hahaha Posted via Android Central App

I also am not buying T-Mobile.

I'm glad the sale did not happen. Tmo is fine as is... Posted via My (unlimited everything) T-Mobile Galaxy S5...

Only 65% of everyone else who can't get good service, for them it sucks. Company like that would have invested billions of dollars in towers and then be competitive, Companies are lot more competitive outside the U.S. Right now it's controlled by AT&T and Verizon mostly and they rip you off for what you get it, would have been nice to have some European competition. Right now US customers pay the most with the least amount of coverage on Wireless and Internet services. Yay we get to stay mediocre with spotty service. Good times. Posted via Ash William's Boomstick

Shocking, not. If they start piling up failed bids it's gonna start to undermine whatever value Legere has added. Not saying they should've taken this one mind you, but maybe squashed it quicker.

Dish will get them after the November spectrum auctions. Dish network currently holds an estimated 30 billion dollars worth of spectrum that they are anxiously waiting to use. Dish is currently installing fixed antennas using sprints 2.5ghz network and it's looking good. Dish is also working with a company developing pCell towers. Dish would be foolish not to make a move for T-Mobile. They don't have many other options. Posted via the Android Central App

Wyldkttn......OK so t-mobile didn't do anything to turn this upside down..hmm.......OK so why are all the 3 major companies, now offering no contract options, family plans with HUGE amounts of data...the list goes on. And guess what, it happened right after t-mobile started doing all this......by chance, just curious what city you live in ? Fyi...t-mobile has more data capacity than Verizon does. ....research it Posted via the Android Central App

T-mobile really has a long battle still ahead. Verizon and AT&T are too strong and well covered across the board here in the states. Most posts and stories I read are about the crap coverage and lack of lte areas for t-mobile. I know tons of people that complain about t-mobile and how they just don't get the service they pay for. I'm on verizon and yes its pricey but it really has got its users covered. I was a t-mobile user at one point and I had more dropped calls than ever. T-mobile runs adds but never tells you that they have more dead spots than actual coverage. I've read the posts here in this story. T-mobile really needs to improve. I really hope they do. Their prices are attractive just not their service or coverage. Posted via the Android Central App
Android Central Newsletter
Get instant access to breaking news, the hottest reviews, great deals and helpful tips
Thank you for signing up to Android Central. You will receive a verification email shortly.
There was a problem. Please refresh the page and try again.