If you bought Pocket Casts' web app, you now get Pocket Casts Plus for life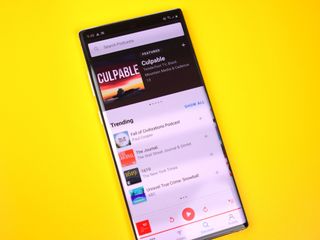 What you need to know
On September 17, Pocket Casts announced it was making its app free and introduced a Pocket Casts Plus subscription.
People that previously bought the Pocket Casts web app were going to get three years of Pocket Casts Plus for free.
Now, those users are getting a lifetime Plus subscription.
Earlier this week, Pocket Casts made a big announcement. Its mobile app, which used to cost $4, is now free for everyone to download and retains all of the same features as before with new ones promised to keep coming.
With the app now free, a new "Pocket Casts Plus" subscription was also announced. Plus costs $0.99/month or $10/year, and for that fee, you get cloud storage, exclusive themes, and access to the Pocket Casts web app.
That last point is what caused some longtime users to get up in arms, as the web app used to cost a flat, one-time fee of $9. Pocket Casts gave a peace offering with 3-years of free Plus access for anyone that previously bought the web app, but after hours of backlash, those customers are now getting a lifetime subscription to Pocket Casts Plus.
Web player users we've heard you. We got it wrong with a 3 year Plus subscription for existing users. We're making it right with lifetime access to Pocket Casts Plus:https://t.co/GTttadINnhWeb player users we've heard you. We got it wrong with a 3 year Plus subscription for existing users. We're making it right with lifetime access to Pocket Casts Plus:https://t.co/GTttadINnh— Pocket Casts (@pocketcasts) September 19, 2019September 19, 2019
Per Pocket Casts CEO, Owen Grover:
I personally thought the 3-year offer was more than generous, and looking through the replies to Pocket Casts' tweet announcing this update, I'm not the only one with that mindset. In any case, folks that bought the desktop Pocket Casts app can now rest a little easier and save an extra ten bucks each year.
Get the Android Central Newsletter
Instant access to breaking news, the hottest reviews, great deals and helpful tips.
Joe Maring was a Senior Editor for Android Central between 2017 and 2021. You can reach him on Twitter at @JoeMaring1.
I bought Pocket Casts in December 2018 for $3.99 in the Android Store. Unfortunately, I don't qualify for anything.

The premium service is for those who purchased the web access, which was separate from the mobile app.

How do you get this? It wants me to pay. I paid for the app years ago.

Pocket Casts is still in the process of rolling it out to everyone, so it might take a day or two to show up.

I've been a web and pc app user since they were in beta. I would have gladly paid the subscription, but I'll take the lifetime use also.

Add a donation button into the app that way people won't be forced to pay for a subscription who already paid for it but have the option to support the developers

Yes. People are ridiculous. I'll gladly spend $10 a year for the app.

I think they it was more how they marketed the web app and not the actual subscription fee. The web app was always marketed with the tagline "one-time payment, no subscription fees".

Lol. I just looked at my app. It says I have 99 years of Pocket Casts Plus free and expires in 2118.

Ha!, as does mine. This is funny and cool.

I paid for the web app which I seldom use because it was marketed as pay $9, have access to the web app forever. I like that it is there the few times a year when I need it. When I make a personal promise I stand behind it (even if it becomes inconvenient for me) because I believe that is doing the right thing. It's not ridiculous to be expected to live up to a promise. I'm glad that Pocket Casts' management is doing the right thing in standing behind the promise they made to me when I purchased the web app. I would certainly consider supporting them in a different way going forward because they have earned that with their actions.

I too thought it was extremely generous and tweeted as much. People are so ****ing tight.