Ice Cream Sandwich ROM for the HTC Sensation leaks out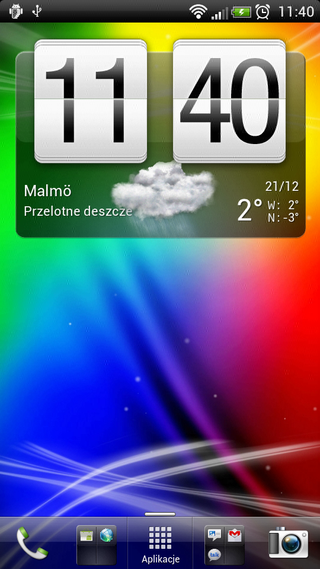 Are you an HTC Sensation owner looking to get a taste of some Ice Cream Sandwich? RCTeam over at XDA Developers released a Sense based ICS ROM, giving us a glimpse of what we can expect from Sense ICS builds. Featuring some UI changes, it appears as though the Sense dock some of us have grown to love is no longer there, it has been replaced with a more standard looking dock. The lockscreen now features the ability to launch into folders instead of just single applications, as well as face unlock and more.
Looking for something new to play around with on your Sensation? Be sure to hit the source link and let us know how it works out for you!
Source: XDA
Get the Android Central Newsletter
Instant access to breaking news, the hottest reviews, great deals and helpful tips.
Jared started off writing about mobile phones back when BlackBerry ruled the market, and Windows Mobile was kinda cool. Now, with a family, mortgage and other responsibilities he has no choice but to look for the best deals, and he's here to share them with you.
MEH. Coming from an owner of 2 HTC phones, stock Android (ICS) now looks so much better than Sense.

Agreed. I had the Thunderbolt and it was my first Android phone and Sense became stale to me after a few months. I got the Galaxy Nexus on launch day and I like it a lot.

That's a whole 6 days. Give it some time the newness will wear off and you'll be wanting something different.

I completely agree! I really Like trip's ICS rom http://android.modaco.com/topic/349273-16-12-tripnice-s0077a-icecream-sa... its pure android, but a few things arent working yet.

Ditto I like look of sense overall other uis but ICS looks great. I just wish google would have alot of widgets like HTC Sense has.

I never liked the sense dock because of the redundancy it offered with the add/personalize button, I would much rather had it a app shortcut there that either I could set or just make it the browser like stock android.

That was for new users who had no idea about the importance of "long press" on Android homescreens.

I see there's no search bar locked at the top of the home screens like the Galaxy Nexus has.

its all because of sense 3.5! which I now hate, after running a pure android ICS rom for the last two weeks.

Look guys I like ICS but seriously is your complaint about sense not having a google serach bar on every home screen?...When there is a dedicated search button on HTC phones? Really?

My complaint is that it looks nothing like ICS! I really like ICS's UI better then the Sense UI. i could care less about the search bar, I wish I could disable it and use that part of the screen for widgets and shortcuts :(

Any chance this gets ported to the 3d?

Yea!! Where is the Evo 3D love?

Already in progress - Keith

Sense doesn't appeal to me anymore and like another said the Thunderbolt is also my first Android phone. Makes me glad I switched to CM7 and now just a matter of time till a pure AOSP rom running ICS is running for the 'bolt.

Is HTC actually scaling BACK the Sense customizations? Who are you, and what have you done with the real HTC?

Big HTC Sense fan here. Glad to see that HTC has embraced all of ICS features and without hindering any of them Sense is looking better than ever. I never liked the curved look of the Sense dock....so the new straight look is more fitting for ICS. I hope the HTC Vivid gets boot loader unlocked soon. Can't wait for ICS on my Vivid.

Wow, that dock bar & those icons...so hideous!

I personally like the way it looks. Its much simpler than the current version which I like also.

I only had one phone with HTC Sense and that did it for me. I do not want Sense on any of my phones, let alone on top of ICS, which looks so good on its own. I'm not buying another HTC phone unless it comes with stock Android out of the box, or with the option to completely disable Sense and get the true Android experience the Android development team designed.

So much better than the eyesore that is stock Android. Now if only they could do it without bloating everything in the process.

Looks so much better than the Samsung leak. Not great, but at least it's not TW.

hideous. they'll never learn.

I lik Sense. I owned 2 prion HTC phones before my Nexus and didn't mind it at all. I will say I do not miss it though. ICS address all my issues with stock Android. My only issue with Sense really is that its a resource hog.

Installed the ROM onto my phone, but went back to RCMix's Gingerbread with Sense 3.5 ROM. I like ICS but just think that with the sense overlay you lose alot of the benefits. Plus my new favorite widget the quick launch is missing.

What I would love to see, is HTC giving you the choice to update to a sense or vanilla ROM. (Because let's face it, they are not going to get rid of sense completely, as average customers are going to be puzzled as to why the UI looks completely different.) But yeah, that's never going to happen.

I tried a few no sense roms but i keep coming back to Sense. I miss the the nice transparent widgets too much, Peep, weather, bookmarks and calender.

What is so great about the ICS ill keep what I got

Android newbie here! (Switched from BlackBerry Storm(hated it!) Any word as to when ICS is coming out? Did I miss that information?