Ice Cream Sandwich now available for the Sony Tablet S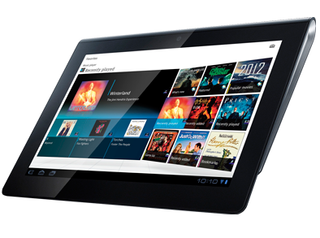 Sony announced today that, as promised, its Tablet S is now receiving its Android 4.0 update. Beginning today, owners should see a popup notification prompting the update, which will be delivered over the air. Among the goodies your Tablet S will soon be enjoying include:
Enhanced lock screen (Direct access to Notifications; Unlock direct to camera)
New panoramic camera mode
Enhanced Gallery media viewer (Direct SD card access + photo editing tools)
Exclusive "Small Apps' for multi-tasking (Calculator, Browser, Remote Control)
New Home Screen actions (Drag icons together to create folders; Add names to folders)
Enhanced web browser (Switch from mobile to desktop web sites; Save pages for offline viewing)
Access files directly from SD card
Native screenshot capture
If this is your cue to grab the Tablet S, you're in luck: from now through May 12, Sony will offer a $50 instant rebate and a free cradle accessory, knocking the pricetag down to $349 for the 16 GB model and $449 for the 32 GB model. Hit the break to see ICS on the Tablet S in action.
Source: Sony Blog; thanks Derek!
Every time I touch the S at a store I'm baffled that Sony made such a cheap feeling plastic slab... What happened to Sony?

You must have something wrong with your hands! I think they did a great job. Feels great in the hand and the shape...oh the shape! It's a brilliant tablet

What about the Galaxy Tab 10.1?? .....SON!!

I like the mini apps....it seems like a cross between Samsung's mini-apps and Onskreen. They have a web browser that can do this....so yea more functionality than Samsung's ones...

Seriously......WTF is ICS for my tab 10.1 that I have had sinve launch........Damn!!!

That's why I traded My Xoom for the Sony S Tablet, and used the difference to buy the Tab 8.9,Hopefully Samsung gets off there butt, and give us true ICS... Cause the ICS they brought to the Epic 4G Touch sucks... I'm sticking to CM9 . lol

being a sammy phone owner it will be difficult to digest a company actually updating their OS by the time it was promised. This odd feeling of satisfaction with the company that produced my device will take a bit to get used to. Thanks Sony!

hmm still hasn't appeared on mine yet. I'm in the UK so I'm not sure what's going on

I just got mine!!! In the US. Verifying... Preping for update completed. Restarting to update.

I think it may be seriously time to look at another brand for my next tablet. Asus, you may have another customer

Next tablet? Sony Tablet S will last me for many year... not sure what you're looking for.

Has anyone figured out how to use the Native screenshot capture?

Yup... for screenshot capture push volume down and power at the same time and hold both buttons down until it captures your screen.
Android Central Newsletter
Thank you for signing up to Android Central. You will receive a verification email shortly.
There was a problem. Please refresh the page and try again.