I don't like the new Google Pay, but it could be Google's next killer app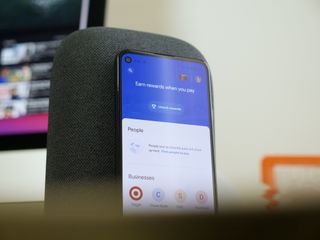 (Image credit: Joe Maring / Android Central)
If there's one thing that Google's proven to be consistent at over the years, it's the company's need to constantly change and update its apps/services. Whether it be shifting the placement of YouTube comments or ushering in gaudy new logos for G Suite, there's always something being tweaked.
We saw another prime example of that last week with the major redesign that came to Google Pay. It's actually more than a redesign, though, and more like a completely different app altogether. Where the old Google Pay was just used for paying at stores and sending money to friends, this new version bundles that with brand new features and a fresh app layout. Complaining about change just for the sake of it isn't productive, but after playing around with the new Google Pay app for a few hours, I can't help but feel hesitant about this new direction Google is taking.
The best way to think of the new Google Pay is like a smorgasbord of every money app you've ever used. Seriously, all of them. You can:
Send money to friends (Venmo/Cash App)
Pay at stores using NFC (Apple Pay/Samsung Pay)
Link your bank accounts and cards for financial guidance (Mint)
Add cashback rewards to your cards (Rakuten/Dosh)
Create a bank account with Google Plex in 2021 (Chase, Bank of America, etc.)
Order food and pay for gas/parking (DoorDash, Shell, ParkWhiz, etc.)
Source: Android Central
On the surface, combining all of these things into one central application sounds like a great idea. Instead of juggling between multiple apps for checking your account balance, getting guidance on your spending, and sending money between people, you can do all of that in one spot. In its current state, however, Google Pay just feels half-baked.
It all starts with the Google Pay home screen, which is officially the "Pay" page. The idea is that this is the section of the app based around sending/spending money, but that's only mostly true. The People section will show contacts you can send money to, with the Discover section at the bottom allowing you to order food, get gas at a gas station, and pay for parking.
In the middle of those two sections is Businesses, which shows a history of transactions from your most-frequented places. You'd think this would be better suited for the Insights page, but for whatever reason, it's here instead.
Furthermore, Google seems to have placed considerably less emphasis on showing your cards for contactless in-store payments. Where this was a main focus for the old Google Pay, viewing all of your cards/passes is now done by tapping the small icon for your default card in the upper-right corner. If you don't tap the card exactly right and accidentally tap the blue background surrounding it, you're instead shown your reward status for sending money to friends. I've done this countless times in my testing of the new app, and it's never not annoying.
Speaking of the Insights page, this is one of the biggest new additions to Google Pay. It's a place where you can link your external bank accounts/credit cards, and in doing so, get an overview of your saving and spending across all your accounts. The problem, though, is that it's incredibly limited in its current form. Google shows you how much money you have, how much you've spent, and a history of all your transactions. Outside of that, there's not much else to see.
Compared to one of the most popular personal finance apps, Mint, there's a ton of functionality that's missing. You can't create budgets, manually add bills, create goals for paying off debt, or anything like that. It's a very incomplete attempt at recreating what other apps do infinitely better, and seeing as how Google is using Plaid for linking your accounts, it's pulling in the same exact info its competitors do — just with less information/features around it.
And, finally, we have the Explore page. This is where you can find cashback offers that are either available online or can be linked to your credit/debit cards, but similar to Insights, it feels like a worse offering of what you can get with other apps.
The offers themselves are...fine. You can get 1.5% cashback on PetSmart and 2.5% on Macy's, but it doesn't take long to find better deals elsewhere. Looking at my preferred cashback app, Rakuten, I can score 4% cashback on in-store PetSmart purchases and a whopping 10% if I shop online. Rakuten has a better offer for Macy's, too, advertising up to 6% cashback for most departments.
The retailers currently available with these Google Pay offers also leave a lot to be desired. Many of them are niche brands such as Porsche Design and Johnston & Murphy, whereas I can hop on Rakuten and get deals from Walmart, eBay, Target, Overstock, Groupon, and countless others. And that's not to mention the layout of the Explore page, which is just a vertically-scrolling list of available deals with a confusing search function and poor categorization.
All of this results in me not enjoying the new Google Pay as much as I did the previous version, but I can see a future in which this becomes one of Google's killer apps. If more personal finance tools are added, Google can onboard more brands for better cashback offers, and some of the app's design quirks can be corrected, Google Pay could be the one-stop-shop for all things money and finance. The problem right now, though, is that we're very much not there yet.
Like a lot of things Google launches, Google Pay feels like it's barely a finished product. There are a lot of exciting ideas here, but we've yet to see them truly fleshed out. I really hope Google Pay is as big for Google as Google Photos is today, but we're going to need a few more updates before we reach that point.
If and when we do, though, it could be pretty magical.
New way to pay
Step aside Mint, Rakuten, and Venmo
The new Google Pay has arrived, and even though it has a few rough edges, Google's on to something special. If you want one app for sending money to friends, earning cashback offers, and monitoring your personal finance, that's what Google Pay strives to do.
Joe Maring was a Senior Editor for Android Central between 2017 and 2021. You can reach him on Twitter at @JoeMaring1.
I don't care for the new app after installing and looking around it's not visually appealing or functional

There is one very major issue with this new Google Pay -
unlike previous version and unlike all the apps this is suppose to replace, this new Google Pay does NOT work with Workspaces accounts. Accounts that have been supporting Google for years and years. I have my domain with Google Apps since there were strictly free, over 10 years, and also have been paying monthly to Google for extra support and services, however Google treats its most loyal customers as dirt and doesn't support us. We still cannot use Family Sharing functions, Family Link, Home devices, and the list now expanded to Google Pay that used to work just fine before this update.

When I go to the discover page it doesn't show me rewards offers and I'm signed up for it and earned a few rewards dollars already. I don't like that it's missing the feature from the old app that showed u stores nearby where u can use google pay

Totally agree on GUI (way too much unused space and not many filter/sort options) but at the same time disagree on functionality. I think it's awesome in this regard.
Thing is, the main reason Google released this (what I'd call an early Beta) is to collect feedback and criticism. I already sent them bunch of feedbacks and if you don't like something, say something.

I love how it's giving rewards every time you tap to pay. That was the one thing I missed most about Samsung Pay when I switched over to the Pixel.

Google Pay sending money to friends is another USA only feature.

There are ways already in the UK to send money to friends.
Myself if they are close friends I just send it via bank transfer, i have even used Paypal in the past.

Not true.
I know for a fact that people in India and several other countries can send to friends as well. Not only in the US.
In fact, India has had this new version of Google Pay for several months.

In typical Google fashion, It's a horrific ui with tons of bugs. Navigating the map is horrible and differs from place to place within the app. For instance you can move around the map with two fingers in the "pay for gas" section but not in the "pay for parking" section. The "pay for parking" section is a disaster in terms of discoverability. I mean, what, exactly are you supposed to do here? Also, forget about anything other than the happy path for gas. If your local station's software is misbehaving, you get a rude "500 error" without any explanation. Even Exxon's app will at least suggest other alternatives (try the qr code on the pump or pay inside with your card). For ordering food, you can do all of this much more easily within Google Maps itself. Especially given the weirdness of the map within Gpay. I think Google tried to rush this out before the holidays. It could definitely use at least another month or two of software tuning. Like most things they put out in beta form, it's a nice idea but Google's execution isn't great.

The new app sounds great, look forward to it coming to The UK. There isn't anything to enjoy in the old Google Pay as it was just for NFC payments and loyalty cards. I doubt many people open it much. I hope this means Google Pay Sending Money will finally come to The UK.

That is the whole point of contactless, easy payments. While I do not use Google pay, the new app seems to be full of bloat, that most people, certainly in the U.K will not bother with. i would love to know the number of people that uses Google pay or apple pay for that matter to pay for their shopping in stores, i have yet to see anyone doing it.

I used to use multiple google pay accounts to transfer funds between my own bank accounts, instant and free, but now google pay wants to charge 1.5% for instant transfer, not good.....

I fully agree.
Receiving money via debit cards (which was beautifully instantaneous) is free with the Old Google Pay app. This one forces you to pay 1.5%. And it forces you to receive it in your Google Pay account. The old app lets you automatically forward it to a bank account or debit card of your choosing.
These are real advantages over the competitors like Venmo and the Cash app. It's foolish for Google to change this. I sent feedback asking them to eliminate the 1.5% fee. I'm begging everybody else who reads this to do the same. The early access is so people can send their feedback. so please make your feedback count and ask them to eliminate the fees. They've already done this before with the old apps (Google Pay, Google Wallet). Send feedback for them to continue that good tradition of instant peer to peer payments with no fees.

They make debit/credit cards for a reason, they're not going away anytime soon with this junk.

i still prefer cash, you know where you are with cash.

I have been a "Google-ist" for many years (I have several Pixel phones, 4 Google Home speakers, 1 Nest therm, 1 doorbell, 2 Andoid TVs, 2 Google Voice accounts, 3 Gmail accounts) but Google is quickly eroding my support and faith! I was a major proponent of Google Pay - even convinced all my iPhone friends! I liked the simple, clean GUI - picked my credit card to pay; or sent/received $$$ with friends and pop it to my debit card. I hated Venmo, dumped PayPal (esp after I found they kept ALL my info for each and every transaction ever for Years!). Didn't trust Zelle which many merchants don't accept. Now I guess I'll just have to go back to paying with plain ol' dirty dollar bills!
Hey Google - you're seriously losing me!
Android Central Newsletter
Thank you for signing up to Android Central. You will receive a verification email shortly.
There was a problem. Please refresh the page and try again.