Huawei's next flagship phone may have a touchscreen around its rear camera module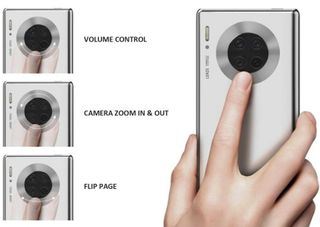 (Image credit: LetsGoDigital)
What you need to know
A patent application filed by Huawei suggests the Mate 40 Pro could come equipped with a circular quad-camera module featuring a touch-sensitive "halo" ring display around it.
The touch-enabled ring will allow users to do things like control the volume, accept or reject phone calls, flip pages, and more.
Huawei's Mate 40 series phones are expected to be launched in September this year.
One of the most distinguishing design features of Huawei's Mate 30 Pro is undoubtedly the halo ring embracing its quad-camera setup. Now, a new patent granted to the Chinese company by the World Intellectual Property Office (via LetsGoDigital) suggests the Mate 40 Pro's halo ring might actually house a touch display.
As per the drawings included in the patent application, the circular touch display embedded inside the halo ring will enable users to control the volume, flip web pages, zoom in or out while using the camera, and more. When you receive a phone call, and the phone is placed upside down, you will be able to view caller ID information on the circular display. Users will even be able to read new messages without having to lift the phone.
In addition to the touch-sensitive halo ring, the drawings also suggest the Mate 40 Pro will have a quad-camera array on the back, just like its predecessor. However, it is important to keep in mind that the patent doesn't actually confirm that Huawei will be using this design in a new Mate series phone this year. While smartphone makers keep filing patents for innovative new designs, they don't always make it to production.
The Mate 40, as well as the Mate 40 Pro, are likely to be unveiled sometime in September this year.
All things capacitive FPS used to do or could have been used to do. Should have left them be!

What's the point on having all those things around something that:
1 - Will be surrounded by a case and, therefore, harder to reach;
2 - Will NOT be accessible unless you purposefully pick up the phone This has to be the dumbest idea since the rear-mounted fingerprint scanner.

It's not a touchscreen if it isn't a display.

Look at the drawings, it does display!

This is years late and in the wrong spot. people don't leave their phones face down anymore, mainly because of wireless charging but also because of curved screens etc.. So getting notifactions on the back of your phone isn't important. Now the placement just means if you use it you will end up with blurry pictures.

"Halo ring" sounds a bit redundant.
Android Central Newsletter
Get the best of Android Central in in your inbox, every day!
Thank you for signing up to Android Central. You will receive a verification email shortly.
There was a problem. Please refresh the page and try again.