The Huawei Mate 30 Pro is simultaneously the best and worst phone of 2019. It combines design, power, and cameras in a way that's unlike any other phone. On the other hand, it doesn't have Google apps preloaded and despite workarounds, the situation remains fluid at best.
This is an incredibly complex product, especially considering the ongoing political situation affecting Huawei and its access to US technology. As we continue to monitor this, we wanted to present our opinion of the Mate 30 Pro after four weeks of using it. We won't provide a final review or ratings until the situation surrounding Huawei is cleared up, but for now, here are our takeaways from a month with Huawei's latest flagship.
One major flaw

Bottom line: The Huawei Mate 30 Pro is a great phone, with a versatile camera system, stunning waterfall display and fantastic battery life. There's a huge problem, though: it doesn't officially support Google services right now, so no one should buy this.
The Google situation
I've been using a Chinese 4G Huawei Mate 30 Pro (model LIO-AL00), which, like all Huawei's phones sold in mainland China, lacks any Google services. This phone isn't fully representative of the experience offered in Western Markets when this phone becomes available, as all the Chinese apps will be replaced by region-specific apps if it can't run Google Apps natively.
Initially, it was incredibly easy to (unofficially) install Google apps on the Mate 30 Pro. However, the lzplay.net workaround was abruptly removed after it became apparent that Huawei was in some way involved with the company. Alex has written a great breakdown on how lzplay.net worked, but shortly after that was published, the site disappeared from the internet.
There are other workarounds to running Google Apps on the Mate 30 Pro, but it's hard to be certain they won't befall the same outcome as lzplay. For this review, I installed Google Apps using the lzplay method, which was relatively straight forward and added most, not all, services that were missing.
With that method (and presumably with others), it installed all of the Google services you know, including the Play Store, Google Mobile Services and some of the key Android frameworks. Of course, it left a few things out, which do affect the experience.
I use Google's two-factor authentication for things like Gmail and it works by sending a prompt notification to your phone that you either tick yes to or select a predetermined number. With the Mate 30 Pro, it failed to recognize the Mate 30 Pro as a device on my account. Similarly, when using Play Movies, it failed the DRM check so it wouldn't play certain content. Lastly, the Mate 30 Pro allows me to set up Google Pay but doesn't allow me to pay for anything using NFC at a physical store.
These little features are taken for granted on any Android phone but are noticeable misses on the Mate 30 Pro. Of course, should the Mate 30 Pro launch with Google Apps in tow, these won't be an issue, but they are things to be wary of if you plan to buy this before the situation is resolved.
With the Google bit out of the way, let's take a look at the rest of the Mate 30 Pro, which is mostly a compelling experience.
Design
I've been using the Mate 30 Pro in Silver and there's no couching it: this is a very pretty smartphone — though easily one of the most slippery I've ever used. Compared to the Mate 30 Pro, hefty smartphones like the OnePlus 7 Pro and Galaxy Note 10+ provide welcome relief. Huawei's smartphone design has become one of the most distinct in the industry, and while the Mate 30 Pro is certainly unique, the design feels less refined than Huawei's previous flagships.
The new waterfall display offers its own set of technological challenges, which I'll discuss below but also necessitates the change to virtual volume keys. Activated with a double-tap of the side bezel followed by a swipe up or down to change the volume, it's a noble attempt to stretch the boundaries of smartphone design. Initially, these volume keys posed a challenge and after a month of use, I still struggle to change the volume as easily as with physical keys. Over a year, it may become second nature, but for now, there are some kinks to be worked out.
Beyond the waterfall display, the rest of the phone is nice but lacking a bit of polish. Take the rear for example — Huawei has become synonymous with delivering stunning color gradients, yet Huawei chose to follow the industry trend of finishes that reflect and refract light, like the Aura Glow Galaxy Note 10+. I'm not a fan of that design as I prefer the color profile and gradients of the P30 Pro and Mate 20 Pro. Of course, if you like this design trend, you'll appreciate the Mate 30 Pro in silver.
The surround to the camera provides the Mate 30 Pro with an incredibly unique design element that's immediately noticeable from anywhere. It's clear Huawei has put effort into making this device instantly identifiable among the countless other rectangles out there, not least identified by the trademark feature you'll notice every time you use the device.
The waterfall display
It's rare to see true display innovation without the Samsung name attached to it. Samsung has bought us the first curved screens on a phone, but Huawei was first to market with a waterfall-style display.
The Mate 30's unique super-curved AMOLED panel curves 88-degrees around the edges of the phone and takes getting used to. There's no denying that you sacrifice some usability — both in terms of the software and the hardware — to enjoy a display with such a unique profile.
It's another Full HD+ panel from Huawei, which makes it a downgrade on paper compared to the Mate 20 Pro. You'll have to get close to the panel to notice any difference, though. And in other areas like color quality and daylight brightness, I've been more than satisfied with this panel's quality. For the most part, the screen delivers, though the waterfall-style design presents a host of challenges.
First, accidental touches are more prevalent than on any other smartphone. This is unsurprising given that you instinctively cover the entire side of the phone. This requires some mental adjustment, and while I love that any bezels fall away entirely when looking dead-on at the phone, it's still awkward to use.
Having less of the phone to grip on to also adds to the slippery feeling, and more than once I've dropped it accidentally (though only onto carpet, so it's still in one piece). This makes me reluctant to use it outdoors, especially as there aren't many Mate 30 Pro cases available and throwing one on it removes the visual allure of the waterfall display.
The second issue is the volume keys. I touched on them briefly before, but the location and control method provides real challenges. On more than one occasion, I've accidentally turned the phone off when attempting to change the volume, as the control point sits right above the power button. There are some advantages to virtual buttons, since they can be anywhere on the side of the phone, but it's still more of a negative than a positive for now.
A third issue that's solvable is around viewability. When viewing a full-screen video in Google Chrome, there's a white bar that pops up at the top of the screen. When viewing some websites, the text wraps around the edge of the screen and results in an uncomfortable viewing angle. SwiftKey users should also beware, as the keyboard will wrap around the edge and effectively render a few keys useless.
Thankfully, Huawei seems to have anticipated this last issue. In the settings menu, you can disable the wrapping for any app, and when you do so, apps like SwiftKey work a lot better. That visual experience and the wow factor of a screen unlike any other on a device means this is worth considering even if you do disable the text wrapping entirely.
What about the waterfall display? Will it become a mainstream feature? It's an incredible feat of engineering that is visually stunning, but much like the Galaxy S6 Edge and others, it needs a more refined final product for it to become usable. It will inevitably also need OS-level support from Google but as we see more devices ship with this feature, Android will likely incorporate it into Material Design best practices, so it doesn't impact the overall user experience.
Hardware and Battery
Like every other Huawei phone, the Mate 30 Pro has a feature-rich specs list with everything you could wish for. It's powered by the Kirin 990 processor with 8GB of RAM, 256GB of internal storage and the world's first 16-core Mali-G76 GPU.
By default, it comes with a hybrid dual-SIM out of the box, so you can either use two SIM cards – both with 5G if you have the 5G model – but the second SIM can be replaced by a Nano-memory card. This standard is proprietary to Huawei devices right now, and Nano-memory cards cannot easily be purchased, but it's there if you need to expand the storage.
Like the P30 Pro, the Mate 30 Pro uses Huawei's in-display speaker system which uses the vibration of the panel for call audio. Media playback at lower volumes is somewhat affected as you can hear the vibration of the screen above the audio playback, but other than this, it works as expected. Call volume is particularly impressive, although I occasionally struggle to put the phone to my ear in the right place to immediately hear clear audio.
The best thing about Huawei phones is the battery life, and the Mate 30 Pro continues this trend of excellent multi-day battery life. The combination of Full HD+ resolution and a 4,500mAh capacity seem to negate any effects the waterfall display has on the battery life. As a result, you can expect solid two-day battery life with medium usage and it will easily survive a whole day of really intensive usage.
Huawei Mate 30 / Mate 30 Pro Specs
By comparison, the regular Galaxy Note 10 lasts me most of a whole day, while the iPhone 11 Pro needs a charge by around 6 pm. With the same usage patterns, I've found the Mate 30 Pro to last between 36 and 48 hours, including around 6 hours of screen-on-time. When I've pushed it hard, the phone makes it to the end of the day with about 20% remaining, whereas the other phones I've mentioned both need a charge when the Mate 30 Pro is at around 50% remaining.
The improvements to the battery in the Mate 30 Pro are mostly in the charging. It features the same 40W Huawei SuperCharge found on the P30 Pro and Mate 20 Pro, and this will charge the phone to full in between 73 and 82 minutes. Of course, fast wired charging is old news now, so the Mate 30 Pro comes with 27W wireless charging, with a range of new accessories — such as an in-car wireless charger and charging pad — also supporting the 27W speeds.
When it comes to hardware and battery life, the Mate 30 Pro delivers everything you could need from a flagship smartphone.
Software & Performance
The new Kirin processor flies through anything you can throw at it and continues the excellent legacy of previous Kirin devices. It's up there with the very best, but whether it's due to the lack of Google apps, or some bugs in this non-final unit, there are occasional dropped frames and odd interactions. Huawei has already delivered several updates to the Mate 30 Pro squashing some of these bugs, so these are likely to be completely resolved by the time of a wider release.
The only things that bug me a little are some conscious design and feature choices. The Mate 30 Pro is still aggressive at closing down background apps (although much less than previous years), so things like LastPass autofill often fail.
The Mate 30 Pro also only displays notifications on the lock screen if they've arrived since you last unlocked the phone, similar to iOS. As an iPhone user, this isn't an issue for me, but I do find it odd compared to the standard way that Android phones manage notifications. Huawei has always attempted to take an Apple-like approach to Android software and while EMUI 10 is a lot more like Android than previous years, the company still pays attention to the nuances of iOS.
I find myself enjoying the new always-on display, which cycles through warm sunset hues, cool blues, and into dark pinks as the day progresses. It's a very small tweak but one that's not only neat to look at but prevents OLED burn-in over time, thanks to the changing colors.
The most impressive new software feature is the phone's take on auto-rotation. This doesn't just use the phone's gyro like other handsets, but also the front-facing face detection array to figure out which way you're looking at the phone. Tilt your head 90 degrees in either direction and your apps will follow you. It's technically impressive not just because it works incredibly well, but because Huawei seems to have implemented it without any significant battery hit.
Huawei also has a take on air gestures. A wave up or down can scroll through lists (in theory), while closing an open palm to form a fist can take a screenshot. The list-scrolling is virtually useless as it recognizes your hand, but the list barely scrolls. The screenshot feature is fairly nifty and works nearly flawlessly, and that's a good thing as, without volume keys, you are limited to taking a screenshot using the gesture or attempting (and failing) by scribbling a gesture on the screen using your knuckle.
There are a few things that EMUI 10 could certainly do better, but this is by far Huawei's fastest, best-looking and most bug-free software ever. It delivers all of the features you could want, offers some features we'd like to see on every Android phone and is as smooth as any other Android interface. While EMUI has been polarizing for many in the past, EMUI 10 offers a flagship-worthy experience that should appeal to most people.
Biometrics
The Mate 30 Pro brings the same wider notch found on the Mate 20 Pro and alongside the front-facing camera, there's Huawei's excellent 3D face recognition system. This was my favorite feature on the Mate 20 Pro and this year's iteration is significantly faster, more accurate and more usable in extreme light or darkness.
It's a huge improvement overall and it is a testament to Huawei that they're still the only company to offer a true face detection Android alternative to the iPhone. It's even faster than the vastly improved Face ID in the iPhone 11 Pro and by far my favorite biometric feature on any Android smartphone.
Alongside the 3D facial recognition, the in-display fingerprint sensor is equally impressive. It's about on par with the OnePlus 7 Pro, and better than the Galaxy Note 10+. That said, the face unlock is so fast, I barely use the fingerprint sensor.
Cameras
The waterfall display is fantastic but the four cameras on the rear are likely to get most people interested in the Mate 30 Pro. There's so much to unpack here, and with every update, Huawei continuously improves the camera. The improvements aren't just in hardware, though, as the Mate 30 Pro camera is by far the most consistent in any Huawei phone ever.
Image 1 of 3
The Mate 30 Pro benefits from the same gigantic, excellent 40MP RYYB main sensor that shone in the P30 Pro, but that's now joined by a large 3:2 ultrawide "cinema" camera designed primarily for video. Another effect of its enormous size, however, is that it works pretty well in lower-light photos, where most wide-angle shooters fall. By opting for the same resolution in the main and ultra-wide cameras, Huawei has also ensured consistency as you zoom between the ultra-wide and regular lenses.
Image 1 of 2
What's more, the Mate boasts superior post-processing and noise reduction in both video and photos thanks to the capabilities of the new Kirin 990 chipset.
Between this and a return to a 3X 8MP telephoto camera in this phone, the Mate 30 Pro offers much more consistent results whichever lens you're using. Unless you're shooting in extremely low light, the differences in performance between the main and ultrawide cameras are negligible. The ultrawide is that good and is one of the best on the market today.
Image 1 of 2
One of the areas the Mate 30 Pro disappoints me is in the camera UI. Huawei has made a small tweak to the way you zoom which has a huge impact. It's a little thing but in EMUI 9 (on the P30 Pro), you could rotate between the zoom levels (ultra-wide, 1x, 3x, 5x, etc) just by tapping the zoom icon. In EMUI 10, you have to drag the slider between the two levels which is difficult to do (to get to say 3x from ultra-wide) when you are using the phone with one hand.
Image 1 of 3
Beyond just the individual lenses, the rest of the camera is just as impressive. The edge detection in portrait shots is impressive, even in challenging lights. Although the new iPhone 11 Pro also takes great portrait shots, the Mate 30 Pro captures better edge detection, as you'll see below.
Image 1 of 3
The Mate 30 Pro also now supports 7680fps video, which is impressive, if not complete overkill. While I've yet to find the need for this, it's a cool feature to have and most importantly, it brings much-needed improvements to video all round on the Mate 30 Pro. Some of the features around low light video are not available yet and Huawei is continuously tweaking the video performance, so we'll reserve final judgment on video as we continue to test it.
Image 1 of 4
Both Alex and I find ourselves missing the 5x optical zoom of the P30 Pro, but we'll admit that the 3X is far more useful on a day-to-day basis. Huawei has the best zoom of any phone on the market, and while the Mate 30 Pro doesn't hit the maximum 50X digital zoom of the P30 Pro, it can zoom up to 30X. The below shot of the moon was taken at just 10X, giving you an idea of the full zoom capabilities.
Image 1 of 14
There's still a lot to unpack with the Mate 30 Pro camera and we'll bring you this in a future update, but one thing is clear — this is the most impressive suite of cameras on any smartphone camera right now. I love the Mate 30 Pro's cameras just like I loved the P30 Pro and the Mate 20 Pro before it. When it comes to smartphone cameras, Huawei seems to be in the lead, but the Pixel 4 could change that when it's announced this week.
Mate 30 Pro initial verdict after one month
How do you sum up a complicated phone like the Mate 30 Pro? In many parts. First, the hardware and overall experience are outstanding. Yes, the waterfall display is the first of its kind that has typical first-generation usability issues. Despite that, the Mate 30 Pro is an incredibly compelling smartphone.
We know the Mate 30 Pro is a great phone, but you're most likely here to find out whether you should buy it. The answer is as complicated as the Google situation.
In its current state, no one should buy the Mate 30 Pro unless you're in China which, unsurprisingly, is the only place it's available to buy. If and/or when it gets official Google Apps support, it's also an easy answer as I'd have no hesitation in recommending it.
However, should it launch in western markets without Google support, it'd be hard to recommend it, but not impossible, as it would depend on how many apps Huawei manages to sign up to the AppGallery, and the quality of any services that replace Google's services. That's the part we're unsure of, but of course, we'll keep you updated as soon as we know more.
In the meantime, let's take a step back and admire the Mate 30 Pro. It isn't a phone you should buy, but that doesn't stop it from being one of my favorite phones right now. Like its maker, the Mate 30 Pro is excellent but beset with a problem completely out of its control.
One major flaw
A great phone that absolutely no-one should buy.
The Huawei Mate 30 Pro is a great phone, with a versatile camera system, stunning waterfall display and fantastic battery life. There's a huge problem, though – it doesn't officially support Google services right now, so no one should buy this.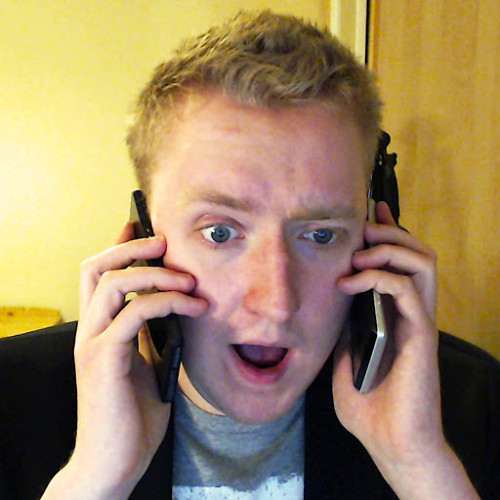 Alex was with Android Central for over a decade, producing written and video content for the site, and served as global Executive Editor from 2016 to 2022.