Hulu for Android TV now supports Google Assistant voice commands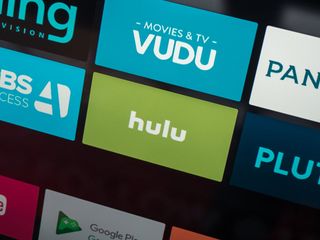 Hulu is a fantastic streaming service, and Android TV is a great platform for media consumption. Unfortunately, the two haven't been known to play nicely with one another. Hulu has been notoriously slow in the past when it comes to updating its Android TV app with new and current features, so it's refreshing to see an update for Google Assistant support already being pushed out.
Google Assistant just launched on Android TV late last month, and although the platform already supported voice controls, the introduction of Google Assitant brought the voice functionality more up to par with the Assistant voice controls that you have on your phone, Google Home, etc.
With this latest Hulu update, you can now use Google Assistant on your Android TV for playing/pausing video playback, rewinding/fast-forwarding, and skipping shows in a playlist. It's not ground-breaking by any stretch of the imagination, but it's an update that's definitely appreciated.
The update will change the version number of Hulu for Android TV to 2.1.3, and it officially started rolling out on October 11. Unfortunately, we're still stuck with the same general app design and no date in sight as to when the Hulu Android TV app will receive the major UI overhaul and live TV support that most of Hulu's other platforms have already received.
Sigh 😞
Joe Maring was a Senior Editor for Android Central between 2017 and 2021. You can reach him on Twitter at @JoeMaring1.
Well Android TV itself hasn't received much of an overhaul from Google. It's basically the same interface as 3 years ago. It's pretty pathetic. I've really started to notice how outdated it looks with a lot of wasted space on the screen on the Home screen.

The Android tv UI was updated with the Oreo update. I got the update on my Nexus player and it definitely makes it look a little more modern. What decide do u have? Do u know if/when you'll receive Oreo?

I have 3 Nexus Players in my house and each one is used daily. We haven't had cable TV in 3 years. I haven't gone into the settings to see if they auto-updated to Oreo, but I haven't noticed anything different on the home screen design. I know when it went from Marshmallow to Nougat there was no difference with the interface. Google included YouTube Kids on Android TV which is nice. But it will probably not be updated much just like the other apps. The original YouTube app is pretty vanilla. And for some reason some developers don't include their app in the Nexus Player. I can't get Vudu on my Nexus Player yet supposedly it's available on Nvidia Shield. Finslly, since we are providing feedback to one another, my only real gripe is with the remote. They eat thru batteries like candy and become unpaired more frequently than I think is normal and getting them to repair can be a pain. Sometimes I try for 30 minutes, give up, and come back and the remote is working and pairs easily.

The Nexus Player remote was absolute garbage. I really hoped they'd fixed its horrible pairing issues via a software update by now, but I guess not. I got so sick of it that I returned mine and went back to using a Chromecast for all streaming, until I got a Shield TV.

Oh no the problem still exists. I'm 'fortunate' that I had one of my units die and get replaced under warranty by Asus. I got to keep the remote and they sent me a while new Nexus Player with another remote, so I ended up with an extra remote. One day a year back a remote just died, despite new batteries and all efforts to recusitate it. But who knows if it's really dead. The same thing happened to another remote and a few weeks later it came back to life. I'm thinking about picking up a few Shields to replace my 3 Nexus Players especially since they may get cheaper since they are a bit older now and won't be updated to Oreo.

Do it. I have the original Shield TV and I just use the game controller as a TV remote. I have to charge it about once a week, but that's not a big pain. It's just so much better than other Android TV boxes that it's definitely worth the extra money, even if you don't use it for gaming.

The home screen interface still looks fine to me for the most part, but the amount of time it takes Google to update their own Android TV apps is so frustrating. At this point, I'm just pretty sure that they've ceased development on the Play Music app for Android TV. Podcasts came to Play Music what, a year and a half ago now?

Windows Media Center PC with plex is still the best inexpensive media alternative for the home and mobile. Cheap Xbox 360's around the house for media streaming and live tv and Plex associated with the WMC TV recording file for streaming outside the home on any device. Live TV is really the difficult part of any newer system that is why I still have my WMC PC otherwise I only use chromeboxes and chromebooks. My personal entainment center doesn't even use an Xbox. I use a chromebox and an air mouse to stream all my content and access Netflix and Hulu. The chromebox is an inexpensive no compromise solution for cord cutters. Even cheaper, a chromebit and an airmouse can be had for under $95.
Android Central Newsletter
Get the best of Android Central in in your inbox, every day!
Thank you for signing up to Android Central. You will receive a verification email shortly.
There was a problem. Please refresh the page and try again.