This huge 200GB SanDisk microSD card can be yours for just $64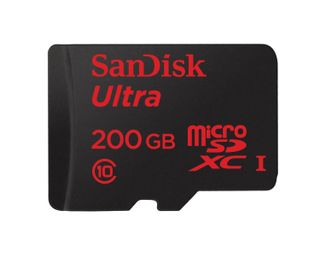 Should you be on the hunt for some more storage for your smartphone or tablet, you'll want to check out this whopping 200GB SanDisk microSD card, which can be yours for just $64 (opens in new tab). We've covered similar deals on these SanDisk cards in the past, and now there's yet another opportunity to pick one up for less.
This class 10 removable storage can be used in a portable device or with an adapter for a laptop. The choice is yours. It's definitely worth checking the manual for your smartphone or tablet to see if this capacity is supported before you hit purchase.
See at Amazon (opens in new tab)
I believe it was 49.99 on Black Friday and Cyber Monday. From Bestbuy.com and Newegg.

#EXACTLY. And these bastards didn't even promote that it was $49.99. I bought one for $59.99 a few months back. Best deal ever.

This has been at a lower price point before ($49.99)

It's slow though...not recommended for adoptable storage.

what would be good for adoptable storage?

$64 is too expensive.... I bought two for $49 each on CyberMonday...
was going to order 3, but I thought 400gb
was plenty? Now I regret not ordering the third one at $49.

And to think I paid $15 for a 32 GB SD CARD. 😑
Android Central Newsletter
Get the best of Android Central in in your inbox, every day!
Thank you for signing up to Android Central. You will receive a verification email shortly.
There was a problem. Please refresh the page and try again.