Huawei's latest sales figures show it doesn't need Google's help to succeed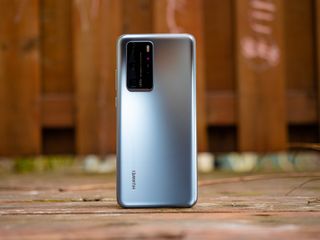 (Image credit: Daniel Bader / Android Central)
When Huawei's trade ban went into effect last year, the Chinese manufacturer avowed to posting strong sales figures in spite of losing access to Google Mobile Services, including the Play Store, Gmail, Google Drive, YouTube, and others. The trade ban effectively killed Huawei's global ambitions, and while the brand launched the Mate 30 and the P40 series without Google services, they weren't well-received in global markets.
Huawei's performance in China over the last 12 months is an entirely different matter. The brand sold 238.5 million phones in 2019, allowing Huawei to overtake Apple. A majority of those sales were because of a strong showing in the Chinese market, and in Q1 2020, Huawei became the largest player in the country, accounting for an incredible 41% market share.
Huawei's strong sales figures have continued into Q2 2020 as the industry as a whole reels from the global pandemic. With global shipments of 55.8 million, Huawei just overtook Samsung to become the largest smartphone manufacturer in the world. That's according to data from Canalys:
Obviously, the numbers for this quarter are skewed because of the pandemic and movement restrictions that are in effect in many countries. They're not indicative of any sizable gains by Huawei; in fact, the Canalys data suggests Huawei saw an overall sales decline of 5% from last year. But the brand was able to pull ahead because Samsung witnessed a decline of 30% from the same period a year ago.
Huawei's overseas sales declined by 27% from the same time a year ago, but it has made up the difference in China, seeing a net increase of 8% from last year. Huawei's home market now accounting for 72% of its phone sales, and that's how the brand was able to edge out Samsung. China's handset market fared relatively better than most regions, declining by just 17% in Q2 2020.
For context, the U.S. market was down by 20%, and an extended nationwide lockdown meant India witnessed a 51% decline in year-on-year sales. These numbers are pertinent to our discussion, because the U.S. and India are two markets where Samsung has a healthy market share.
By contrast, Samsung doesn't even account for 1% market share in China, so the fact that most global markets witnessed a decline in Q2 2020 hit Samsung particularly hard. Samsung is looking to rebound in Q3 2020 on the back of the Galaxy Note 20 series, and it should retake the lead once global markets stabilize.
While this year has been anything but normal, we are getting a great insight into Huawei's smartphone strategy. As the manufacturer is effectively locked out of global markets, it is redoubling its efforts in China. Its latest phones pack incredible cameras and gorgeous designs, and while they're on sale in a few Western markets, no one is realistically going to pay over $1,000 for phones that don't have access to the Play Store.
That, however, is not an issue in China. With Google and most other foreign services banned in the country, all Chinese brands bundle their own app stores on all phones sold in China. So for all intents and purposes, it's business as usual for Huawei in the country, and with the market accounting for 369 million phone shipments in 2019, there's plenty of room for Huawei to grow.
And that's what the brand is doing. With a 41% market share, Huawei is head and shoulders above the rest of the competition, with Vivo occupying second place with a share of 17% and OPPO in third with a 15% share. Huawei is essentially showing that it doesn't need to rely on global markets — or access to the Play Store — to continue its smartphone momentum.
It will be interesting to see it the Chinese manufacturer can sustain that growth in the coming months. The rest of 2020 will be particularly challenging for Huawei as it contends with losing access to TSMC, which will cut off its ability to manufacture new Kirin chipsets for its upcoming phones. Huawei is said to have stockpiled enough hardware to meet its short-term needs, and the brand is turning to MediaTek for powering its mid-range phones.
Gorgeous gradient
(opens in new tab)
Still a great phone in 2020
A year after its launch, the P30 Pro still has a lot going for it. The hardware is still fast, the design is just as striking, and the camera at the back continues to take amazing photos. You also get all-day battery life and 40W fast charging with 15W wireless charging, the latest EMUI 10 update with Android 10, and global LTE bands for use on AT&T or T-Mobile.
Get the Android Central Newsletter
Instant access to breaking news, the hottest reviews, great deals and helpful tips.
Harish Jonnalagadda is a Senior Editor overseeing Asia at Android Central. He leads the site's coverage of Chinese phone brands, contributing to reviews, features, and buying guides. He also writes about storage servers, audio products, and the semiconductor industry. Contact him on Twitter at @chunkynerd.
Not sure if I believe the numbers. We will see.

Exactly. I've got ocean front property in Arizona to sell you if you want to start believing communist China Huawei sales figures in communist China.... Lol

I've been looking everywhere for that kind of property!
What's the going rate?

China has banned google and some more companies from working in china, I think is just fair that they sell their stellar gadgets
well, in china

For myself, I don't want a phone without Google apps. I luv me some U-tube way too much?

Ain't this still possible with other "unofficial" apps?

I just ordered my P40 Pro :D F*** the others, Huawei rocks! There are plenty easy ways to get it all working perfectly fine without the PlayStore ;)

I have a Mate Pad Pro and managed to install Google playstore but some significant applications need Google services to run like Netflix and Disney Plus for example... Wouldn't recommend anyone buying a Huawei product without Google services... Their hardware is the best in the world though IMO... I have a Huawei Mate 20x which has Google services and it really is a fantastic phone with amazing cameras...

I wouldn't buy any phone that doesn't have the Play Store plus I don't like Huawei's UI which is a poor man's iOS, no thanks, I actually used to feel sorry for Huawei regarding the trade bad but with ******** like you I no longer feel had and I hope Apple, Samsung and the rest buries Huawei because communist China cannot support Huawei forever.

China is a poor man's country..

How are they gonna bury Huawei? They couldn't before they lost Google services and have only grown stronger and overtaken them since 😂. China is the 2nd biggest economy in the world and growing fast and they are only going to get stronger and richer.

Nobody outside China cares about Huawei and China alone won't save Huawei.

Are these numbers padded. Without Google apps, I don't think so. Yes, China is a huge market, but someone is fibbing?

China is a growth market and America and Europe are flat as far as growth in the industry.

Huawei like Samsung, sell crap tons of low cost phones. The top end phones are not the top sellers. China has 1.4 billion people. Huawei is a nationaly beloved brand, and with the stark rise in nationalism the numbers are possible. Losing India is a big hit though.

Give me Communist China and Huawei any day over capitalist running dogs like Apple and Google.

I'd rather Apple over Google but I'd rather Google over communist China controlled Huawei.

Let's not forget that you can still access all of the Google services in the web application of your choice should you use a Huawei phone. Just not the apps on the phone.

I wonder how much China pay for this article. After learning what Huawei has been doing, I don't care if they produced perfect products.