Huawei P20 Lite shows off its notch, dual cameras, and Android Oreo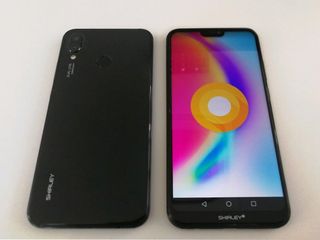 Huawei will announce three new phones on March 27 in Paris — the P20, P20 Lite, and P20 Plus. The regular P20 showed off its good looks earlier this week thanks to a leaked hands-on photo, and now its Lite sibling is getting similar treatment.
Once again, Evan Blass has given us a clear look at what to expect from Huawei next month. Just like the P20, the P20 Lite has two rear cameras, very slim bezels surrounding its display, and an iPhone X-style notch at its top. I'm personally not a fan of this look, but it seems to be a design trend that's here to stay for at least the next year or so.
Aside from the fingerprint sensor being moved to the back of the P20 Lite rather than below the screen like on the P20, both phones are very similar in regards to their design.
In addition to the above photo, Blass has also shared a few specs we can look forward to on the P20 Lite. The screen is said to be 5.6-inches with an 18:9 aspect ratio and 1080 x 2250 resolution, Huawei's own Kirin 659 will power the phone along with 4GB RAM, and you'll also find 64GB of internal storage, a 3,520 mAh battery, and Android 8.0 Oreo with EMUI 8.0.
The dual camera system on the back was made in partnership with Leica, and it features two 16MP sensors that'll allow for a "hybrid zoom" feature.
There's no word on pricing or availability at this time, but we'll thankfully get all the official details from Huawei in just under a month.
Are you looking forward to the P20 Lite?
Joe Maring was a Senior Editor for Android Central between 2017 and 2021. You can reach him on Twitter at @JoeMaring1.
Another inspired manufacturer to go with the iPhone X notch design, lol.

Essential Phone had the notch before Crapple did.

Embrace the notch folks, lol.

Who ever invented the notch should be hanged in his town square! Yikes!

I think Apple is trolling those oem's because now there is no way for them to hide their copying. The crazy thing is, the iPhone X notch is a compromise to get faceId working. For that reason, I accepted the notch compromise because I understand it's existence as far as Apple is concern. But those Android oem's have no such reason for their notch existence. They still have a fps on the back, so why adopt the notch then? It makes no sense as far as I am concern.

Huawei let themselves down with this insipid design choice, yet another case of another Chinese OEM butt licking crApple's ugly notch.

Essential Phone had the notch before Crapple

I don't think the Lite version will feature the leica lenses.

Killing me softly I'll stay with my Mate 9 it's a better phone and already has Oreo

The point of the notch is you then do not need other bezels. How do these companies not understand that? So dumb.

Ugly. Ugly. Ugly. Companies clearly don't do market research and simply copy Apple. That notch is like the only thing I hear people say they don't like about the iPhone X, lol.

Now we realize why Google is embracing the notch into Android P 😂😂😂

Agreed, it looks like the Pixel 3 will almost certainly have a notch with Android P having built in support for it, sigh 😞

Put the notch where the sun don't shine, thanx Apple & ph-1. Just look what you started!

I cannot get jiggy with this s$%!# !!!!

I love the huawei brand because it makes good phones, but i cant stand its love for copy-catting apple.
Android Central Newsletter
Get the best of Android Central in in your inbox, every day!
Thank you for signing up to Android Central. You will receive a verification email shortly.
There was a problem. Please refresh the page and try again.