Huawei Mediapad M3 vs. Mediapad M3 Lite: Which should you buy?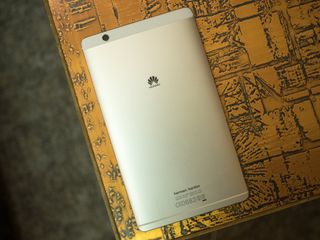 Huawei's Mediapad M3 (opens in new tab) and Mediapad M3 Lite (opens in new tab) are both extremely capable tablets that won't break your budget. How do you pick between two devices that look so similar, though? You let us break it down feature by feature to see M3 is more worth your hard earned money!
Specs comparison
Swipe to scroll horizontally
| Category | Mediapad M3 Lite | Mediapad M3 |
| --- | --- | --- |
| CPU | Qualcomm Snapdragon 435, octa-core | Kirin 950, octa-core |
| Screen resolution | 8-inch 1920x1200 pixels | 8.4-inch 2560×1600 pixels |
| RAM | 3GB | 4GB |
| Memory | 16GB | 32 GB / 64 GB |
| Battery | 4800 mAh | 5100 mAh |
| Price | $169 | $299 / $330 |
| Dimensions | 4.8 x 8.4 x 0.30 in | 4.8 x 8.5 x .28 in |
Same name, different device
The Huawei Mediapad M3 and Mediapad M3 Lite are two vastly different tablets that share a name. They're both 8-inch portrait-oriented tablets (though the Mediapad M3 has a slightly bigger 8.4-inch screen).
It's the actual hardware that makes a serious difference between the Mediapad M3 and the Mediapad M3 Lite. The M3 is in possession of the much more powerful Kirin 950 octa-core processor compared to the M3 Lite's Snapdragon 435 processor. Likewise, the Mediapad M3 has a resolution of 2560 x 1600 pixels, which surpasses the 1920 x 1200 resolution of the Mediapad M3 Lite by quite a margin.
The Mediapad M3 also has more storage and RAM than the equivalent models of the Mediapad M3 Lite. And the Mediapad M3 has a slightly larger 5100mAh battery compared to the 4800mAh cell in the M3 Lite.
Now while the Mediapad M3 does have far more power under the hood, it's also the much more expensive tablet at $299 versus the Mediapad M3 Lite's $169 asking price.
Intent matters
Due to the major differences in hardware between these two devices, it's a bit difficult to compare one directly against the other. Instead, what you need to consider it what you plan on using your Huawei Mediapad for.
If you need a device for distracting the kids during car rides, watching your favorite shows, and surfing Facebook, then the Mediapad M3 Lite is definitely the one to pick. It doesn't have the better specs overall, but it is more than capable of getting the job done.
In comparison, the Mediapad M3 is capable of doing far more than letting you catch up on binge watching. It's got a huge battery, a solid processor, making it great for everything from checking documents in Google Drive to conducting live chats with friends on Hangouts. With its fantastic screen and great speakers, the Mediapad M3 can really act as a replacement for your Laptop in most cases.
The Mediapad M3 is the better tablet!
By every possible marker, the Mediapad M3 comes out ahead of the Mediapad M3 Lite. This isn't surprising, as it is the higher end Mediapad from Huawei, but Huawei has gone above and beyond to pack it to the brim with fantastic features for you to take advantage of. While it is a bit pricey compared to the Mediapad M3 Lite, it's well worth it for the increase in screen quality, battery, processor, and speakers.
One thing to keep in mind, though, is that the Mediapad M3 shipped with Android 6.0 Marshmallow, and still hasn't been updated to Android 7.0 Nougat in most regions of the world. The Mediapad M3 Lite, though, shipped with Nougat since it is a newer product.
Essentially in every other metric that counts, the Mediapad M3 excels, delivering a device that really does go above and beyond.
Which is your favorite?
Both the Mediapad M3 and the Mediapad M3 Lite are very capable, but the Mediapad M3 pulls ahead by virtue of all of its features. Do you agree that the Mediapad M3 is the better device? Do you prefer the Mediapad M3 Lite? Let us know about it in the comments below!
Huawei Mediapad M3 review
Android Central Newsletter
Get instant access to breaking news, the hottest reviews, great deals and helpful tips
Jen is a staff writer who spends her time researching the products you didn't know you needed. She's also a fantasy novelist and has a serious Civ VI addiction. You can follow her on Twitter.
My elderly neighbour just got the Lite and it is a superb tablet for the money. She wants it mainly to video call her family members. What apps are available and best for her to do this, please? You mention Hangouts for the bigger model but nothing for the Lite. She wanted Whatsapp too but when I searched on the Play store it says unavailable for this device.

Whatsapp is not available for tablets

She can always side load WhatsApp on any tablet!

Thank you for this advice

Not true. WhatsApp needs a mobile Phone number to work, so as long as the tablet supports LTE and a SIM inside you can install and use WhatsApp just fine.
Even more, the Mediapad M3 has got a dialer so you can even make speakerphone calls with this tablet!

it's not a budget tablet in China.opposite,there's other tablets which are cheaper and powerful. i won't buy this one

U.S. market M3 was updated to 7.0 Nougat at least a couple of months ago.

For $330 the m3 is a far better investment since you'll probably be able to use it for 2-3 years so the extra ram and capable processor will come in handy.

Shouldn't there be rumors now about a next gen M4. It's coming up on close to a year since the M3 came out.

My Huawei M3 just came in the other day. And it got the Nougat update already. Great media tablet. Very loud and crisp sound quality.

I think tablets less then 10 inch this days are useless, simply because the smartphones have such a big screens.

It depends from people to people. I have no problem carrying my 8" tab along with my 6" phone where my phone goes to my front pocket and my tab on my bag that I always carry if I know I'll be out for a while. I still can't consume media and games on a puny 6" screen. I do have a 10.1" tablet that stays on the living room for media purposes but I rarely use it since I'm out most of the time.

We each have different opinions, I find 10 inch to be nearly useless. It's big enough to be a bit awkward to use and type on, yet too small to be used for much productivity. 8 inch I enjoy for browsing, games, and media consumption.

I only use compact smartphones. So 7-8 inch tablets are just perfect. 10 is too big.

I bought the M3 on Amazon Prime day to replace an aging Shield K1. Great tablet with a beautiful screen, loud speakers, and very good battery life that's excellent for media consumption. I also prefer it's display ratio for media and I highly recommend this tablet. I'm in the US and mine was updated to Nougat shortly after purchase.

I've been looking at the M3 as a replacement for our aging Nexus 7 2013's......

I nearly purchased the M3 today but then noticed we're still at intro pricing, 13 months on! My old Nexus 7 (2014?) will do until turkey-day price adjustments arrive.

And possibly an enticing new model.... both our N7's are showing their age but should hang on awhile longer...

75 bucks off today on Amazon

I love my media pad M3, it was such a pleasure to replace the POS nexus 9.

Just ordered the M3...My Galaxy Tab S2 suffers from the Wifi thing, where it's connected,but no internet wll get through. I have to turn off wifi and turn it back on, constantly. It's the 2nd samsung tablet to do it. I bought the Tab S3, but it's just too damn big and uncomfortable and slippery. 8.4" is the perfect size and the MediaPad 3 is the only high spec tablet out there in that size.
Android Central Newsletter
Get instant access to breaking news, the hottest reviews, great deals and helpful tips
Thank you for signing up to Android Central. You will receive a verification email shortly.
There was a problem. Please refresh the page and try again.