Huawei Mediapad M3 vs. Mediapad M3 Lite: Which should you buy?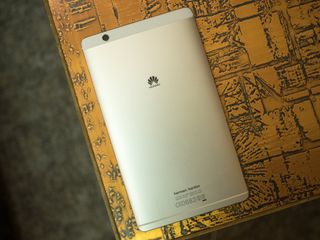 Huawei's Mediapad M3 and Mediapad M3 Lite are both extremely capable tablets that won't break your budget. How do you pick between two devices that look so similar, though? You let us break it down feature by feature to see M3 is more worth your hard earned money!
Specs comparison
Swipe to scroll horizontally
| Category | Mediapad M3 Lite | Mediapad M3 |
| --- | --- | --- |
| CPU | Qualcomm Snapdragon 435, octa-core | Kirin 950, octa-core |
| Screen resolution | 8-inch 1920x1200 pixels | 8.4-inch 2560×1600 pixels |
| RAM | 3GB | 4GB |
| Memory | 16GB | 32 GB / 64 GB |
| Battery | 4800 mAh | 5100 mAh |
| Price | $169 | $299 / $330 |
| Dimensions | 4.8 x 8.4 x 0.30 in | 4.8 x 8.5 x .28 in |
Same name, different device
The Huawei Mediapad M3 and Mediapad M3 Lite are two vastly different tablets that share a name. They're both 8-inch portrait-oriented tablets (though the Mediapad M3 has a slightly bigger 8.4-inch screen).
It's the actual hardware that makes a serious difference between the Mediapad M3 and the Mediapad M3 Lite. The M3 is in possession of the much more powerful Kirin 950 octa-core processor compared to the M3 Lite's Snapdragon 435 processor. Likewise, the Mediapad M3 has a resolution of 2560 x 1600 pixels, which surpasses the 1920 x 1200 resolution of the Mediapad M3 Lite by quite a margin.
The Mediapad M3 also has more storage and RAM than the equivalent models of the Mediapad M3 Lite. And the Mediapad M3 has a slightly larger 5100mAh battery compared to the 4800mAh cell in the M3 Lite.
Now while the Mediapad M3 does have far more power under the hood, it's also the much more expensive tablet at $299 versus the Mediapad M3 Lite's $169 asking price.
Intent matters
Due to the major differences in hardware between these two devices, it's a bit difficult to compare one directly against the other. Instead, what you need to consider it what you plan on using your Huawei Mediapad for.
If you need a device for distracting the kids during car rides, watching your favorite shows, and surfing Facebook, then the Mediapad M3 Lite is definitely the one to pick. It doesn't have the better specs overall, but it is more than capable of getting the job done.
In comparison, the Mediapad M3 is capable of doing far more than letting you catch up on binge watching. It's got a huge battery, a solid processor, making it great for everything from checking documents in Google Drive to conducting live chats with friends on Hangouts. With its fantastic screen and great speakers, the Mediapad M3 can really act as a replacement for your Laptop in most cases.
The Mediapad M3 is the better tablet!
By every possible marker, the Mediapad M3 comes out ahead of the Mediapad M3 Lite. This isn't surprising, as it is the higher end Mediapad from Huawei, but Huawei has gone above and beyond to pack it to the brim with fantastic features for you to take advantage of. While it is a bit pricey compared to the Mediapad M3 Lite, it's well worth it for the increase in screen quality, battery, processor, and speakers.
One thing to keep in mind, though, is that the Mediapad M3 shipped with Android 6.0 Marshmallow, and still hasn't been updated to Android 7.0 Nougat in most regions of the world. The Mediapad M3 Lite, though, shipped with Nougat since it is a newer product.
Essentially in every other metric that counts, the Mediapad M3 excels, delivering a device that really does go above and beyond.
Which is your favorite?
Both the Mediapad M3 and the Mediapad M3 Lite are very capable, but the Mediapad M3 pulls ahead by virtue of all of its features. Do you agree that the Mediapad M3 is the better device? Do you prefer the Mediapad M3 Lite? Let us know about it in the comments below!
Huawei Mediapad M3 review
Sign up for Black Friday email alerts!
Get the hottest deals available in your inbox plus news, reviews, opinion, analysis and more from the Android Central team.
Jen is a staff writer who spends her time researching the products you didn't know you needed. She's also a fantasy novelist and has a serious Civ VI addiction. You can follow her on Twitter.