HTC's 'Fun Fit' fitness tracker app now available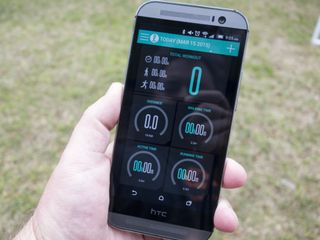 We briefly touched on HTC's new fitness tracker app in our massive preview of the HTC One M9, and today HTC Fun Fit is now available for a number of Android devices running Android 4.1 and up.
The app's nicely laid out and uses your phone to keep track of your steps, walking time, distance, calories burned, active time and running time. You also can see how your friends are doing at a glance.
The app lets you log in with either a "guest account" or via your Facebook account. It's odd that it's not even using the HTC login, to say nothing of the proper Google sign-in, and more annoying that you can only be logged into Fun Fit on one device at a time. This also is separate (for now) from the HTC Grip fitness band that it's producing in conjunction with Under Armour and the UA Record app. So we'll have to see how this all changes going forward. But for now, it's there if you want to try it.
Download: HTC Fun Fit (opens in new tab)
Image 1 of 13
Get the Android Central Newsletter
Instant access to breaking news, the hottest reviews, great deals and helpful tips.
The app looks very promising, however ill wait until the Facebook log in goes away.

This -^^^^^^ Posted via the Android Central App

Well that's useless, only log in via Facebook. What about us who don't use that service? Posted via the Android Central App

First sentence third paragraph: ""The app lets you log in with either a "guest account" or via your Facebook account."" Moreover, 95% of the world's population uses the metric system. I'm confident HTC will further refine their app to accommodate the segment of the population who could best benefit.

So until Facebook is removed or Google+ is added I will be known as "guest". Posted via Android Central App

Yeah but will it alert me when I need to stand up. Ha ha

Ugly ass app! Posted via the Android Central App

Sounds good, but I'll wait until there are more log-in options. I get that they think everyone will want to "be social" but not everybody does. Since Google Fit doesn't seem to work properly on my HTC M8 I was hoping this could be an alternative solution.

Looks good, but like others, I will be waiting until there are more sign-in options.

Weight in kg and height in cm? Come on people this is America. At the very least give me a choice.

Just crashes after login for me

HTC one m8 has a built in fitbit app, is this new app better? Posted via the Android Central App

I've yet to use a decent fitness app. an ideal one for me would be able to select my workout schedule for the week that would include which workouts and muscles I'll be training each day along with my calories burned. I do this via Google Keep, but it would be nice to have each individual workout on a list with a click to add feature. Why anyone cares how many steps they take in a day is beyond me. If I take 5000 then go workout for an hour them make salmon and a salad for dinner, and someone else takes 10000 and orders up pizza and a movie while toting the bong after work, does it really matter. DISCLAIMER: there's nothing wrong with bong hits and pizza after work! Posted via the Android Central App