HTC reminds us what's getting Ice Cream Sandwich and when they might get it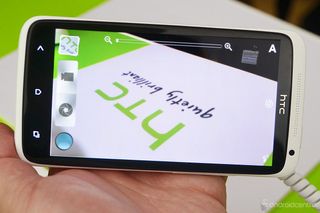 HTC on its blog has reiterated which current phones are slated for an update to Android 4.0. It's not a new list -- we've seen all of these phones announced previously (here, here, here and here) -- but it's good to see it all in one place. In alphabetical order, they are:
DROID Incredible 2 by HTC
HTC Amaze 4G
HTC Desire S
HTC Desire HD
HTC EVO 3D
HTC EVO Design 4G
HTC Incredible S
HTC Sensation
HTC Sensation XL
HTC Sensation 4G
HTC Sensation XE
HTC Raider
HTC Rezound
HTC Rhyme
HTC Thunderbolt
HTC Vivid
As we've already reported, the Sensation and Sensation XE are getting their updates now. The Sensation 4G (that's T-Mobile's version) and the Sensation XL are next, though no time frame was given.
So maybe the HTC One line (that's the HTC One X above) isn't in the cards for you. Maybe you have to hold out for Ice Cream Sandwich on your current device. We hear ya. We've got phones that are languishing with Gingerbread, too.
​Source: HTC blog (opens in new tab)
they killed the original evo 4g thats why im leaving htc devices
don;t like them any more

The original evo doesn't have enough flash. Even with gingerbread, I have to have my apps on an ext4 partition on the SD card to have enough room. Who wants ICS if it means that you only have 200mb left for apps? They killed the evo before they ever released it. I'd like to know the idiot who thought saving $2 was worth putting 1GB of flash on it instead of 8GB.

OG EVO? It's dead. It's time to give it up. Or do you like those "Out of internal storage" messages because of the lack of internal storage. I loved my EVO. but it's 2 years old... dead

Rocking CM7.1 by day & Evervolv ICS Rom by night. Don't be dismayed. The Evo 4G is one of the easiest phones to root and flash custom roms on.

I don't think it is reasonable for them to expend tons of expense and effort to try and put 4.0 on a phone that old and limited. It doesn't have enough storage, and only 512MB of memory, and a single core CPU. Even a STOCK 4.0 experience would probably be far from ideal, trying to get Sense 4 on it would be next to impossible. If you are going to "leave HTC" because of it, then you will be "leaving" just about any other manufacturer too for the same reasons.

Although Ice Cream Sense should be out of the question, what makes you think the OG Evo can't handle AOSP ICS? My Nexus S (Also 1GHZ Single core, 512MB RAM) handles it fine. The only issue might be the ROM but AOSP is usually pretty light. I'm sure the OG Evo will see very stable CM9 builds in the coming months.

"in the coming months" were you a Pre owner?

the word of inspiration ROOT, CM9 is in the oven for the evo 4G when its available you can have all the ice cream sandwich you want as its based on 4.0, and CM7 is what i am running on my evo 4g and life has never been greater have over 250mb for apps as none of them are on the phones memory, no error messages, join us brother

Is it too much to hope that DesireHD=Inspire? Preferably before the eve of releasing Android 5.0?

You know AT&T will never release an official update...They want you to upgrade (UGH) BUT! There will def be AWESOME roms for the Inspire based off the DesireHD ICS release! And it will run as smooth as butter.. Check out CoreDroidRoms.

Putting a word for Redemption/Ascension ROMs from the collective. however AT&T will spend an age selling bloat to "marketing partners" before customers get it just before jellybean comes out.

Church. None of the ASOP roms are stable enough.

U would think that with the tb getting it that the evo 4g would get it also, granted its like 2years old, the rims they have out so that it can handle it, not that I'm upset(well kinda) I do have a 3D now but after I had a screen problem and had to get a new one I'm on hboot 1.5 and this does suck, I need a root method not from htc

I would say it's a bummer they are not supporting the HTC Incredible, but I haven't ran the stock OS in over a year, so I guess it really doesn't matter to me. There is so much more you can do with aftermarket firmware. I've been running Cyanogenmod 7 until I heard about AOKP ICS Milestone 4. It's been pretty stable, couple reboots, camera and gallery don't work, but at least I have ICS. Really looking forward to the HTC One series devices.

So ICS on the Evo 3D, but what version of Sense are they going to throw down? 3.5? 4.0?

The reasoning they are using is that they don't want to make the experience "too different" for those who are used to Sense 3 already. So, they've created this "in between" version for upgraded phones. Endgadget has a preview they posted yesterday going over the features of 3.6. It is not as light as 4. Here is a link to their preview: http://www.engadget.com/2012/03/13/htc-sense-3-6-preview/ I'm looking forward to getting this on my TBolt! I really like the customizable dock and the lockscreen.

They did a decent job with 4.0 and Sense 3.6 compared to what Samsung did with their update for the Galaxy S ll, which doesn't even look anything like ICS. HTC let's get this out already my Evo 3D is awaiting.

Thanks- that review is chocked full of useful info. I found out from yet another review that 3.6 STILL won't even have a landscape home screen. That sucks! http://rootzwiki.com/_/articles/general/ice-cream-sandwich-and-sense-36-... But this sounds good:
"The same 3D flip effect when swiping from screen to screen still exists, but the silly carousel effect that occurred when you swiped too quickly has been removed. " THANK GOD!!! That was the one thing I hated about Sense. Supposedly we will gain the ICS ability to DISABLE apps. Of course, carriers might muck around with it. Heaven forbid we have the ability to shut off that F***ing annoying Sprint Zone on our own phones, for example. Will keep fingers crossed.

Yay EVO3d.!! Can't wait to get the galaxy NEXSUS for Sprint!!!

Been running ICS aospX on my Inspire for months. But I will be glad when they release the ICS drivers for the DHD so the Dev's can fix the bugs in the camera ect. If that is anyone is still still making Roms for My Inspire. Seems that the Collective are leaving the Inspire for other phones. My phone is only 9 months old so I have a long time before I get an upgrade. And it will probably be a Samsung S3 because I do not like HTC going to non-removable battery's and no SD card.

I'm with ya! Can't wait to really mess with aospX once there's an official RC! Also, new CoreDroid is really amazing, best Tweaks you've ever seen. Also, I know their team is working on some ICS Sense 3.6 stuff... So don't give up hope! Can't wait for this official Desire HD ICS to be released to the DEVs! If DEVs are still supporting HD2... Inspire/DesireHD will take awhile to die!

the guy that made Ascension (flappjaxx)got a Note and will probably concentrating on that but Redemption is still going.

It really seems like a problem when there's a list that long of phones by one manufacturer of which mostly are within the last year. I mean, they're already having trouble making money off of making these devices, it seems like you'd have 2 or 3 flagship devices per year that have a lot of thought put into them, are updated regularly and semi-immediately and receive plenty of support. Sometimes I feel like less is more. That's more or less why I've been rockin' Nexus devices. The iPhone was great, polished and had a very cool system in place for updates and refreshes. It was very supported by Apple, of course and accessory makers. The Nexus provides all of that for the most part and Android, which to me is a favorable OS.

Nice to see them support devices. Along with unlocking bootloaders HTC is treating customers right. Now if only they made worth wile products, not the same phone rehashed again and again. HTC has drank all of the QWERTY haterade and it really sucks. Oh well. For now I am happy with CM9 on my D4. Would love to see an HTC QWERTY based on the Qualcomm S4 platform for VZW though.

I am sorry, but I don't see HTC Desire Z (G2) anywhere on this list! Is that even possible since it came out on the same day as Desire HD and in a very close hardware/pricing range. It is just over a year old high end device, and HTC is absolutely obligated to give it some ICS loving. There is no excuse! Personally I am a Galaxy Nexus owner but for Android's sake, this is just not acceptable.

I would normally file that as QWERTY haterade influence but looking now I see the Z has slower CPU and less RAM so it is justifiable. The Z can probably still run ICS just fine, but they do have an argument for why they chose not to update it. The real question is why did they give the Z a slower CPU and less RAM to begin with. Why are QWERTYs always stamped with less RAM and slower CPU? I will file that under QWERTY haterade.

"alphabetical order", not so much. I know I'm new to the Android world, but I thought "S" came AFTER "r".

Enough already with the "(Insert phone maker) announces which of their devices are getting ICS" How about they start actually releasing ICS for their devices. That would make me, and probably several other folks, happy.

Anyone can help me with this.
I just update my Senstaion and when downloaded start to install and show this error..
http://dl.dropbox.com/u/18578234/error.jpg

Wait desire 4g equals inspire 4g right ? I hope so

lol my HTC aria with only 512mb flash memory, I always struggle with this. Failure of android devices in 2009-ealry 2010 with only few mb for apps

Recently dropped my Inc 2 onto tile and shattered the digitizer. I upgraded to a rezound because of it, but I think I'll replace the digitizer myself and sell it with a guarantee for some ICS love :D

I think I will try is out now if my inspire 4g don't get ice its only a year old wtf
Android Central Newsletter
Get the best of Android Central in in your inbox, every day!
Thank you for signing up to Android Central. You will receive a verification email shortly.
There was a problem. Please refresh the page and try again.