HTC Proto device renders leak, now where's that phone headed?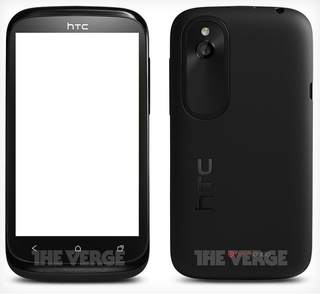 What you see above are pictures of the potentially forthcoming HTC Proto, a low- to mid-range device slated to be the potential successor to the HTC One V. Right off, the Proto looks to sport more of the design language found on the One X and One S, with rounded corners and black casing, dropping the "chin" off the front. Around back, you see a smooth soft-touch looking surface and Beats Audio branding. Expected specs on this device are a 4-inch 480x800 (WVGA) screen, 1GHz dual-core snapdragon processor and a 5 megapixel camera.
Speculation is that this device may see a debut at IFA 2012, but we're not so sure. Also, it's a big world out there, and it's not uncommon to see a small, regional launch of a new low-range device. Be sure to follow all of our IFA coverage closely to see what's coming from HTC and happening in all things Android.
Source: The Verge
Andrew was an Executive Editor, U.S. at Android Central between 2012 and 2020.
Awwwww damn if this is real HTC is screwed even more than i thought. do you hear me Chou??????????????????????????

Would have been much happier seeing this as the One V.

No wonder HTC is losing so much money

Goodbye GS3 and hello Proto!!!!

They need to refocus on fewer low end phones and get the mid to high end right. Removable battery and storage for one. Battery life a big one as well. If moto can cram a big battery into the razr maxx htc has no excuses.

I would have thought this may be the next version of the Evo Design 4G except for the display resolution. That's pretty low by today's standards for a 4inch screen. I am not quite sure why people are saying a phone that looks like this is why HTC is doing bad though. It looks better than anything Samsung has. Plus the soft touch material is great. Definitely better than glossy plastic. Or maybe it's the specs? Someone has to cater to the low end crowd. The best selling phones are the cheap/free ones.

The best selling Android is the Galaxy S in 2010, S2 in 2011, and the S3 this year. Those were all flagship. The best selling phones are NOT the budget phones.

The best selling Android is the Galaxy S in 2010, S2 in 2011, and the S3 this year. Those were all flagship. The best selling phones are NOT the budget phones.

The soft touch material is great? You've touched this device? You a part of the design team???
Yea you're right, much better than the glossy plastic on the back of the HTC Evo Lte.
HTC is only now catering to the low-mid end crowd because Apple/Samsung ran them out of the high end game.

If only this design was for a high end device. I really like the back of it.

This is it! HTC is back on top baby. I am hoping this gets released in time for the 2010 holiday season!!

WTH!!! HTC's doing it all wrong, this should be a high-spec model, look at it it's bloody gleaming, the back is beautiful. What a phone, but damn HTC, I can assure you that you are going bankrupt...sad news...

Dear god HTC WTF MAKE ALL YOUR PHONES WITH DUAL CORES A DECENT BATTERY AND THE MINIMUM DISPLAY QHD SHIT :(

Design looks good, but needs high end specs (ex. 5" Super LCD screen, S4 SOC or better, 2GB memory, etc.). Then throw in a good size removable battery, at least a 32GB SD card and a native kickstand! That would be the bomb!

They can keep the kickstand, There is nothing sexier then a simple black dress on a woman and I have to say this reminds me of a simple black dress. If it was a replacement for the One X or EVO 4G LTE I would be all over it.

This is a picture of the Desire V, a dual sim HTC phone that is already available at Amazon or on Ebay and was announced in June.

This looks hideous. That's all i'm going to say.
Android Central Newsletter
Get the best of Android Central in in your inbox, every day!
Thank you for signing up to Android Central. You will receive a verification email shortly.
There was a problem. Please refresh the page and try again.