HTC One X+ Android 4.2 + Sense 5 update rolling out in Asia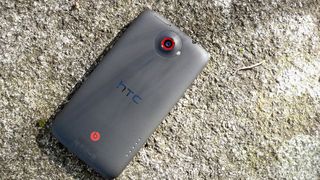 HTC has finally updated one of last year's high-end handsets, the One X+, to the latest version of its Sense software and the newer Android 4.2.2 OS. The new update brings the One X+ in line with the most recent HTC user interface, with the BlinkFeed home screen experience, automatic video highlights in the gallery app and an updated music app with visualizers. That's in addition to standard Android 4.2 features like lock screen widgets and Daydreams.
According to reports from XDA and VR-Zone it's only unlocked devices in Asia that are receiving the update at present, but Europe and (eventually) the U.S. should follow before too long. (And we're sure you'll be able to find a custom ROM or two out there if you can't wait.)
The hefty 484MB over-the-air package now going out will update Asian HTC One X+ devices to software version 2.17.709.12.
The One X+ roll-out follows the HTC Butterfly's bump up to Android 4.2 and Sense 5 last month.
Alex was with Android Central for over a decade, producing written and video content for the site, and served as global Executive Editor from 2016 to 2022.
Your move Samsung. Posted via Android Central App

HTC hasn't updated the OG One X yet.. Yeah Samsung should start updating the Note 2 already (and the GS3 is almost identical to that one)

Yea, when is Samsung gonna update the S3 and Note2 with its newer version of touchwiz? Are they even going to? ⓖ◎◎ⓖⓛⓔ

They probably will, looking at the recent Tab 2 7.0 update.

rumour is that samsung will skip 4.2.2 and go directly to 4.3 for Note 2 and S3

Wouldn't surprise me. They went from 4.0.4 straight to 4.1.2 on my OG international note Posted via Android Central App

Loving 4.3 on my Nexus 4 lol

Loving 4.3 on my Galaxy Nexus ~

+ 1
+ Same on N10 Posted via Android Central App

+9000 Posted via Android Central App

loving it on my HTC ONE LoL

What's the chance this will hit the AT&T One X+?

It will be delivered promptly in May of 2014 ;-)

484MB !!! Holy BatBloatwares Batman! Posted via Android Central App

It's the unlocked version, so it's not bloat, really. it's just Sense 5. While Sense 5 runs really well for the most part, nobody ever claimed that it had a small "installed" footprint LOL

Ya hopefully my att x+ will get some love. Posted via Android Central App

Where is the 4.2.2 update for the HTC One? This is a piss off. I think we all want to get rid of the stupid 3 dot menu bar Posted via Android Central App

Exactly. I'm getting annoyed with the fact the USA still has not seen 4.2 for the ONE yet. Wtf. HTC ONE ~ Android Central App

How about getting the 4.2 update out to htc one developer edition owners as well. Posted via Android Central App

Ok, that freaking irritates me because my newer and more awesome HTC One (on Sprint, which is not so awesome) hasn't been updated to 4.2.

Blame Sprint. Posted via Android Central App

Sprint is fast bringing out updates to phones so can't blame them. The developer editions havent even seen 5.2 blame HTC. Posted via HTC One using Android Central App

..... No one has seen "5.2".....Or 5.0 for that matter. HTC ONE ~ Android Central App

My Droid DNA is patiently waiting. Posted via Android Central App

I'm with you man, maybe one day we'll see some love. Posted via Android Central App

My DNA is humming along on 4.3 beautifully.

This is only for asia, the rest of the world already has 4.2.2 on the One. Don't worry, they will all be behind when US carriers all go straight to 4.3

Have a look on Engadget. They've had confirmation from HTC it's not the official update Posted via Android Central App

Seems official to me https://www.androidcentral.com/e?link=https2F2Fcli...

Update 2: HTC has confirmed that only the Taiwanese version of the One X+ is currently receiving the update. Still no word as to when that OTA will hit the global model, but it sure can't be far off now.

Yep. Check the original source link. That's an OTA screen. You don't get that if you just use an RUU. Posted via Android Central App

I wonder if the EVO LTE will ever see Sense 5.

I wondering that too Posted via Android Central App

Same here. Hopefully we get it in a timely fashion.

I pray to god it gives me better battery life than what I get now. F***ing Tegra -_-

I always did like the look and feel of this phone... Posted via Android Central App

What about HTC One X? I'm not even sure if I will install it, but knowing that I can would be nice...
Android Central Newsletter
Get the best of Android Central in in your inbox, every day!
Thank you for signing up to Android Central. You will receive a verification email shortly.
There was a problem. Please refresh the page and try again.