HTC EVO 3D now available for pre-order if you're a premier customer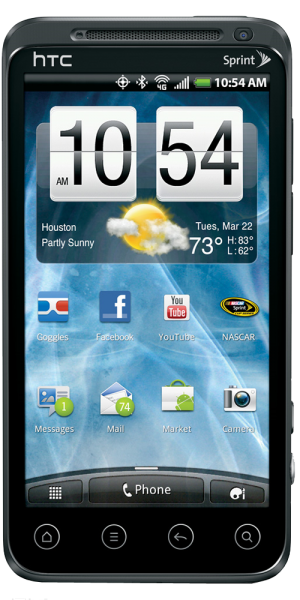 The HTC EVO 3D can now be pre-ordered by Sprint premier customers directly from the Sprint website. The latest and greatest from Sprint will cost you $199 with a new or renewed two year agreement, which seems like a fair price for the high performance that oozes out of that thing. Check out our initial review and see for yourself.
Late last night when the pre-order went live, the Sprint website was getting hammered by buyers and lookers alike, so interest seems to be as high as anticipated. Ordering early and direct from Sprint might not be a bad idea if you're able. The rest of us will just have to wait until the stroke of midnight a few days from now. And here's hoping for overnight shipping!
Source: Sprint; via Android Central forums. Thanks to everyone who sent this in!
Android Central Newsletter
Get instant access to breaking news, the hottest reviews, great deals and helpful tips
Senior Editor — Google Ecosystem
Jerry is an amateur woodworker and struggling shade tree mechanic. There's nothing he can't take apart, but many things he can't reassemble. You'll find him writing and speaking his loud opinion on Android Central and occasionally on Twitter.
I knew for sure I was going to be purchasing this phone until the recent reviews. Yes I know, we need to take reviews with a grain of salt but when you have multiple reviews saying the same thing..? Also, yes I know 3D is a feature which can be turned off but it seems HTC skimped on improving some of the features such as camera. so who knows what I'll do

Unfortunately the only review I'm waiting on (Phil's) isn't up yet, so I will be waiting until Friday morning to pick up my preorder from Best Buy. I'm hoping most that ordered today receive their phone tomorrow so I can gauge initial thoughts on the forums.

I'll be sticking with my EVO for a while longer. Great thing about root is that every time I flash a new ROM, it feels like a new phone :)

I couldn't agree more! If you haven't already, you should check out MikG's newest ROM - feels like a new EVO (GUI-wise and speed-wise) - Same HTC sense goodness being released with the new EVO 3D (ok, not quite, but very close) and 2 other phones out there - MikG-v2.00-signed.zip

I agree with that.. i have an epic. And every time i flash a rom it feels new lol

what are you talking about?!

I ordered at 12:35am EST. Let's see what happens... BTW, tax in NYC was $25. In California, $68.

I did order one this morning. I am not sure I would have if I already had an Evo but I am coming from a tired dust filled Hero so I wanted a new phone. If I dont like it I will return it.

Well I've been reading comments for awhile and I don't seem to understand the issues and arguments. Great thing about being a Sprint customer is if we don't like the phone we have 30 days to take it back no questions asked. I ordered my phone at 12:15 am EST. I waive all judgements until I get to play with the phone. All these reviews and comments are per individual. What works for one person may not work for another.

Any restocking fees when you return? Do you lose any $$$ (besides that usage, of course)? Thinking about getting one, but I'd hate to lose a ton of cash just to try it out. Thanks!!

I believe you don't have to pay anything if you are a new customer who returns it within 30 days and cancel your service.

WTF, device not supported i my Zip, so apparently i can't order it, though i live in one of the first 35 original cities to even have 4g, it's sad cause i'm eligible to upgrade even, that's pathetic Sprint.

If your city has multiple zip codes, try another one. I had the same issue.

Pre orders from Best Buy and Radio Shack have been going on for weeks now, not sure why this is such a big deal. oh and no mail-in-rebates.

I ordered mine off Sprint this morning and should have it in my hands tomorrow (where RS and BB won't sell them until Friday).. oh, and Sprint isn't doing mail in rebates either =) Cost me 219 after taxes

Same here...I can't wait to have it in my hands. Keeping my OG EVO just incase I need to return the 3D...but I am sure I will like it!

I'm a Premiere Customer too, but I am waiting till Friday so I can trade in my old Evo. That way, I only pay $99 at Radio Shack. Others will be paying cheaper than that at Sprint Stores with a trade in.

You do realize that if you do the Sprint Buyback program for your original Evo, you will only end up paying $50 for the Evo 3D. The current buy back for the original Evo is $150.

Wally, the heading is a bit confusing...we were able to order our phones at midnight last night. Sprint has free overnight shipping with online purchases before 4a.m. resulting in having the phone in our hands tomorrow.

Gotcha. Thanks for clearing up the confusion

i cant find where to preorder from sprint. I did not get any emails about and i am a sprint premier customer. Anyone have any directions?

Yeah, but if you are trading in your Evo for the $150, it applies as a credit on your account through the Buy Back Program. Buy Back Program can take 3 billing cycles to apply to your account. I'd rather go to the store on Friday and just pick up my Evo 3D for $50. :) Already asked them if I could buy it over the phone for $50... they won't do it. haha I'd sell my Evo 4G on Craigs List instead... but have a little chip on the edge of the screen.

Where can I find other unrevoked roms like cyanogemod

Click on 'Sprint' after Source: in the story above. I didn't get the email either dang it, but the link worked.

Will we get the phone early or do we still have to wait until Friday, and they will ship on the 24th? If someone can confirm this for me, I will definitely order directly from Sprint!

Will not buy until it is rooted ...will stick to my EVO 4G until then

Guarantee you unrevoked will have something out within the week of release, if not days or hours. If you wait until it's rooted, with all the pre-orders and limited supply you're going to be waiting a while. You might as well get the phone now while you can.

I agree get it now or you will be waiting for a while

I ordered mine on wirefly a week ago. Only paid $179.99 and will be getting another $50 back since I used additup program with bank of america. Only $130 for an evo3d. Can't beat that. And if all the reviews are as true as they say they are then I have 30 days to test it myself. If I don't like it then I can take it back. Then I'll just go out and rebuy another evo, root it and be happy again. Good news is that a lot of the bloatware on the evo3d can be uninstalled without rooting. So this phone should be amazing once it gets rooted. Can't wait to try it out.

If you have to order off contract, order from Amazon wireless. Amazon is selling it for $469 right now while Sprint is selling is for $549.

If I order through Sprint this way can I use an upgrade from one number and activate it on another when it arrives? I am premier and gave my wife my one year upgrade last November so now I need her upgrade which was active June 1st. I also have one pre-ordered at Best Buy because I know I can do it there.

I hope so that is what I plan on doing!

I called and they said it wouldn't be a problem, but we'll see. Also my order says 2-5 business days. I hope I get it before Friday.

Wow, I cant believe that after some impressive upgrades, some of you are bitching about the camera. The 4GB internal memory does it for me. Im tired of running out of internal memory on my evo. And I do.t have many apps. The evo has what 400 somewhat mb? And even after transfering my aps to sd. Remember its only a phone camera youre not getting slr quality, especially for a disposable phone. For a pbone the pics are good enough.

I pre-ordered mine today I am so excited! I really think the EVO 4G is still one of the greatest phones still on the market today though.

Sorry but I'll be sticking with my Nexus S. It is wonderful! You will get 2 gigs after all that stuff they throw on your phone which is not much more then I had on my hot as hell every 20 min Evo. I know you can root but not all of us want to and although there's apps to sd not everything can go on sd so I would have run out of space like I did on my hot as hell Evo in no time. I got bored in 6 months with my Evo because I ran out of space, not with my Nexus.... just saying!

You could have partitioned your sdcard and ran Dark Tremors A2SD and ran all apps that way. I have a ton of apps on my EVO 4G plus a ton of internal memory to boot. Just Sayin

No thanks I want a phone that is good from the start... not that I have to add all these whim whams to to get this so called extra space...just saying Again!

Who buys a Nexus Developer Phone and then doesn't even ROOT??? Not only are you off topic you have no clue about the Evo 4G let alone the Evo 3D.

Look I can do whatever and say whatever I want regarding my phone you ASS... if I don't want to root I don't have to you all act like you are the only ones that use cell phones.. I'm very knowledgeable about that so get off my jock cuz I can say what I want...i am a premier customer who chooses not to get the Evo 3d deal with it Sucker!!!!!!!!!!!!!!!!

your comments are uncalled for.

It's my opinion and I'm entitled to make it without the stupid comments.

The Evo 3D includes an 8GB card. So you can revise your estimate up to 10GB free. Most apps of any size now allow moving to the SD card.

Glad I waited to pre-order! I was about to finalize my order on Amazon yesterday but when it said the phone wouldn't arrive until June 28th, I cancelled. I probably sound impatient but I'd rather get the phone early than save 20 bucks & wait 5 days.

Unfortunately it seems that if you're an Everything Plus account like mine (used to be called SERO), you can't order this phone online. It tells you to go to the Everything Plus portal, and when you do so, this phone doesn't come up in the list :(

i sat on the phone and chat for over an hour trying to get it ordered getting bounced around to different people. they finally said because im on sero i cant order. it shouldnt matter im on sero since im still a premier customer! already sold my epic so im stuck using a crappy renegade i had as a backup.

I ordered mine this morning too. Bye bye Pre-.

Is everyone getting the 2-5 days? I called and they wouldn't let me upgrade to overnight.

I got the 2-5 days to. From what I heard the overnight shipping was only for those who ordered before 4am.

I ordered right after midnight and my confirmation says, "Shipping: You should receive your order in 2-5 business days. You will receive a shipping confirmation email once your order has been shipped." I don't think 4am had anything to do with it. I think some people are just hopping for overnight shipping.

I got the same thing when I ordered online a few hours ago. I was hoping it would say overnight because that's why I waited so long to pre-order. If I would have known it would be 2-5 days, I would've just continued my order with Amazon.

Bought for $200 and some change, selling my EVO to Sprint for $150 (already printed out packaging label)... a little more than $50 and don't have to wait months for a potentially better phone, easy decision for me.

I just got a call from Sprint after I ordered around 845am online, and lady from the sales dept. called to confirm my order and she specifically stated that it was sent to warehouse prepared for shipping and I should expect it tomorrow. She said that they cannot tell you the one day turnaround for the sake of expectations from customers (2-5 days covers them). I commend Sprint. I am in love with them as I was for the past ten years. They politely called me. I did not call them at all. Customer service has vastly improved!

TARGET MOBILE PEOPLE!!! I did a pre-order on Friday. If you are eligible for an upgrade all you have to do is handover your phone and a $50.00 bill. It took me 5 minutes!!!!

I'll be looking into this option! Thanks for the tip!

So, I'm talking to Target Mobil now on the phone and they know nothing about a trade in promotion for the EVO 3D. Did you talk to a particular store to get this or did you go through Target Mobile?

Hi,
Not sure where you are but I am in Louisville, Kentucky. Target mobile is very new and they are giving incentives. Here, if you are eligible for an the upgrade and give them your phone in good order all you need is 50.00 to get the phone. I hope this helps.

WOW! The amount of popularity and anticipation for this phone and the Evo brand is astonishing! Could the Evo brand be the most popular Android phone is the US?

I ordered online... Sprint store couldn't find my name on the list for Friday, even though I called and the lady told me she would be adding it. Now my online order is showing "backorder." I called to check and the lady told me the phone wouldn't be shipped out until the release day on Friday!?!? What's the point of ordering the phone early if I won't get it till next week?

That does suck but at least you won't have to wake up at 5AM Friday morning and have to sit in a line for 3-4hrs. before the store opens!

I just preordered one from the link and I'm not premier. It might work for anybody.

I had issues with the premier link so I went on chat and they hooked me up! Offered overnight for $12, took it and then she said I got the overnight for free! Called and confirmed my order just to make sure and everything looks like a go!

Even with all the mixed reviews, I am excited for this phone. The specs are more killer than anything that was announced, too. The Ram is killer alone. Camera sensor seems better, pixels don't matter. Look at Iphone 4. Also, I'm sure software update will fix that. Bottom line, better speced EVO. More space. 3d? Just an add on, like the stand in first EVO. Enjoy. WCM

How are people getting overnight? I keep calling and they keep saying there is no such thing... just 2-5 days. They keep saying it COULD get there in 1 day, but there are no guarantees...

Because if it is two days, then it means possibility of being "over night" considering it would take them one day to process the order, and then ship it out in which it would arrive next day via over night shipping. I just got my confirmation email from sprint saying that it was shipped, and when you look at the very bottom it says: Shipped Via: UPS
Shipping Method: Overnight: Next Day PM
Estimated Delivery Date: 06/22/2011 So, In my case, it is indeed Overnight Shipping.

Mine will be here today also. So It is overnight shipping. Scheduled Delivery:
Wednesday, 06/22/2011, by 3:00 P.M. (by end of day for residential deliveries)
Last Location:
Arrived - Minneapolis, MN, United States, Wednesday, 06/22/2011

I am in Louisville, Kentucky. Target mobile is giving you an additional 150.00 towards the phone if you trade yours in. I also think that there was some info on this about pre-order.

I am in Denver, CO and my EVO 3D is "Out for delivery". Looks like I will be leaving work early today!

In Columbus, GA. Ordered mine at 11am est. yesterday and it is out for delivery now!

ordered my evo 3d yesterday at 4:02 pm and got in via ups at 9:29 this morning...very fast shipping from sprint...thx a bunch...enjoying my new toy already! located in new mexico!!
Android Central Newsletter
Get instant access to breaking news, the hottest reviews, great deals and helpful tips
Thank you for signing up to Android Central. You will receive a verification email shortly.
There was a problem. Please refresh the page and try again.