HTC ChaCha rumored to hit AT&T as the 'Status'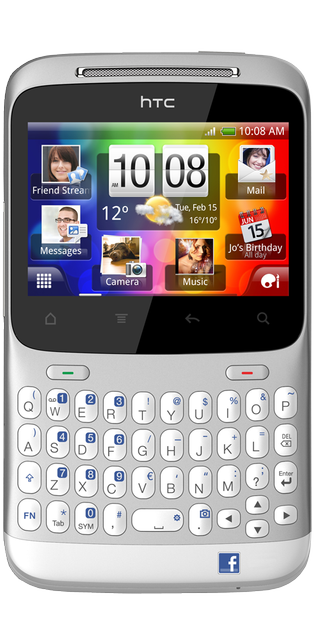 According to unnamed sources, the HTC ChaCha may land on AT&T as the "Status." You know, like your Facebook status, seeing as how this is a "Facebook phone." Here's how we see that playing out:
Yep. That's definitely better than ChaCha.
Source: BGR
Android Central Newsletter
Get instant access to breaking news, the hottest reviews, great deals and helpful tips
Anyone remember the iTunes branded phone released about a year ahead of the iPhone that was just as fugly? This still gives wind to the idea of FB releasing their own proprietary device.

"Wait a minute...who's on first, what's on second, and I don't know is on third???"

yep...sounds like an AT&T rep to me...

Looks like a Crapberry. Or I could be kind and say it looks like a Treo.

All the negativity that's in this town sucks!

People beeyotch when all the phones are the same and then when one comes out that looks very different everyone still beeyotchs. You know, that makes you guys a bunch of beeyotchs. And yes I spelled it correctly.

That conversation reminds me of one I had with an AT&T rep that couldn't understand that my last name and street name were the same.

Not to offend anyone but this phone looks like it has down syndrome.

that is to funny what is the statues of my HTC statues. hello

When does this come out, I need to get one of these to replace my Atrix asap

I see what you did there ;) (the rest of you need to brush up on your sarcasm)

If Sense weren't so insanely bloated and in my face everywhere when I touch the phone, I might give this a try, but I do like different-looking phones. Black slab released after black slab released after, yes, yet another black slab...I might as well be back with RIM releasing the exact same device over & over & over again.

What's the status on the stats of the status? Statistically speaking, it should be the same as cha cha. I think the status sales stats will be as embarrassing as the cha cha's name is, since enthusiasm for facebook has been waning for some time now.

This is one device where I'd welcome the extra customizations if they manage to solve Android's lack of usability in landscape mode.

I wonder if there is Twitter or Google+ on this... (lol)
Android Central Newsletter
Get instant access to breaking news, the hottest reviews, great deals and helpful tips
Thank you for signing up to Android Central. You will receive a verification email shortly.
There was a problem. Please refresh the page and try again.