HTC Butterfly reportedly set to launch in India by end of January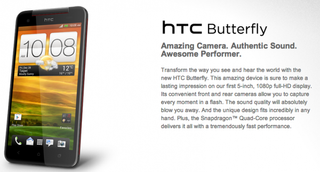 HTC's global 5-incher, the (J)Butterfly, so far hasn't made any kind of official appearances outside of a select few Asian markets, notably China and Japan. Hopes were raised, then dashed, of some kind of European availability, as we were informed the Butterfly -- without the 'J' -- would initially only be launching in China.
Since then, at least one global retailer has managed to snag some to sell on, but the next market to receive the device in an official capacity may well be India. According to well placed sources of Indian Android blog, AndroidOS.in, the Butterfly will be available by the end of January at a cost of INR 44,000. The launch is reportedly set to take place sometime in the next fortnight, with availability likely beginning the same day.
India is a rapidly growing smartphone market, in particular in terms of Android smartphones. The reported price of the Butterfly will make it the most expensive smartphone on sale in the country, but with a 5 inch 1080p display, Snapdragon S4 Pro and 2GB of RAM inside, the specs at least back up a more premium asking price.
Source: AndroidOS.in
Yes please, not only keep using your excellent Sense UI instead of an AOSP-like experience, but also keep changing names to keep your customers thrilled while they guess exactly what they buy. As 2012 showed us, this is the right way to gain customer satisfaction and brand awareness! Go HTC!

Just walked into my local HTC shop yesterday, the guys there had the J was on display, i was excited, tried it out, the dude mentioned it'll be released next week here in Singapore. Anyway, not really fond of the top speaker grill though. Awaiting Octa-Core or some Snapdragon 800 goodies this year, in the mean time, i can live with my gnex :D

nope...most expensive is the iphone 5 -_-
waiting eagerly for the nexus 4 to release

This is what we should've gotten here in the states instead of that weak ass limited DNA.

You can thank big red Vajayjay for that.

I did not wonder listening that HTC Butterfly reportedly set to launch in India by end of January. Already Indian market is in the hand of Samsung, pokies
Android Central Newsletter
Get the best of Android Central in in your inbox, every day!
Thank you for signing up to Android Central. You will receive a verification email shortly.
There was a problem. Please refresh the page and try again.