The HTC 10 will cost more than the Galaxy S7 on contract at Bell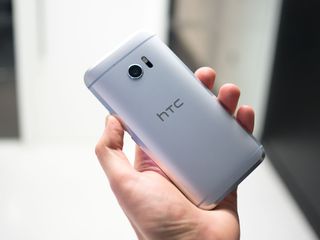 The HTC 10 will cost more than the Galaxy S7 on contract when it goes on sale at Bell this Friday.
According to sources close to Android Central, the HTC 10 will cost $349.99 on a 2-year contract at its exclusive carrier on April 29, with an outright price of $899.99 — $100 less than HTC's retail price for the handset unlocked.
While the HTC is one of the finest devices on the market at the moment, it does have its fair share of issues, including, according to our own Phil Nickinson, some lingering camera problems that, despite claims to the otherwise, likely won't get magically fixed through a software update.
See also: Where to buy the HTC 10 in Canada
While smartphones often debut at the high end of their pricing curve, it is concerning that the HTC 10 will be more expensive than the Galaxy S7, which costs $299.99 on contract at the moment. Still, given the weak Canadian Dollar, it comes in lower than we thought.
Pricing will officially be reflected on Bell's site in the coming days.
Daniel Bader was a former Android Central Editor-in-Chief and Executive Editor for iMore and Windows Central.
Lol no good news out of Canada.... Ever Posted

Early adopters in Canada get shafted every time. The carriers do offer some great deals, just never when a new phone launches.
This is one thing I'm very envious about in regards to the US. Your prices are better, and you have a much better selection. Posted via Xperia Z5

Screwed always Posted via the Android Central App

Blame the carrier, not HTC Posted via the Android Central App

Nah, seeing the bullshit they pull in Europe HTC likely deserve a good amount of blame. It's best to assume I'm being sarcastic. if I'm ever serious I'll type "/s" to make it clear.

The spec reduction and high price of the A9, the crappy specs and high price of the S9. Stuff that's probably more global like offering the "uh oh" thing to Americans and no one else... That kind of Bullshit It's best to assume I'm being sarcastic. if I'm ever serious I'll type "/s" to make it clear.

Completely agree with you....htc can not learn that European and other consumers (outside their favourite USA) are not idiots and noone will buy their leftovers and overpriced phones with such a fierce competition which offers much more for same amount of money. I was referring on S9 price...10 is ok phone....but will also suffer bcs htc overpriced it too.....s9....is worst of all 9 craps from htc. That Wang women is a disaster.

Wrong. $199 on contract. $749 out right.

Did you check with carrier? Posted via the Android Central App

You can check their site. Mobile -> search HTC 10 on home page. Result is $199. When they first announced the phone it was listed as $749. This only shows in search results.

Sources close to Android Central? Well done.

Well the S7 launched at 399 only a month and a bit ago. I'm sure the 10 will drop in price soon enough. Posted via Xperia Z5

Wait, so another site reviewed the camera post-update, and said there were definite improvements, yet you claim that doesn't matter and it actually can't be fixed?? Do you have proof of this? I can see their video proof...

Yeah, seems like kind of a smug "Our word is the ONLY word" kind of way to dismiss other reviews about the camera. Also, people probably got the idea of a camera fix from the history with the M9 and, like, a variety of other phones that had post-release updates that addressed some of the camera issues. Don't know why all of a sudden this wouldn't be a possibility with the M10. =\

Thats a recipe for bad sales Posted with ❤Love❤

I think it would be disastrous for HTC if such will really be the case. The S7 is outright better than the HTC 10 in this comparison https://versus.com/en/htc-10-vs-samsung-galaxy-s7 , case in point, the water and dustproofing, barometer, heart rate monitor, new version of Gorilla Glass, etc. Pricing the HTC 10 higher than the flagship of a really big name while having less wow factor isn't at all any attractive.

Just what I want in my phone.. a barometer, and heart rate monitor.. SAID NO ONE EVER. And the water and dustrpoofing is no big deal either. Would you like me to name the areas the 10 whoops up on the s7.

I'll pay $1000 to the first one I see in the wild haha . I think my bet is save . Every time htc tries to go head to head with the 800 pound gorilla (Samsung) they lose this phone will die on the shelf for sure now Posted via the Android Central App

Waterproofing and dust proofing a big deal? No, but certainly nice to have.

You forgot to add best in class battery,one of the fastest processor, the best low light camera, the fastest focus camera,expanded memory
And just so happened to be the best looking phone bar none . Oh and best screen resolution Posted via the Android Central App

Hell, I'd prefer the HTC Blackberry Priv
Nvidia Shield "Portable"
Sony Xperia Z3 Tablet Compact
Android Central Newsletter
Get the best of Android Central in in your inbox, every day!
Thank you for signing up to Android Central. You will receive a verification email shortly.
There was a problem. Please refresh the page and try again.