HP introduces its first Chromebox, available in Spring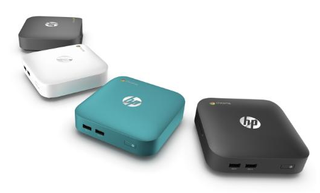 A colorful little box with both home and enterprise aspirations
Falling right in line with the announcement of a new ASUS Chromebox and the Chromebox for meetings initiative, HP has just announced its first Chromebox hardware. While it won't be up for sale until "later this Spring" and is short on details, we do have pictures and a good description of what HP plans to offer with its first Chrome OS desktop.
Targeted at both home and business users, the HP Chromebox follows pretty much the same form factor as its fellow compatriots, basically being a small, squared-off blob with ports all around it. We see at least a pair of USB ports around front and a handful on the back, and HP says that it will pack a fourth generation Core i7 processor (same as the new ASUS Chromebox).
The Chromebox will come in four different colors — borrowed from its Chromebook line — and is also wall-mountable with standard VESA mounts, which is interesting for business and home theater applications. The big item in question here is the price — it'll have to be pretty low to make folks consider it outside of an enterprise environment.
Source: HP; (2) (opens in new tab)
Andrew was an Executive Editor, U.S. at Android Central between 2012 and 2020.
I think android central should be renamed Google central. Don't get me wrong I love that you're covering everything Google. Sent from inside a cave. Yes, T-Mobile covers caves. N5

Android is Google not sure what your getting at. Posted via harmattan 1.4 ;)

Android Central covers all things Google! what is your point here. Just look at the very top of your webpage and you will notice that people (Mobile Nations) who own/publish this site have one for Apple (iMore), Microsoft (WPCentral), Blackberry (CrackBerry) and now a site for Smartwatchfans!

Ik. My point is that its no longer just android. Sent from inside a cave. Yes, T-Mobile covers caves. N5

He may just be saying that since they write articles about more than Android by Google, they should be called Google Central.

Exactly. Sent from inside a cave. Yes, T-Mobile covers caves. N5

Which i actually think makes sense. It's something I've thought for a while, that it makes no sense to have Android in the name when this site covers far more. I don't think Windows Phone Central makes much sense either really, both names are limiting, yet in practice both sites publish articles about products outside that limiting scope. Feels like the site has outgrown the name in a way.

Yep. Sent from inside a cave. Yes, T-Mobile covers caves. N5

Well where does Android derive from yup that would be Google lol Posted via Android Central App

that looks like an apple tv. But i'll get it if it's good.

If they're Intel based, they seem to follow the NUC form factor. If so, they could be awesome little systems. I have an i5 based NUC and it's tough to beat for the size.

Considering the laptop versions of these are like $250 this will have to come in around $150 or so to be worth it.

Yeah, that is what one would think, but with an i7, that is going to be a tough price to hit. Posted via Android Central App

I'm guessing $499. Posted via Android Central App using an LG G2.

I'm wondering how this is going to affect/compete with any future Android based "Google Box". I'm beginning to wonder if Google has abandoned the Android box, and realized that a Chrome Box is all that is needed. And the rumors of a new Google box were actually in regards to these Chrome boxes.

I wonder if this, or any other of these Chromebox's, will support multiple video outputs? I simply can't go back to a single display computing device (excluding cell phones or tablets of course). David...

Not sure about this HP one, but the Asus one supports dual displays: http://promos.asus.com/us/chrome-os/chromebox/

They coming around just fine,, soon 4core systems will be the norm,, even possibly 64 - 128 GB ssd Posted via my outdated Droid RAZR Maxx HD using the Android Central App

The ASUS Core i7 will not be available in the US. Andrew, will HP's i7 be available in the US? Posted via Android Central App

I like these Chromeboxes, I think this would be a good HTPC or simple home PC option.
Android Central Newsletter
Thank you for signing up to Android Central. You will receive a verification email shortly.
There was a problem. Please refresh the page and try again.