HP debuts new Pavilion 14 Chromebook for $329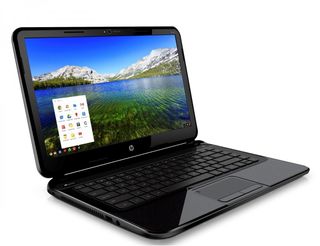 The last few months have brought us quite a bit of new hardware on the Chrome OS front, and that's continuing today with HP's Pavilion 14 Chromebook. This is HP's first entrance into the Chromebook market, which has been rumored for some time, with this nicely affordable machine. As the name implies we're looking at a 14-inch 1366x768 display, stuffed in a black chassis that's under an inch thick and just 3.96 lbs. On the specs front, we're looking at a 1.1GHz Intel Celeron processor, 2GB (or 4GB) of RAM, 16GB flash storage, HDMI video out and 3 USB 2.0 ports.
The new Pavilion 14 is on sale for $329.99, which is a bit more expensive than the offerings from Samsung and Acer at $249.99 and $199.99. We're not sure how HP is looking to position this product, but its clear now that Google isn't giving up on its vision of having Chromebooks become a mainstream product.
Source: Google Chrome Blog; HP (opens in new tab)
Andrew was an Executive Editor, U.S. at Android Central between 2012 and 2020.
Google shouldn't give up on the vision. The popularity of the Chromebook is growing every day. They were a hit during the Holiday season, and the Samsung model sells out quickly when restocked. I have an Acer C7, and it's my travel companion. I'm juggling that and a Surface RT right now; both are fighting to be my go to device when away from my computer.

I didn't understand the appeal of this style of operating system until I installed Joli OS on my Gateway netbook this weekend. Until Saturday, I thought both cloud-based operating systems and netbooks were moronic pieces of technology developed to try to cope with a more mobile society without any real attempt to get it right for the consumer. The hardware was incredibly sluggish and the operating systems were not trying to help it out.
Joli OS made my netbook make all the sense in the world, and having the perspective of the netbook hardware with just about every other operating system on it (Win 7, Win 8, Fedora, Ubuntu, Android 2.2, Android 4.0), I began to realize how vital this type of operating system can be if we want to move towards becoming completely mobile.
I am finally interested in trying these machines out.

Well said. Not many people get it. They don't realize they spend the majority of their time in a browser. You can even use this while offline, and sync up next time you have a connection. The Chrome web store has plenty of offline apps as well. Not too mention that listening to music or watching movies doesn't require an Internet connection. If you get the Acer C7, it's only 200 bucks. It was an impulse buy for me, but I'm finding more and more way that I can use it as part of my daily routine, even for work.

IMO, the HP Chromebook is too big, too heavy, and too expensive. Chromebooks make the most sense when they weigh under 3 pounds, aren't too large or small (an 11.6" screen is a very good size), have decent to good battery life (can get through an entire day on a single charge), and cost $250 or less (preferably $200 or less). The above factors point towards why the Samsung Chromebook has been a lot more successful than the Acer Chromebook, despite being priced $50 more, and why the HP Chromebook will probably not be as successful as either of the aforementioned chromebooks. (Not coincidentally relative to my comments above, I have the Samsung Chromebook.) As a basis of comparison with the HP Chromebook, in fall 2011 I bought a Windows 7 HP Pavilion laptop with an AMD Series 4 processor that has a 14" screen, weighs 4.5 pounds (sans power cable), and cost $380. If I had to choose between a similar-priced and sized/weighted HP Windows 8 laptop and a Chromebook, I'll pay the extra $50 and get a Windows OS machine. IMO, Chromebooks need to be significantly less cost-wise than Windows OS laptops to make economic sense. They also need to be priced less than mid to higher-end 10" tablets. Don't get me wrong - I like the chromebook concept and I definitely like my Samsung Chromebook XE303. I just think they need to fit within a certain price and weight niche to really make sense and do well sales-wise.

Chromebooks are gaining popularity in the educational setting. Many schools are already using Google drive so Chromebooks are a next logical step. Much easier to maintain than a few traditional Windows PC
Android Central Newsletter
Get the best of Android Central in in your inbox, every day!
Thank you for signing up to Android Central. You will receive a verification email shortly.
There was a problem. Please refresh the page and try again.