HP debuts Slate 6 VoiceTab II in India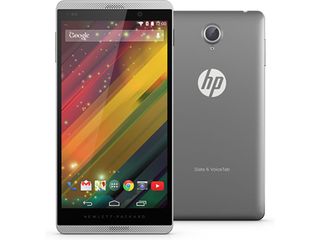 HP has announced a new entrant into its VoiceTab lineup today with the Slate 6 VoiceTab II. As its name suggests, the device is a 6-inch voice calling-capable tablet that appears to carry similar specs to its sibling released earlier this year.
Featuring a 1280 x 720 IPS display, a 1.2 GHz quad-core processor, dual SIM support, and 1 GB of RAM, the tablet isn't earth shattering by any means. The only true updates to this iteration of the VoiceTab appear to be the upgrade to an 8-megapixel rear camera and Android 4.4 KitKat.
If you have your heart set on a VoiceTab II, though, you'll have to make your way to India, as that is the only market it appears to be available in at the moment. You can pick one up for ₹15,990 (that's equivalent to roughly 258 American greenbacks).
Source: HP India
Hmmm Posted via the Android Central App

Man that's a terrible name

Yeah, don't they know terrible naming is so 2011?

It's a captivating vibrant epic tablet with 4G Posted via the Android Central App

Why does HP still make these products. No one cares. Posted via the Android Central App

You cared enough to comment. I'm the kind of guy that stops a microwave at 1 second to feel like a bomb defuser.

Guess you couldn't think of anything better to say, huh? No surprise there. Posted via the Android Central App

I thought they were bringing this to the U.S. They never did Posted via Android Central App on 1+1

Using a 1280x720 display in a 1080p-4k world isn't gonna end too well xp U WOT M8

Depends on the price and target market. Not everyone wants or needs an extremely high resolution display. Posted from my TARDIS!

It is awesome for India! Posted via the Android Central App

Except for the price. Seems high for that market, especially considering the specs. Posted via the Android Central App

A 6" tablet with cellular connectivity capable of phone calls..so another phablet? Or rather a tabone? Tone? Posted from my TARDIS!

Looks like a stretched HTC One M8 from the front Posted via the Moto X Pure Edition

6 inch tablet???? Nexus 6 is offended. Posted via the Android Central App

No its not this thing is horse manure lol Posted via the Android Central App

I would have commented that this is ridiculous then I remember that Google actually think that a 6" phone is actually a good thing...

Looks like a blown up HTC One... Even down to the black bar under the screen. Lol Posted via the Android Central App

At least the HTC One have some class...

Seriously? AC App via Nexus 5

Why would any one buy this over the Asus Zenphone 6 which has a 2gb Ram, better processor, software, design etc.?

Worst name. Ever! Posted via the Xperia Z5 Compact
Android Central Newsletter
Get the best of Android Central in in your inbox, every day!
Thank you for signing up to Android Central. You will receive a verification email shortly.
There was a problem. Please refresh the page and try again.