How to watch Netflix on Google Cardboard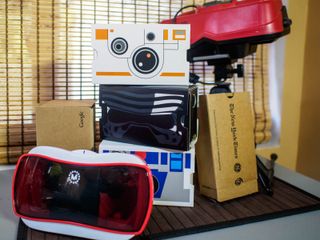 Plenty of people enjoy spending a few hours binging Netflix to catch up on their favorite show before the new season kicks off. If you have roommates or distractions, you might have considered watching your shows in VR. Not everybody has access to a Gear VR or a Google Daydream View however though, but have no fear, we've got the details for you on how to watch Netflix using Google Cardboard.
More: Make your own Google Daydream for $50 less than the official one
What you'll need
To make Netflix work correctly using Google Cardboard, you're going to have to have access to a few things. First, you'll need a Windows PC or laptop. Next, you'll need working internet to connect, as well as a phone and headset. After that, all you'll need to do is download the Trinus VR app on both your phone and computer.
Trinus VR works like a mirror. After you set it up you'll be able to open up games, or websites like Netflix and then view them from inside your VR headset. While this seems like a lot to just set up and watch movies in a VR headset, it's actually a lot easier than you anticipate.
How to set it up
The first thing that you need to do is download, and install Trinus VR on your PC. The installation process is extremely easy, and shouldn't take more than 5 minutes to complete. Next, you'll need to download the Trinus VR app from the Google Play Store. After that, you'll want to connect your phone to your computer.
While you won't get the best connection using Wi-Fi, it is the most comfortable to use in VR since it doesn't require any cords. If you use Wi-Fi, you'll need to ensure that both your computer and phone are connected to the same network. Next, you'll be asked to input the IP address that pops up on your phone, into a dialog box on your computer.
After that, you're just about good to go. Hit the start button on both your computer and phone and they should connect to the server. When they've connected you'll see the Trinus screen from your PC mirrored to your phone. After that, all you need to do is open Netflix in a window and click on it.
It may take a few minutes for your phone to load up with Netflix, but if you give it time it will appear. At this point, all that's left to do is start your movie or TV series of choice, and put on your headset. From there, you can enjoy your movie from within VR without any issues.
Step by step directions
Download, install and set up Trinus VR on your computer.
Download the Trinus VR app onto your phone.
Connect your phone and computer to the same wi-fi network.
Enter the IP address that appears on your phone, into the dialog box that will pop up on your PC.
Hit the start button on both your phone and PC.
Open** Netflix** in a window on your computer, and click on it.
Wait until Netflix pops up on your phone.
Choose your show or movie of choice using your PC and hit start.
Put on your headset and enjoy Netflix!
Questions?
Have you used Trinus VR? Are you having issues, or do you need some help? Be sure to pop into the comments and let us know about it!
Get the Android Central Newsletter
Instant access to breaking news, the hottest reviews, great deals and helpful tips.
Since the days of the HTC Hero James has had two or three Android phones stuffed into pockets. James is always on hand to offer advice on phones, apps and most recently, PlayStation, especially VR, It's now something of an obsession. Find him @keridel wherever Media Socials itself.