How to use one-handed mode on the Galaxy S8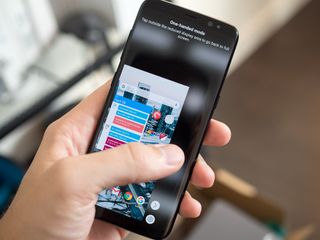 Samsung's move to tall and narrow displays on the Galaxy S8 and S8+ have made them even easier to use, but that doesn't mean its one-handed mode has gone away. It's still super easy to shrink down your screen to something you can easily reach with your thumb, and you have two different ways to get it done.
How to enable one-handed mode
One-handed mode on the Galaxy S8 isn't turned on by default, but it's easy to turn on and use since there are very few options.
Launch settings from your home screen.
Tap Advanced features.
Tap the switch next to One-handed mode.
A swipe in from one of the bottom corners: The screen will shrink to the side you swiped from.
Three presses of the home button: The screen will shrink to the side you last used in one-handed mode.
When in one-handed mode, you can press the arrow to switch sides, or tap off the screen to close one-handed mode
The best part about one-handed mode is it's always waiting for you to enable, but isn't in your way until you need it. Keep it turned on, and the next time you need to shrink down the display you can swipe in from the bottom corners or press the home button three times. Easy as that!
Questions?
Let us know in the comments below.
Get the Android Central Newsletter
Instant access to breaking news, the hottest reviews, great deals and helpful tips.
Andrew was an Executive Editor, U.S. at Android Central between 2012 and 2020.
This works great for me. I've been using it a fair amount in the 10 days since I've had my S8+. Without it, I can't quite reach the Q W A and Shift keys -- which I seem to use a lot! I prefer this function to the one-handed mode on my iPhone 7 Plus. It suits the way I work much better.

I'm used to one handed mode on iPhone and Lumia phones where either double tapping or holding the home button dragged the top half of the screen down into reach and I liked that. I've finally been giving Samsungs take on it a go on my s8 Plus and I'm quite liking it now BUT I just wish it was easier to activate. Triple clicking the home button doesn't work as well as older models now the home button is virtual and swiping up from the corner is hit or miss. I still prefer the swiping from the bottom corner but I just wish it was more consistent. Even after a week I've still not mastered it

Can some one tell me how to turn OFF one handed mode in Motorola phones (Moto Z force) running plain android 7.0. There is no "one handed mode" under settings.

Just strap a LoveHandle Cell Phone Grip to the back of your device. Instant one-handed move without shrinking the size of the display.

i do have a question (Andrew): how do i change the SIZE of that mini-screen once it's in one-handed mode? you used to be able to just drag the corner to make it bigger, but i didn't see that option when i tried it on my S8+. the default was a little too tiny for me, so if the size can no longer be customized, i can't really use it much.

The 7.0 update changed that feature on one handed use. Same thing happened with the S7.

If you select the triple tap, once it opens it will allow you to resize it immediately after opening, I really don't know if it allows resizing after that. But if you use what I use, the swipe from the corners, the trick is to swipe and without lifting your finger from the screen, in like a one single motion you move up or down to increase or reduce the size of the window. Great little trick that makes a huge difference.

When it's reduced into the corner on my s8 Plus I like to look at it and wonder how the hell we used to manage with screens and keyboards that size on phones just a few years ago and considered them normal or even large depending on the phone

I used it all the time on my Note 4. I'd have to give the three-tap/swipe in from a bottom corner a try, but I wouldn't have minded them sticking with the quick swipe in-and-out from the side I wanted it on.