How to use Instant Tethering with your Chromebook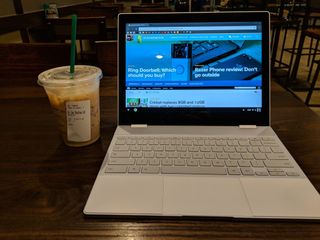 (Image credit: Android Central)
Public WiFi is pretty common at this point, though it's usually slow and insecure. Because of this, many users will instead tether their laptops and tablets to their phone's cellular connection to connect to the web. Creating a portable hotspot has its own issues, include a clunky setup and connection process.
Chrome's Instant Tethering feature has come to alleviate the clunky connection process at least. It's also restricted to those who are using a Chromebook and one of Google's Pixel smartphones, so most Android users can't use the feature at this time. Having said that, let's get into setting up Instant Tethering.
Pair your Chromebook and Pixel phone with each other with Bluetooth.
On your phone, open the Settings app and tap Google Services & preferences.
Scroll down and tap on Instant Tethering.
Make sure the Provide data connection option is enabed.
On your Chromebook, click on your photo in the lower right corner, then click network settings. Enable Mobile Data.
You will get a notification on your phone to verify the connection to your Chromebook. Tap on the notification and tap Connect.
That's not quite as easy as setting up a traditional hotspot, but the payoff comes when you need to connect your Chromebook to your phone again. Simply unlock your Chromebook, and you'll see a notification asking if you'd like to connect to the phone's hotspot. Tap "Connect", and that's it! You're online and ready to go!
Do you use Instant Tethering on your Chromebook? Let us know down below!
Interestingly my Nexus 5X (running Oreo 8.1) has the Instant Tethering option, but I cannot find the Enable Mobile Data option on my Chromebook Plus (running 62.0.3202.97 - stable channel).

I'm running a Pixel 2 and Asus Flip 302, not seeing the option on my chromebook either.

on your Chromebook goto "chrome://flags" search for instant tethering and enable it. You'll then see the Mobile Data option in the Chromebooks wifi setting. That said, even after doing this and enabling it i haven't yet been able to get instant tethering working. I just see "no mobile devices found" on the chromebook despite my pixel 2 phone being paired with the chromebook and everything else configured also.

This only works with the pixelbook as far as i know and even then it only works some of the time..

It's working fine on my HP Chromebook 13

I don't have this feature yet, but my experience with tethering isn't clunky at all. I simply tap the mobile hotspot icon from the quick settings menu on my phone, and my Chromebook instantly logs into it at startup. It remembers all of my Wi-Fi passwords from the initial setups.

This isn't the tethering that's done with the mobile hotspot feature. As the article states, this is an instant tethering feature between Pixel phones (possibly Nexus phones too) and some Chromebooks. Different things.

Pixel 2 Android 8.1. Samsung Chromebook 2 XE500C12 ChromeOS 62.0.3202.97, Instant Tethering enabled in chrome://flags#instant-tethering but still no "Mobile data" option to check.

mine isn't there either I've done all i'm supposed to do and it just wont' pop up. pixel xl and acer 15.6 2017
Android Central Newsletter
Get the best of Android Central in in your inbox, every day!
Thank you for signing up to Android Central. You will receive a verification email shortly.
There was a problem. Please refresh the page and try again.