How to use Google's Live Transcribe app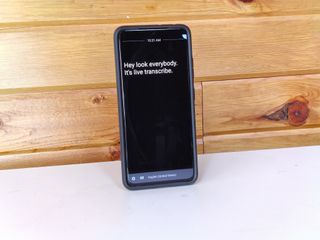 (Image credit: Adam Doud/Android Central)
Google's Live Transcribe is an app that listens to what's going on around it and translates in real-time any text it hears onto your phone screen. The app can also identify some common sounds such as animals, engines, and more. It's handy as an accessibility feature if you have trouble hearing, but can also be used as a transcription tool. You probably already have it on your Android phone, but it's not always visible in your app list. We'll show you how to find it, use it, and what the settings can do. Note: Live transcribe requires an internet connection to function.
How to use Google's Live Transcribe app
Live Transcribe is a part of Google's suite of services, but the Live transcribe app may be hidden from your app list by default. Therefore, the easiest way to open the app the first time is to open the Play Store and search for it.
Open the Play Store.
Search for Live Transcribe.
If the app is not already on your phone, tap Install. Otherwise, tap Open.
The first time you open the app, you'll be asked to grant permissions. 1. When asked to allow access to the microphone, tap While using the app. 2. Tap the gear in the bottom left corner of the app. 3. You may be asked if you want to add an app icon to your app list. That's optional, but we recommend you tap Add to app list.
Source: Adam Doud/Android Central
From that point on, you'll find Live Transcribe in your app list. Once the app is open, all you need to do is be connected to the internet and hold your phone up to a sound source. The app will immediately start transcribing what it hears in large letters in the app. If the app hears any noises (such as coughing or a vehicle engine), it will identify them in the bottom left corner.
Source: Adam Doud/Android Central
Settings to adjust in the Live Transcribe app
Tap the gear in the bottom left corner to enter settings. Initially, you'll have the option to change the text size, save your transcription for three days, open sound notifications, or see more settings.
Tap More settings, and you'll once again be able to change the text size, turn on dark theme, change your primary language, secondary language, and add custom words. You can save the transcription or delete history, cause your phone to vibrate when a name is spoken (and add names to trigger that), and vibrate when speech resumes after a pause to make sure you're paying attention. Finally, on the bottom, you can tap Advanced settings and get the options to hide profanity and enable a hold button that pauses the transcription while you're reading so you can catch up.
Source: Adam Doud/Android Central
Overall, Live transcription could be a valuable tool in your arsenal. If you have trouble hearing or prefer reading text over listening to people speak, this is a valuable resource.
Can you hear me now?
Google's best phone to date!
The Google Pixel 5 is Google's best Android phone, showcasing how great Android can be. Live transcribe is a great app, available on most Android phones, but if you want the best experience, nobody does it better than Google.
Get the Android Central Newsletter
Instant access to breaking news, the hottest reviews, great deals and helpful tips.
Adam has been writing and podcasting the mobile tech space for almost a decade. When he's not writing, he hosts the Benefit of the Doud podcast, spends way too much time on Twitter, and redesigns his office space over and over.