How to use Game Tools on the Samsung Galaxy S7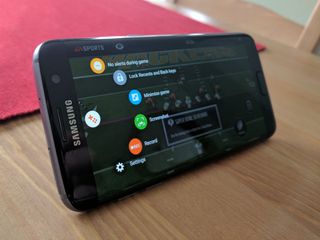 The Samsung Galaxy S7 is an outstanding phone, and our pick for the best phone for gamers.
Besides the outstanding hardware, the Galaxy S7 and S7 edge rise above the rest due to some tools designed specifically for gamers that you can activate from your phone's settings.
Here's some info about what Game Tools and Game Launcher offer, and how to activate and use these services on the Galaxy S7 and S7 edge.
Note: These features were also retroactively added to Samsung's entire Galaxy S6 line up as well.
See at Amazon (opens in new tab)
What are Game Tools and Game Launcher?
Turning on Game Tools activates a handy floating button that provides easy access to a bunch of really important settings that are great to have on hand during a gaming marathon. This includes quick access to disabling distracting notifications, locking out the recent and back keys, and a button for minimizing the game.
You also get two tools for sharing what you're playing: Screenshot and Record. Screenshot allows you to quickly tap twice to grab a screenshot of what you're playing without resorting to awkwardly pressing the home and power button, and record lets you screen record yourself playing on your phone, with options in settings to overlay an image or video of yourself playing for recording Let's Play videos to share on YouTube, Twitch, or other social media.
Game Launcher creates an icon for your home screen that, as the name implies, allows you to launch all your games from one place. It allows you to toggle the Game Tools icon without heading back to Settings, and also lets you launch a game muted if you're in a quiet place, or quickly turn on power saving modes. Ultimately, it allows you to keep an uncluttered home screen while still giving you quick access to all of your favorite games.
How to turn on Game Mode and Game Launcher
Both Game Mode and Game Launcher are turned off by default, so you'll need to go into Settings to turn them on.
Open Settings from your home screen and or app drawer.
Swipe up to scroll down.
Tap Advanced Features.
Tap Games.
Tap Game Mode or Game Launcher to learn more about their features and find the toggle switch for them on or off.
Tap the switch to turn Game Mode on.
It's the same process to turn on Game Launcher, which offers three pages of information on the different features included:
How to use Game Tools
Ok, so you've turned on Game Tools in settings and you're ready to play. When you load up a game now, you'll now see a floating red button along the edge of the screen. That's your Game Tools menu, and you're able to tap and hold to drag it wherever is most convenient for you on the screen.
Tap it at any time to bring up the Game Tools Menu. From there, you can quickly toggle some really handy features, such as turning off alerts while you're playing the game and disabling the recent and back buttons — a frequent frustration for some.
If you're interested in using the screen record option, you'll want to tap Settings first. It includes a bunch of important features and settings that you'll want to set up ahead of time, including setting up an avatar or live video recorded from the front-facing camera while you play, along with options to record audio from the microphone so you can provide your own live commentary as you play, or choose to only record the game audio. Lastly, you're able to set the resolution your video will be recorded at along with bitrate settings.
What are your thoughts?
Do you find these tools useful, or not worth the effort to set them up? Let us know in the comments!
Android Central Newsletter
Get instant access to breaking news, the hottest reviews, great deals and helpful tips
Marc Lagace was an Apps and Games Editor at Android Central between 2016 and 2020. You can reach out to him on Twitter [@spacelagace.
My s7 there isn't a minimize option. Instead there is "in-game lock screen"

I remember this from the Note7, the option to disable back and recent keys was a great feature

Just a side note (no pun intended), apparently the latest update to that feature on some Verizon units is causing the screen to turn off when the phone's facing down if you use Custom Profiles, at least as it is today. So if you have that, use default profiles until they fix the bug (or kill the app's process when not in a game... that helps too).

Never mind, just heard on the Forums that this bug has been reported and squashed in an update yesterday.

You'd get so many clicks if You Tube videos on how-to/tips/tricks were available. Would be nice to see instead of looking at screen shots. Just saying.

Great! Someone has finally understood that these features are here for a reason, and that people can use them if they need them.
When I see people praising software on the Pixel because it is "so much better than bloated Touchwiz"... I cringe.

I love how I made a comment on the s8 guide saying that there was never an S7 guide, now there's an S7 guide and I can't find the s8 guide!

Don't forget the amazing Game Tuner that not only lets you customize settings for each game individually but also record macros!
In other words I can record playing a stage on a game that a friend couldn't complete and send him the macros.
When he loads them on that specific stage it will automatically play the stage as if I was holding the phone.
Brilliant? So it is.

I got the Nougat update on my S6 Edge a couple of days ago. Now I know where this app wandered in from. Thanks for the info.
Android Central Newsletter
Get instant access to breaking news, the hottest reviews, great deals and helpful tips
Thank you for signing up to Android Central. You will receive a verification email shortly.
There was a problem. Please refresh the page and try again.