Fitbit Today: How to use and customize your app dashboard
Make sure all of your most useful Fitbit data is easily findable as soon as you open the app.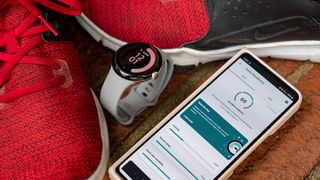 (Image credit: Nick Sutrich / Android Central)
Fitbit understands that you're busy and don't have time to hunt for information. That's why the Today tab exists: it's the first screen you see when you open the app and it's got all your important numbers in one place. Even better, Fitbit lets you customize which goals the Fitbit Today tab shows you. Let's take a look.
Hide, show, or move your Today categories in Fitbit for Android
The Fitbit app's Today feed shows a ton of information, but some of it requires a Premium subscription (Stress Management), some of it must be logged manually (weight, nutrition), and some like skin temperature only work for specific Fitbits like the Sense 2. If you know you don't plan to use specific categories, you should clean up the Today tab to focus on key stats.
Hit the Edit button on the top-right. You can then tap the X button next to each category you no longer want to see. Then, tap and hold a category to drag it above or below the other stats.
Plus, for Sleep or Exercise, you can tap the Expand button to either provide more room for data by default or shrink these categories down to the same size as the others.
Then, while you're still in Edit mode, scroll down to the bottom to find Additional Stats like Menstrual Health, Blood Glucose, and whatever stat boxes you manually removed. Here, you can Add those hidden stats or re-add the deleted categories. Just hit Done in the top-right when you've finished making edits.
On the very top of the app feed, you'll see your Step count by default, along with sub-icons for your Active Zone Minutes, Miles, Floors Climbed, and Calories. You can drag a sub-icon up to take the top spot or hit the X button to remove a category you don't want to see.
Now you can get rid of the Fitbit categories that don't matter to you, so you can focus on the aspects of fitness that truly do. A cluttered Fitbit dashboard may be overwhelming and a bit of a deterrent. Don't let it be and just hide some stuff!
How to log your exercise in Fitbit for Android
Contrary to what you might think, you don't need to wear a Fitbit device to log exercises in the Fitbit app. If you want to test the app without buying a device yet, or you forgot to wear it and want to add your data manually, doing so is simple.
Tap the + button next to Track your exercise. If you're starting a GPS-tracked workout, click the drop-down menu and choose Run, Walk, or Hike, then hit the red Start button to begin the workout. You can also enable voice cues that'll audibly notify you every time you hit a certain mile or minute mark.
(Note that you'll need to give Fitbit permission for precise location tracking first for you to track workouts in the Fitbit app.)
Otherwise, tap the Log Previous tab, then the Search window and enter your activity type and duration. Depending on the activity, you'll also be able to add sub-stats like Distance and Speed.
Tap Log it, and your activity stats will appear in your Today tab (assuming you've left the Exercise box in Expanded view).
As a side note, if you want to look back at a previous day's exercise (or other data), just tap the left-facing arrow next to "Today" on the top of the view, and it'll take you to "Yesterday," followed by previous dates.
Accountability is the name of the game and if you're not staying true to Fitbit, you're not staying true to yourself. Now you can log your activities in order to help your Fitbit be as accurate as possible.
Log your water intake and food in Fitbit Today
Staying hydrated does wonders for your hair and skin and overall health. Thankfully, the Fitbit app makes it really quick to log the water you drank to keep track of it.
Hit the + button next to Log some water in the Today tab. You can either manually add your water consumption in oz, cups, or milliliters, or you can Quick Add one of three common categories (8oz glass, 16oz bottle, or 24oz large bottle). You'll default to adding the data that day, but you can change the date to a prior day if you forgot to log that info for previous days.
Logging food is understandably a little more complicated, but still not too difficult once you know how. Next to Start logging your food, hit the + button, then the magnifying glass to start a search.
Look for a common food like an "apple" and you'll see a "Common" entry along with specific entries that come from specific sources that might have a different caloric value. Select one, choose your serving size and meal & snacks time, and choose Log this to add it to your daily total.
Once you start using this tool regularly, you should begin to see Frequent foods in the left tab, as well as Recent foods in the center tab, so you don't always have to go searching to find what you ate. That makes the tool easier to use over time.
How to log your weight in Fitbit
Some people swear by weighing themselves every day for weight maintenance. Whether you do that or only weigh yourself once or twice a week, Fitbit can keep track for you.
Your best option is to buy a smart scale that sends your weight data automatically, rather than logging it manually. You can add the Fitbit Aria directly by tapping your profile icon, then Set up a Device and selecting the Aria from the list to sync it. Otherwise, many other smart scales will sync directly to the Fitbit app, but you'll need to set that up in that scale's app rather than Fitbit's.
Otherwise, if you want to go old-school, just tap the weight category in the Today tab to see your current weight and trends, then tap the + button in the top right to add your current weight and % body fat.
Keep yourself accountable and up-to-date, so that you're not cheating yourself out of true fitness. Log your weight with Fitbit so that your experience is as accurate as possible. Your goals may end up being unrealistic or ridiculously easy and your workouts are just wastes of time. Log it!
Adjust your Fitbit Today goals
The Today tab shows how well you're progressing on your goals, but what if Fitbit's default goals don't match what you're trying to accomplish? Not everyone can work out five times a day or restrict themselves to X calories.
Tap your Profile icon, then Activity & Wellness to find all the settings that your Today tab bases your goals upon.
Under Daily Activity, you can change your goals for steps, distance, calories, daily and weekly Active Zone Minutes, floors climbed, and when you want to receive hourly movement prompts.
In Exercise, you can change your stride length, but this will be detected by your Fitbit automatically during GPS-tracked workouts. You can also adjust how long it takes for your Fitbit device to auto-start an exercise, so you don't get false logged exercises for minor activity. But the main thing to change is your Weekly Exercise Goals to determine how many days you want to work out a week.
For Heart Settings, you can adjust your heart rate zones (which determine when you're completing aerobic or anaerobic exercise) and your high and low heart rates to better determine if something is wrong with your heart at a given moment.
Nutrition & weight lets you log a target weight or body fat percentage, as well as your daily water goal. You can even change your food database if, say, you're on vacation outside your usual country and want more accurate food results to log.
Lastly, Sleep lets you change your bedtime, wake-up time, and target sleep duration.
As for other changes, you may want to go to App Settings and change when your workout week starts: either Sunday or Monday. And you can change your Sleep sensitivity here from Normal to Sensitive if you want your watch to be more strict about restless vs. restful sleep. Plus, you can change your Units of measurement here if you prefer either imperial or metric over your country's standard.
---
Now, you'll be able to take better advantage of the Fitbit app and the Today tab! Your next step is to decide if it's worth subscribing to Fitbit Premium or not. Google recently added more free information to the app for non-subscribers, but without it, you'll definitely miss out on useful data on your stress levels, sleep, skin temperature, and other info that'll be available right on the Today tab.
If you like the Fitbit app and want to try Premium, your best bet is to buy either a new Fitbit wearable or the Google Pixel Watch, since most give you six free months of Fitbit Premium and access to a ton of data sent directly to the app.
Get the Android Central Newsletter
Instant access to breaking news, the hottest reviews, great deals and helpful tips.