How to transfer photos from iPhone to Android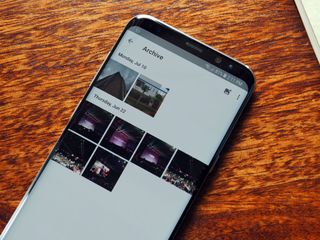 (Image credit: Android Central)
Like most of us, your phone is likely your primary camera and thanks to ease-of-use, you probably capture at least a few photos a day. Those add up over time, and it'd suck to lose them all just because you're switching from iPhone to Android. Thanks to Google Photos, you don't have to!
How to transfer iPhone photos to Android using Google Photos
Download Google Photos

(opens in new tab)

from the App Store.
Launch Google Photos from your Home screen.
Tap Get started.
Tap OK when asked to allow Google Photos to access your photos.
Tap the switch next to Use cellular data to back up if you want to back up your photos over cellular. If you don't want to rack up a serious data bill, leave this off.
Tap Continue.
Tap the circle next to either High quality or Original. Tapping High quality will compress your photos to 16 megapixels reduce file size, but you get "unlimited storage" (2PB). Original will maintain the original file size and will count toward your Google Drive storage (15GB).
Tap Continue.
Tap Get notified if you want notifications when someone shares photos with you. Otherwise tap No thanks.
Tap Leave Off to leave notifications off if you selected No thanks.
That's it! Google Photos will automatically sync your photo library and you'll be able to access them on your Android phone or virtually any device with an internet connection.
Don't expect to see your photos on a different device right away. The sync could take quite a while, especially if you have many photos.
Questions?
Questions about transferring photos with Google Photos? Let us know in the comments below!
Mick is a writer and duty editor for Android Central. When he's not on the job, he can usually be found vacuuming up pet hair or trying to convince his wife that he needs more guitars.
So how do i do it if I don't want to upload my photos to Google's cloud?

You'd have to transfer them all to your Mac or PC first. Or email them all to yourself, but that'd take ages if you've a ton of photos.

So, since the iPhone only has up to a 12 megapixel camera, does this mean they are stored at full resolution? Or are they still being compressed somehow?

It's your choice. Full resolution pics use your storage space. Compressessed or "high quality" photos don't. You can choose in the settings/backup & sync/upload size.

Way to not actually answer his question. Google will still compress (file size) pictures under 16 megapixels, but retain the resolution (pixels). Smaller file, same pixels. This *could* result in artifacts, but many have stated they cannot see the difference. YMMV.

The question was clearly answered. How the photos are uploaded is your choice. If you don't want to use up the storage, choose high quality. If you want the original photo uploaded you choose Original and it will use up some of your storage. Reading is fundamental

You can choose high quality or original your choice I just download whatever

2PB is their unlimited. Interesting.. Might as well be, that's a ridiculous amount of storage. Especially if they're compressed

I actually faced a problem while backing up the photos, the backup doesn't happen when the screen is locked or when the app is closed, is it only me or this problem exists (on iPhone)? On my own Android phone the backup works perfectly.

Sounds very plausible for the iPhone given its stronger restrictions on background multitasking. But I don't have any concrete info on this.

Lately Google photos has been eating my battery, unsure what the issue is but if it keeps up, I'm going to have to disable it.

Me too. I just open multitasking and close it out everytime. Otherwise, it chews 3 to 4% per minute.

Wow never happened to me :\

I currently have an iPhone 6s Plus and use Google Photo exclusively as well as Google for contacts, calendar and calendar app, mail (including the Gmail app), Chrome, Play Newsstand, Play books, Google drive and Chromecast. For me it's the best of both worlds because I can still imessege and facetime my family, have free backups because I don't need extra storage with Apple thanks to google photos and move easily between ecosystems because Google works with everything. Also Google Photos works pretty cool magic with live photos now too whereas apple just leaves them as crap

Nice! This is just in time.

When using iPhone and iCloud Photo, photos gets stored in the cloud and not on my device to preserve storage. When using Google Photos, am I to assume that images are sent right to the Google Cloud/Google photo but I can retrieve them on my device at any time?
Android Central Newsletter
Thank you for signing up to Android Central. You will receive a verification email shortly.
There was a problem. Please refresh the page and try again.