How to track any workout with Google Fit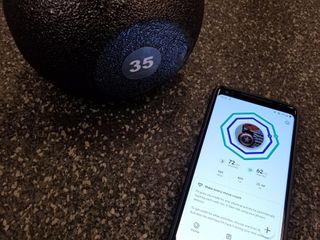 Google Fit just got a big design overhaul, with a focus on motivating you to workout with achievements and an easier-to-use goal interface. Google Fit supports every workout under the sun (even flossing), and tracking these workouts is super simple.
Products Used In This Guide
How to track a workout from your phone
Open the Google Fit app on your Android phone.
Tap the Plus Sign in the lower-right corner.
Tap Track workout.
Tap the dropdown menu at the top if you want to track other workouts. By default Google Fit shows that las few workouts tracked.
Tap the activity type you'd like to track.
Tap Start workout.
Tap the pause button near the bottom of the screen.
Tap the stop button in the lower left corner of the screen.
The app will countdown from three, and your workout will begin. Destroy those calories, pump out your biggest gains, or floss the heck out of your teeth.
Once you tap pause and stop, the activity will be complete and it'll be automatically added to your journal.
How to track a workout from your smartwatch
Google Fit is a big draw of Wear OS watches, especially since you can start and stop a workout right from your wrist.
Open the Google Fit app on your watch.
Swipe up from the bottom of the screen.
Tap Workouts in the menu.
Tap Other workouts if you need to track a different activity. By default, Google Fit will display the last few workout types that you last tracked.
Tap the activity type you'd like to track.
Tap Start workout.
Swipe down from the top of the screen, from any screen on your watch.
Tap Pause.
Tap End Workout.
The app will countdown from three, and you workout will begin.
And that's it! You've tracked your workout and it will appear inside the Google Fit app on your phone.
Our top equipment picks
If you're all in on Google Fit, it's worth getting a Wear OS watch to track your workouts right from your wrist.
The best watch for Google Fit
(opens in new tab)
The best Wear OS watch is also the best for tracking your workouts.
The Ticwatch Pro features a GPS tracker, heart-rate monitor, and NFC payments.
The Ticwatch Pro is great as a smartwatch, but even better if you want to track your fitness. There's a GPS chip to track you on the trail, a heart-rate monitor, and an NFC chip so you can use Google Pay right from your wrist.
How to edit a tracked workout if you accidentally paused it because your sleeve touched your watch or you did not stop it in the app when you finished? Answer: you can't. Come one, Google! I use Fit every day and this is maddening.

Unless it's a quirk of me never tracking and always adding my workout afterwards you can edit your workout by navigating to the journal, tapping the desired workout, tapping the three dots in the upper right hand corner and selecting 'Edit'. [Note] This is in the smartphone app.

As @MixPix mentioned below, you can only change the type of workout and the title, not the actual duration. Such a simple thing to overlook that it makes me think nobody on the Fit team bothers to even work out or use their own product for workout tracking.

Yeah I submitted feedback about editing of times for the workouts, it's a joke not to have that, for the reason you stated. Right now all you can change is the type of activity. Hate that they removed more focus on the mapping/tracking side of things too.

Same here. I also still think forcing heart and move points on users without the option to change those two rings to goals of a user's choice is ludicrous.

👍 I have had to check the help info twice to remember how the move and heart points work. I'm not disagreeing with the value of move and heart points, but it's taking me some time to get the concept right.

Is it possible to track swinming with Google fit? Like the Samsung watch who identify the style?

Does the new version of Fit have any way to show steps historically? I can see the current day, but after that they seem to be lost. The previous version let you see steps per day, week, month, etc. in charts. Now it just seems to have a journal of the new points system.

Thanks for the guide. I really tried using it but it did not worked. Please do keep sharing.
Regards
Ray
Android Central Newsletter
Thank you for signing up to Android Central. You will receive a verification email shortly.
There was a problem. Please refresh the page and try again.