How to take a screenshot on your Google Pixel 2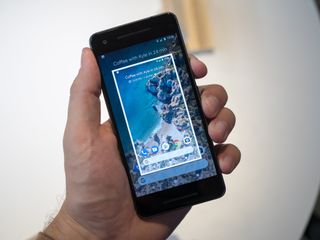 Being able to take a screenshot on our phone is something we all need to do on a regular basis. Whether it's to send off to someone or save for your own use later, it's the fastest way to grab information on your phone. For all of the changes in the new Pixel 2 and Pixel 2 XL, one thing has remained: taking a screenshot is dead simple.
How to take a screenshot on the Pixel 2 or Pixel 2 XL
Open up whatever you want to screenshot.
Press both the power and volume down buttons and hold them for 2 seconds.
You'll know it completed when the screen briefly flashes and displays the screenshot.
You can tap the notification to view it in full, or expand the notification and tap the share button to share it directly or delete to discard it.
See? That's about as simple as it gets. If you don't need to work with the screenshot right away, you can clear the notification and view your screenshots later in any gallery app of your choice or the default Google Photos app.
Andrew was an Executive Editor, U.S. at Android Central between 2012 and 2020.
What? The exact same way Android has taken screenshots for six years? Who would have guessed?

I busted out laughing lol

I'm sure this little article is geared toward newbies, like those that could be moving from iOS. But still, yeah, you be right lol! Flicked via the BlackBerry keyboard on my Pixel

Yeah, and it sucks. The power button on my Nexus 4 became flaky over time, and taking a screenshot became a trial-and-error thing. My Axon 7 takes a screenshot if you do a 3 fingered pinch gesture. Works great. And while we're on the subject of the power button, my A7 has a notification shortcut tile to turn the screen off. I love that. I've moved it to the center of the top row, and that's my standard way to turn the phone off. Between that and using the FPS to turn it on, I never use the power button - except to do a hard shutdown. My N4 is on LineageOS 14, and it has the nice, stock notification shortcuts - but no tile available to turn off the screen. You'd think AOSP would incorporate the obvious good parts of the various OEM ROMs...

I take tonnes of screenshots but I wish manufacturers would tweak the software to automatically omit the status bar from the shots. Or at least have a setting where you could choose to include or leave out the status bar. It would save a lot of cropping afterwards

Good point. LG's Capture Plus allows you to crop before and after you take a screen shot. It comes in handy at times.

There's a phone I had that did exactly that but I forget which.

Just realized what it was. Back before Google Assistant, Google now wouldet you take a screenshot, which would automatically do what you're looking for. Google Assistant still does it, but only via voice or type command.

Any scroll capture option like on Samsung devices?

Coming next: A six part series on using the volume buttons.

How to turn off and turn on your phone again.

Jerry should do that one...really get into the nuts and bolts😊

stahp. we get it already...

Wish Google would just a screen shot button in the shortcuts page like my HTC and Lenovo phones. Even Apple let's you do it if you use the accessibility button. The long screenshot feature on my Lenovo phone is even better.

That's not dead simple because it still requires two hands -- it's closer to an exercise in finger gymnastics. If you want something truly dead simple, assign the quick squeeze gesture to screenshot (at least on HTC U11 you can do that).

What options are there for screen caprures? Can the squeeze function be used? Or palm gesture for capture?That would be good. I wonder what kind of functionality exists for the pixel buttons. What can they be re mapped to?

I don't think the squeeze function can be remapped on the Pixels. Sure I read it in one of the earlier articles.

OR... just ask Google Assistant to "Take a screenshot" and it will save the image and also offer to share the image with apps/contacts, etc.

Yeah, this. I do this so often that I keep expecting GA to answer "Yeah, yeah, another screenshot, I know...".

one tip, call google assistant, say "screenshot" and then share it, in this way you don`t save the picture, only share

Am I the only one that misses holding down the home button to take a screenshot with Google now?

i wished it worked like my samsung devices, swipe to screen shot makes more sense to me.

LG has the best way. They let you put it down in the room with the home and back buttons. One button press, crop or don't crop, save.... There is no easier way
Android Central Newsletter
Thank you for signing up to Android Central. You will receive a verification email shortly.
There was a problem. Please refresh the page and try again.