How to stream YouTube TV using a Chromecast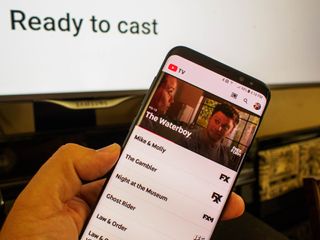 YouTube TV delivers a great way to cut the cord with your cable provider, but still be able to access all of your favorite shows and movies. Watching shows like The Walking Dead or American Horror Story on a tiny screen isn't ideal, though. That's why Chromecast (opens in new tab) support is baked in, letting you cast your shows to your television and enjoy every moment on your big screen.
We've got all the details on how it works right here!
How to cast YouTube TV
Open YouTube TV on your phone.
Tap the Cast button at the top of the screen.
Choose the Chromecast you want to cast to.
Choose the show you want to watch.
Tap the episode you want to watch.
How to stop Casting
Tap the Cast Button.
Tap Stop Casting.
What to do if you're using a first-generation Chromecast
While Casting from YouTube TV is a pretty easy process, there are a few caveats here. Namely, if you are still running on a first generation Chromecast, which will still work, but you're going to run into a few issues.
That's because the first generation Chromecast just doesn't work quite as well as its later siblings. You can expect to wait longer for programs to load up on your television, and you may end up seeing a message informing you that things are slower due to the Chromecast you are using. The important thing to remember here is that you'll still be able to use your Chromecast with YouTube TV, it's just going to be a bit slower than you might prefer when things are getting started.
Want to upgrade? Grab a new Chromecast (opens in new tab) or Chromecast Ultra (opens in new tab) starting at $35.
See at Google Store (opens in new tab)
Questions?
Do you have questions about using a Chromecast with YouTube TV? Have you been using yours to catch up on last year, before new seasons of your favorite programs start up? Let us know about it in the comments below!
Android Central Newsletter
Get instant access to breaking news, the hottest reviews, great deals and helpful tips
Jen is a staff writer who spends her time researching the products you didn't know you needed. She's also a fantasy novelist and has a serious Civ VI addiction. You can follow her on Twitter.
I will be signing up for YouTube TV next month, when all of my of my Fall shows start. I am so excited that it is now available in my area and look forward to using it.

I ran the trial the past couple of weeks as the service finally made it to my area. Great UI, easy to use, and casted great to my bedroom TV with a Chromecast. Unfortunately my "main" TV is an older plasma with no HDMI input, so I use a Roku. I couldn't cast to the Roku through the YouTube app, and they don't have a YouTubeTV app yet. So I ended the trial and will definitely come back when there is a Roku app or my TV dies and I finally break down and buy one with HDMI/Chromecast.

A Plasma with no HDMI? The energy savings alone from buying a new TV will pay for the replacement in a matter of months. Of course, you'll need to find a new heater for that room as the new TVs don't run nearly as hot.....

Is YouTube TV not available on Android TV yet??

Unfortunately, it is not. Once there is an app i will probably cut the cord and use YouTube TV. It has all my locals and all but 2 channels I watch. The shows on those channels are available for purchase on Google Play. I could periodically buy those seasons and still save money over cable.

I also found casting to a Nexus Player was an exercise in futility. it would lose connection anytime a commercial would come on when streaming on demand content. I also prefer using native apps on Android TV so I won't be going back until they release a native app. Casting from a phone doesn't pass the wife test at my house.
Android Central Newsletter
Get instant access to breaking news, the hottest reviews, great deals and helpful tips
Thank you for signing up to Android Central. You will receive a verification email shortly.
There was a problem. Please refresh the page and try again.