How to stream The Weather Channel once you've cut the cord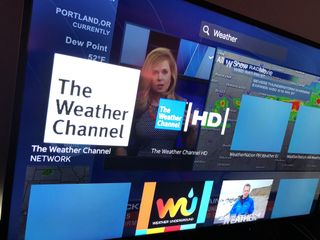 Best answer: The Weather Channel is available on frndly TV, Fubo TV and on three plans from AT&T TV Now.
Option 1: Fubo TV

(opens in new tab)

(From $55 a month)
Option 2: AT&T TV Now

(opens in new tab)

(From $110 a month)
Option 3: frndly TV (From $5.99 a month)
The Weather Channel streams on a scant few services
It seems crazy, but if you're a cord-cutter looking to stream The Weather Channel, there only are a few services on which you'll find it. It sounds crazy, I know. And those services are Fubo TV, AT&T TV Now (that's the former DirecTV Now, of course), and the new frndly TV.
Fubo TV has been growing in popularity in good part because of its mix of channels. It's got many of the major networks you want, and it has a wealth of add-ons that will bring you sports you can't find anywhere else. Fubo TV also is the only place in the United States where you'll find any sports streaming in 4K resolution. All that — and 88 channels in the lower-priced tier — for just $55 a month. (You'll get a free trial, too, of course.)
AT&T TV Now is a more expensive option to stream The Weather Channel. And it's a much more expensive option, at that. Because you don't get The Weather Channel on AT&T TV Now until you pony up for their $110-a-month "Choice" option. It's also on the $124-a-month "Xtra" plan and the $135-a-month "Ultimate" plan. OK, unless Spanish is your first language — it's also on the AT&T TV Now "Optimo Mas" Spanish-language plan, which is just $86 a month. But otherwise, that's it.
Frndly TV is relatively new and is the brainchild of a former Sling TV executive. It only features a dozen live channels — but one of those happens to be The Weather Channel. Plans start at just $5.99 a month (you'll save a bit if you choose to pay annually, though), and you'll top out at a standard-definition feed. For HD, you'll pay $7.99 a month, and you'll also get the ability to stream on two devices at once, plus you'll get unlimited DVR, with recordings kept for 30 days.
Right now, those are your only options if you're looking for a way to stream The Weather Channel.
Technically there is one other option, though it's certainly in a bit of a gray area. The Weather Channel has an official channel (opens in new tab) (think "app," really) on the Roku platform. But you'll need to have a login to a pay TV service to activate it beyond the 10-minute trial. Those services are Dish, C Spire, Spectrum, Sudden Link, Optimum and Mediacom.
Watch The Weather Channel with Chromecast or AirPlay
This is one of those gray areas (OK, it's not really a gray area), and maybe it's a little more work than it should be. But whatever.
You can stream a live feed of The Weather Channel's website in a desktop browser, and then use Apple's AirPlay or Google's Chromecast to send that tab over to a TV.
Oh, and a catch — you'll need to have a cable login (from anyone other than Comcast) to sign in first. Maybe you tripped and landed on one and lo and behold, it works. Whatever. We're not going to judge too much.
Streaming alternatives to The Weather Channel
Yeah, it's ridiculous that The Weather Channel isn't everywhere, because it really should be. But that doesn't mean there aren't alternatives.
One such option is Local Now. (For which TWC is a weather provider.) It's not as slick as TWC proper, but it does have the same sort of "Locals on the 8s" thing.
Where to get Local Now? Sling TV has it in both its Orange and Blue plans. There's also an app for Amazon Fire TV (opens in new tab). And there's also a Local Now channel on Roku (opens in new tab), it's available on Fubo (opens in new tab), and it's coming to YouTube TV at some point. And there are apps for Android (opens in new tab) and for iOS (opens in new tab).
Our pick
(opens in new tab)
The most affordable way to stream The Weather Channel
Fubo TV is a pretty compelling streaming service — and it's one of two that carries The Weather Channel. It's also got a world of sports and is the only service to stream any games in 4K resolution.
A post without afilliate links to buy anything and no comments? Common guys and gals.. guess if u complaining at least u reading.

Seriously? The weather channel? This is the worst most blatant advertisement masquerading as an article I've ever seen. Now that we got that out of the way, who watches the weather channel? No one under 90 and that's only cause they fell asleep and accidentally changed the channel from fox news to twc.

I am well under 90 and I watch it because this summer and actually just last week our area we had twister warnings/watches and after living in Tornado Alley for 4 years I have seen what they can do - better safe than sorry

FYI I do. I have actually watched the weather channel since I was a kid. I'm a weather geek. So is Phil. There's thousands of people who enjoy watching the weather channel. Good job. You made yourself look foolish.

Who still watches the Weather Channel? Cmon Phil it's not 2002 anymore.

I do. There's thousands of people who love it cause they love weather. Plus people need it for big storms like hurricanes and blizzards. A weather app doesn't give you the full information for those large types of events.

We use Spectrum Choice and we also have the option to include The Weather Channel. Choice is somewhat similar to DirecTV Now and adds a lower cost streaming option for those who wish to cut the cord without all the risk and pain. I can still have a DVR. There is some time lag and occasional complete lapse. Probably just to let me know that real cable has some advantages over streaming service. However, I can live with these to save over $60 each month.

We watch the Weather Channel when there are weather concerns. But certainly not on a regular basis. One of our first concerns when we switched, was - is The Weather Channel available? Perhaps some of the complainers here don't have weather issues. Of course, if it's bad enough, we still lose power AND TV. Another benefit of Spectrum Choice is that I can also get it on my Smartphone!

They have local news for weather issues.

And those so called local news channel don't cover the area where I currently live in NJ hell 1/2 the time they don't even tell you what the weather looks like down the Jersey Shore if you want to spend the day

Verizon Fios in our area does not carry The Weather Channel. All we have is Acuweather on a local loop feed.

One of the reasons I dropped FiOS cable.

Next up how to stream ovation tv.

Evidently I'm in the minority here. I love the Weather Channel and I'm a mere 39 years old. I don't watch it for weather (unless there's hurricane or some other bigger issue being covered, even if they over-dramatize it). It's the shows I like. It's one of the main reasons we use DirecTV Now. I'll have to check out the HD Homerun premium service.

Who watches the weather channel? Maybe someone with a major hurricane at his doorstep. Especially when you're hoping for that turn to the East at the last moment. Local news is great but right now I don't care about what's going on in Washington or what celebs are up to. My focus is on Hurricane Michael and the Weather Channel with their pretty much non stop coverage helps with that.

I have to say. I am down on the gulf area. AccuWeather and weather nation is terrible compared to TWC in terms of hurricane coverage. TWC is superior in all aspects.

Where I live in NJ we are even supposed to get some of the effects from Hurricane Michael, where I work we can have different tv channels running in the background and so with Hurricane Michael coming I have that on. Only people who have never experienced severe weather in some form or another want to put their heads in the sand. I actually went up a few tiers on Directv Now so I not only can get the NHL but the Weather Channel

A couple of my local OTA stations have either weather OR all news secondary channels, so I am lucky that way. :) Plus for major weather events, of course ALL the local stations cover it! #snowpocalypse

$35 DirecTV Now plan now costs $40.

While certainly NOT as good as The Weather Channel, sometimes your OTA Networks will have secondary channels, and SOMETIMES those include all news or all weather. So make sure you check your locals, and their sub channels. :) EDIT: OOPS looks like I already supplied this info! ROFL

don't you hate it when tech sites recycle articles :-)

I'm sorry but I haven't missed the weather channel since it was dropped from my channel lineup. 80% of the time they broadcast reality TV shows unless it's during a severe weather time which is the ONLY time they're useful, and even then a lot of times they'll over sensationalize the storm, example being the one hurricane where the broadcaster looked like he was being blown away while two people were walking around in the background without problems. You'd get better coverage by using online services or an app, a weather radio tuned specific to your location, or your local channels. I subscribe to a local NOAA alert service that I plugin my location. I usually get notifications from that well before notifications come through on any TV station.

That's actually not true. From 5am to 8pm EST weekdays it's live weather. Then from live weather from I think 7am to 12pm on weekends. Apparently you have only tried turning it on during nights and weekends are afternoons.

WeatherNation, a great alternative, is on Pluto TV. I just use that and don't even think about The Weather Channel anymore.

On ROKU you can get the complete Weather Channel (without local forecast) on the station called TURK TV. It is in English. Been using it for many months.
Android Central Newsletter
Get the best of Android Central in in your inbox, every day!
Thank you for signing up to Android Central. You will receive a verification email shortly.
There was a problem. Please refresh the page and try again.