How to set and change your status in Gmail and Google Chat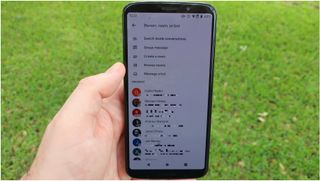 (Image credit: Jeramy Johnson / Android Central)
Google recently combined Gmail and Google chat into the Gmail app. Google chat gives you a status so that you can broadcast whether or not you're available to chat or return emails. Combining the two services is currently an opt-in procedure, so not everyone has it yet, but it works on both iOS and the best Android phones. We'll show you how to opt in, set a predefined status, and set your custom status.
How to turn on Chat in Gmail
Right off the bat, if you don't have a chat tab at the bottom of Gmail, you do not have chat turned on yet, and you will not be able to set your status. If you have a chat tab, you can skip to the next section. To get started, open Gmail on your phone.
Tap the hamburger menu (three lines) in the upper left corner of Gmail.
Scroll down and tap Settings.
Tap the account for which you want to turn on chats.
Under the General heading, place a checkmark in Chat.
Tap Ok in the dialog box that opens.
Now, you will notice that you have a chat tab in your highly redacted inbox.
Source: Adam Doud/Android Central
How to set and change your status in Gmail and Google Chat
Once you have chat integrated into Gmail, you can go ahead and set a status for that chat. Once again, to get started, open the Gmail app.
Tap the hamburger menu (three lines) in the upper left corner of Gmail.
At the top of the menu, you'll note a status of Active. Tap the down arrow next to Active.
Now, you can choose one of three options. Automatic sets your status automatically based on what you're doing. Do Not Disturb mutes your notifications. Away indicated that you haven't used your phone in the last 15 minutes, but it doesn't halt notifications.
Source: Adam Doud/Android Central
You can also set a custom status which can include any text your want, or you can use one of several presets, including Be right back, Commuting, Out sick, and On vacation . What's cool about those is you can set a time for those statuses to expire automatically. Each has its own preset time (30 minutes for Be right back, for example), but you can also change those times. This gives you a little more autonomy in setting statuses.
Source: Adam Doud/Android Central
Please note, your recipient won't actually see the custom status, such as Be right back. Instead, they will see you are Away for the designated amount of time. The labels are meant to be a reminder for you.
Get the Android Central Newsletter
Instant access to breaking news, the hottest reviews, great deals and helpful tips.
Adam has been writing and podcasting the mobile tech space for almost a decade. When he's not writing, he hosts the Benefit of the Doud podcast, spends way too much time on Twitter, and redesigns his office space over and over.