How to remove the smart folders from the HTC One M9 home screen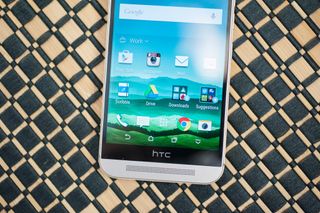 One of the bigger changes in Sense 7 and the HTC One M9 is on the home screen. You now have this 4-by-2 "Sense Home Widget" that does a couple things. First and foremost is that it tries to predict which apps you're using at home, at work and when you're on the go. It takes a look at what you're using throughout the day and then surfaces those apps at the appropriate time and place.
And it's also home to a new "Downloads" folder — that's all the stuff you get off Google Play — as well as a "Suggestions" folder for recommended apps. But what if you don't want those folders?
We can help.
The Downloads and Suggestions folders aren't normal folders. You can't just long-press them and then remove them. (Doing so selects the entire widget.) Instead, you need to tap the little home/work/out drop-down at the top left, then hit the overflow menu (the three dots), choose "show/hide smart folders," and then unselect the ones you don't want.
It's not all that tough, it's just a wee bit hidden. But it lets you keep the predictive widget but lose those mostly useless folders.
Check out these HTC One M9 accessories!
Be an expert in 5 minutes
Get the latest news from Android Central, your trusted companion in the world of Android